The Long Way Home
By Louise Penny, #1 Globe and Mail and New York Times Bestselling Author
"Turmoil shook loose all sorts of unpleasant truths. But it took peace to examine them. Sitting in this quiet place in the bright sunshine, Armand Gamache was finally free to examine all the things that had fallen to the ground. As he had fallen."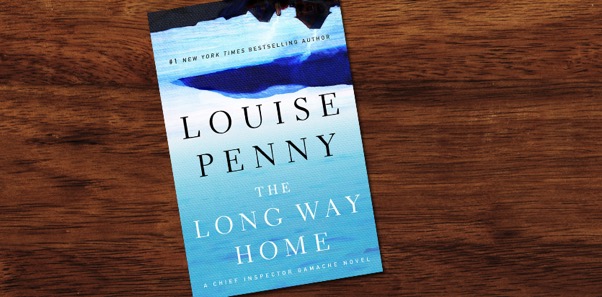 One of Canada's favourite authors is back with the newest addition to her best selling Chief Inspector Gamache series. Louise Penny's The Long Way Home is as much a mystery as an investigation into humanity through the lens of the characters' deepest fears, the hope of recovery, and "the terrible damage done by a sin-sick soul."
This wonderful, character driven story investigates the lengths a desperate soul will go, and what it takes to recover from a trauma filled career. Absolutely engrossing, I wasn't able to put this story down. Penny demonstrates wonderful insight into the mind and heart.
The novel picks up Gamache's story in the village of Three Pines, where he is enjoying a quiet retirement, taking pleasure in the simple, predictable routine his life has developed since retirement – a decided switch from the unpredictability of a murder investigation. Gamache is enjoying his bit of peace, and his opportunity to heal from a career solving murders, when an old friend, Clara Morrow, asks for his help. But his involvement requires Gamache to face a few of his own fears.
Clara's estranged husband, Peter, was supposed to meet her exactly one year after their separation, but he never showed up. Peter, a once well known artist, was desperate to regain some of his former fame. Weeks have passed and Clara is starting to fear what may have happened to him. With great trepidation about what he might face on this journey, Gamache agrees to help search for Peter. Joined by friends Beauvoir, his former second in command, and Myrna, psychologist and book shop keeper, Gamache begins a search that leads them into the far reaches of the Quebec wilderness – and Peter's soul.

This book is perfect for a mystery lover – especially a mystery lover who enjoys learning what drove the characters to make the choices they make. It explores and examines human emotions and choices, at their best and worst – hope, love, fear, and jealousy. This story is well written, and full of foreshadowing, with many things only becoming clear when all is resolved.
While a wonderful standalone story, elements from the earlier novels in the series creep in. If you are new to the series, it may be best to start with Still Life as you are sure to enjoy the entire series.
Author Louise Penny lives in a small village south of Montreal, and her love for her home province shows through in her writing. She has written nine other titles in the Chief Inspector Gamache series. Penny has won many awards for her writing, including five Agatha Awards, a CWA Dagger, and was a finalist for the Edgar Award for Best Novel.
Only read this novel if you are prepared to stay up until the wee hours of the morning just to finish it!