Audible, authors, actors, and astronauts provide story time for children
With the pandemic, we have been asked to stay inside to help flatten the curve, but staying home for long periods of time can be hard – especially when we are so worried about what the future will hold.
Add into that having young, energetic kids bouncing off the walls, and life can get quite stressful. Thank goodness we have books! Reading can be an excellent way to entertain ourselves and help relieve stress.
What can be better than to slip into the lives and stories taking place in faraway places, worlds, or times? Accordingly, here are some stories you and your children can enjoy – either together or the kids on their own, giving you a bit of a break.
Audible features children's stories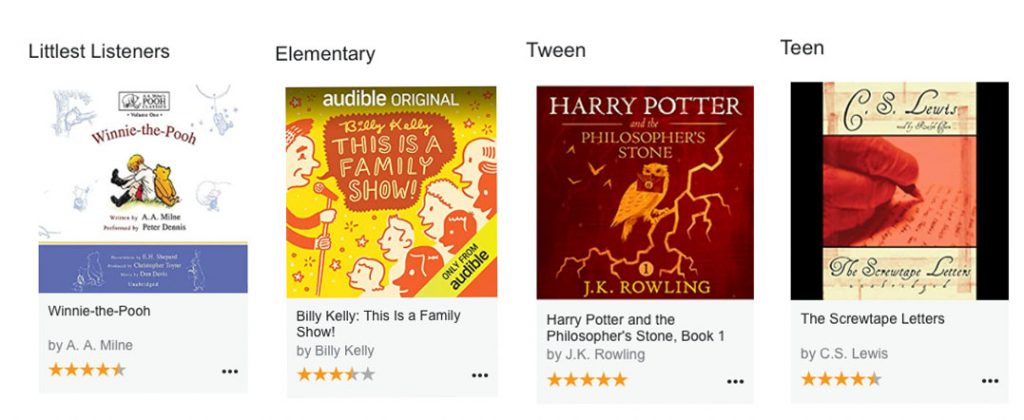 I was thrilled to discover that Audible has a sizeable selection of stories for kids to enjoy for free. There are stories for the littlest readers right up to teens. The stories included picture books, fantasy, mysteries, and classics. You can find out more here.
Chris Riddell reads Hugo Pepper
Did you know that Chris Riddell is reading his book Hugo Pepper for children?
A fantastic illustrator, Riddell teamed up with Paul Stewart for this book. Hugo Pepper follows the story of the book's namesake, Hugo Pepper.
When Hugo was just a baby, his parents were eaten by polar bears. Hugo was rescued and raised by reindeer herders in the frozen north. One day, when Hugo discovers a strange compass in his parents' sled, with its setting for 'home,' Hugo finds himself on an adventure of a lifetime.
This is an excellent choice for the eight to 12-year-old crew, especially the adventure lovers. Each video consists of one chapter of the book and includes the illustrations. Click here to follow along in the chapter-long instalments here.
Out of this world bedtime stories
If we are self-isolating, then why not have video story times for some experts on isolation – astronauts?
Well, the astronauts on the International Space Station are doing just that – they are recording videos of themselves reading picture books for children while they orbit the Earth on the Space Station.
They even include a favourite from my home – Ada Twist, Scientist, by Andrea Beatty. They call it Storytime from Space, and you can check out this story and more here.
Betty White reads Harry the Dirty Dog
Even celebrities are getting on the bandwagon, and are recording bedtime stories for kids. These story time videos by the stars are available via Storyline Online, which has thousands of stories for children around the world to listen to.
While you are there, be sure to listen to Gene Zion's Harry the Dirty Dog, read by none other than Betty White. You can listen to the stories here.
Levar Burton from Star Trek: The Next Generation podcast
Do you remember Levar Burton from Reading Rainbow? Or you may remember him better from his role in Star Trek: The Next Generation as Geordie LaForge.

Well, Burton already has a podcast for adults where he reads all sorts of stories. He is now working to create a podcast where he reads to children who are isolated at home due to the pandemic – he felt that it was a way he could help to make lives easier.
Join @levarburton tomorrow at 6 pm PT/9 pm ET for the first Twitter live-stream of #LeVarBurtonReads, featuring "a selection" of @neilhimself stories! https://t.co/NQtHYZv1Dm

— Tor.com (@tordotcom) April 2, 2020
He was running into difficulties in searching for stories to read due to copyright issues, but it has been amazing to see the way authors have been rallying behind him, giving him access to their work.
Such authors include Neil Gaiman, who writes for both children and adults, and Sandra Boynton, who writes fabulous board books for babies and toddlers.
Levar Burton's readings are ones to watch for, but in the meantime, here are his podcasts for adults.
Josh Gad read children's books to families
By Ambar Syed
You can also catch Josh Gad read children's books to families across the globe through his Twitter account each night, to support those under quarantine or practicing social distancing during the COVID-19 outbreak.
The actor, who has starred in films such as Frozen II and Beauty and the Beast, began by reading Olivia Goes to Venice. With many children at home from school, several parents have taken to Twitter to share the challenges in setting a routine.
"I get it. As parents, we are beyond frustrated because we've never had to be teachers before (unless you homeschooled.) And as kids, they have to be equally frustrated because they've never had to do work all day at home under their parents' supervision. It's a trying time. Patience" tweeted Gad. Many families have incorporated #GadBookClub as part of their bedtime routines.
— Josh Gad (@joshgad) April 2, 2020
He has continued each night reading other stories such as The Day the Crayons Quit, The Giving Tree, and Dr. Seuss: Horray for Diffendoofer Day. Gad appears to be sticking to a story a night during the week, as a way to keep spirits lifted during this challenging time.
He has accompanied reading with his own love for the books, as well as recounting amusing stories about his children too.
Disney+ recently added Frozen II to their streaming service months earlier than expected, as a way to help keep families entertained at home.
Happy reading!