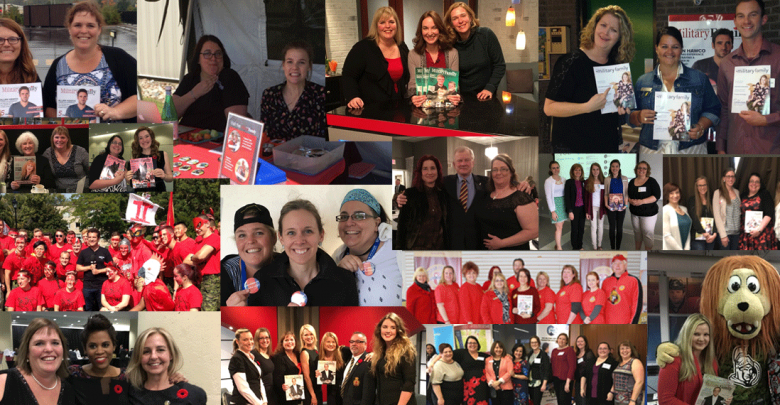 Canada's ONLY military lifestyle magazine 
Canadian Military Family Magazine is Canada's only military and veteran family lifestyle magazine that is privately owned. We are: Independent, Informing and Inspiring.
All our team members are part of military and veteran families, so we know first hand the challenges our community deal with on a daily basis. The magazine is independently owned, (by Cyndi Mills) which provides editorial freedom to profile other like-minded military and veteran family members, businesses and events that have a direct impact on our community. Our team live all over Canada… and OutCan!
In true military fashion, we do not have a brick and mortar office. We take the motto "Home is where the military sends us" a little further with "Our office is where there is an internet connection." We take advantage of Facetime, Messenger and the productivity app "Trello".  We are a grassroots magazine. Our goal is to provide articles that will resonate with our readers. We thank our readers, who we consider our Champions, as your support means everything to us!
Cyndi Mills: Publisher / Editorial Director
Over the last 26 years Cyndi Mills has had the opportunity to move around the country with her husband, Scott and their four children. Having lived in Chilliwack, Edmonton, London and Petawawa, Cyndi believes "home is where the dog is." She stumbled into the world of journalism by accident – looking for a career that could give her the flexibility to work from home to be with her children and support Scott's military career. Cyndi is also a military parent as her two oldest children are in the military. An award-winning writer Cyndi wanted to create a unique resource for military families – a magazine full of articles and information for military families.
She is eternally grateful to all the beautiful military spouses who understood the mission of the magazine and stepped up to volunteer their services. In regards to her family, there are no words to express the gratitude she has for them. Over the last 10 years, they have been her rock with their continued support and belief in "the magazine." Her family shares their home with an Old English Sheepdog, four cats, and numerous fish.
Creative Team
Lindsey Palka Ly: Copy Editor
Lindsey is a blogger, editor, military spouse, and writer whose work has appeared on The Toast, The Hairpin, and several other websites. She earned her B.A. Honours in History from Carleton University and her Master's in History from the University of New Brunswick, where her research focused on Canadian youth and families in the Maritimes during the First World War. She and her husband live in Petawawa with one very spoiled cat! She writes a book review blog, Young Adult Historical Vault, at www.yahistoricalvault.com.
Contributors


Mishall Rehman: Multi-media writer
Originally from Atlanta, GA, Mishall Rehman is a freelance journalist pursuing her passion for writing. The CMFMAG has given her writing new purpose and Mishall strongly believes in finding and writing stories that can benefit the entire military family community
From Montreal, Tonya joined the military community late in life when her husband joined the forces after a public service career. Now in Kingston, she is navigating the trials and blessings that come from having her own career, raising children, and being the partner of someone on a high readiness unit and the DART.
Monica Bobbitt: Contributor
Monica was a military spouse for almost 21 years until her husband was tragically killed in a LAV rollover during Ex Maple Resolve at CFB Wainwright in May 2014. Monica writes about her experiences as a military wife and widow in her blog, A Goat Rodeo, where she openly and honestly discusses what it's really liked to be widowed and shares the wisdom she has learned as she continues to move forward with her life. She also shares her story with military members and their families at speaking events across the country.
Suzanne Kingman McKay: Movie Review
Can't decide what to watch? Sue has 417 reviews of various genres on her website where she is adding new reviews all the time. Sue's reviews include newly released DVDs, movies on Canadian Netflix and new movies in theatres. There is something for everyone! Visit suzanneswhattowatch.blogspot.ca and follow her on Twitter @SWhat2Watch
Cecilia Pita: Contributor
Cecilia Pita is a military spouse and consultant who likes to connect the dots about the importance of etiquette in today's world. She provides workshops and presentations to private business, corporate, government and not-for-profit clients. www.savoirfairecanada.com
Natalie MacLellan: Contributor 
Natalie MacLellan is a military spouse and the owner and Senior Writer and Editor at Best Foot Forward. She is a Certified Professional Résumé Writer (CPRW), a Certified Résumé Specialist in Military-to-Civilian Transitions (CRS-MCT), and a Certified Employment Strategist (CES). She can be reached at www.bestfootforward.co, [email protected], or toll-free by phone at 855-422-8494.
Deborah Van Der Linde: Contributor, Avid Reader
Deborah is a librarian who is passionate about books, storytelling, and writing. Thanks to her husband Adam's military career, they have had the great fortune of living all across Canada. Deborah and Adam have two delightful children and a dog that thinks he's one of the kids.
Pierre Goulet: Contributor, Money Matters
Pierre Goulet, CFP, Associate Vice-President, Client Services Delivery., SISIP. Proud to be leading a team of financial professionals who provide insurance, investments, savings & advice, exclusively, to the members of the Canadian Armed Forces Forces.
Stephanie Nelson OT Reg (Ont): Contributor – Occupational Therapist
Stephanie Nelson, owner of adaptABLE Occupational Therapy, is a proud military spouse currently living in Petawawa, ON. adaptABLE OT is a paediatric occupational therapy clinic that specializes in children from 0-18 years of age, both in person and throughout Ontario via online consulting. She's a life-long learner and loves exploring the great outdoors. Visit adaptableoccupationaltherapy.com for more information.
Ross MacDonald: Photographer
Born and raised in the scenic Ottawa Valley, Ross has been fascinated with photography from a young age and bought his first SLR camera with money saved from his first summer job. Through the years Ross has been re-telling his stories through photography and brings his cameras along on all his special life-events. Looking through his camera's viewfinder Ross aspires to create the perfect composition and capture optimal lighting while seizing real-life moments in a still image.