The Spiderwick Chronicles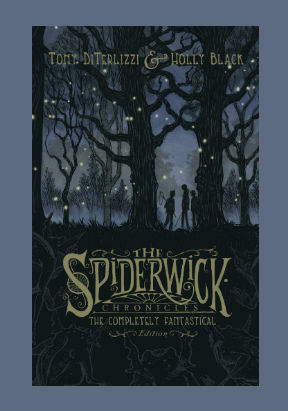 I have to be honest, one of my favourite stories to share with the 5-9 year old crew is The Spiderwick Chronicles, a five book series by Holly Black and Tony Diterrlizzi. The stories centre around Jared Grace, his twin brother Simon, and older sister Mallory, as they explore their spooky and strange new home, and discover all its many secrets.
The series begins with The Field Guide, where Jared discovers a very strange, old book that catalogues all sorts of fantastic creatures. After discovering the book, he and his siblings discover that a magical world exists alongside their own world. In The Seeing Stone, the Grace children learn far more about this new world, have run-ins with mythical creatures, and desperately attempt to prevent their mother from knowing what is happening. In Lucinda's Secret, the Grace children learn their Great-Aunt Lucinda may not be as crazy as she is reputed to be – and get some help from her, as well. The fourth book, The Ironwood Tree sees Simon kidnapped by goblins, elves trying to capture Jared, and Mallory disappearing. The final book in the series, The Wrath of Mulgrath, picks up immediately where the fourth leaves off. Unfortunately, when they return to the house, they discover that their mother is missing. Teaming up with some fantastical friends, they head out to save her.

The story moves quickly enough to keep the youngest readers (or listeners) entertained, but still manages to build the plot, and show character development. There is just enough suspense to keep listeners (and readers) at the edge of their seats – without giving nightmares. Best of all, this wonderful adventure can be enjoyed by both child and adult – and is especially wonderful when shared together. It works beautifully as a read aloud story.
Even the books themselves are well designed, with appealing covers, and lovely illustrations well spaced throughout the story. They are small enough to be held in young hands, making it easy for young readers to hold and enjoy.
With the winning combination of well paced plot, effective writing, lovely illustrations and high adventure, these books are certain to be a hit with your family.