Simple Summer Meals: Summer Taco Salad
Submitted by Alla Cook
This is a quick, flavourful, and simple summer meal the whole family can enjoy. If you have children who prefer tacos, you can just warm up shells for them, and while you enjoy a salad for dinner they can enjoy tacos. A win for everyone! To make this dish vegetarian – see below*.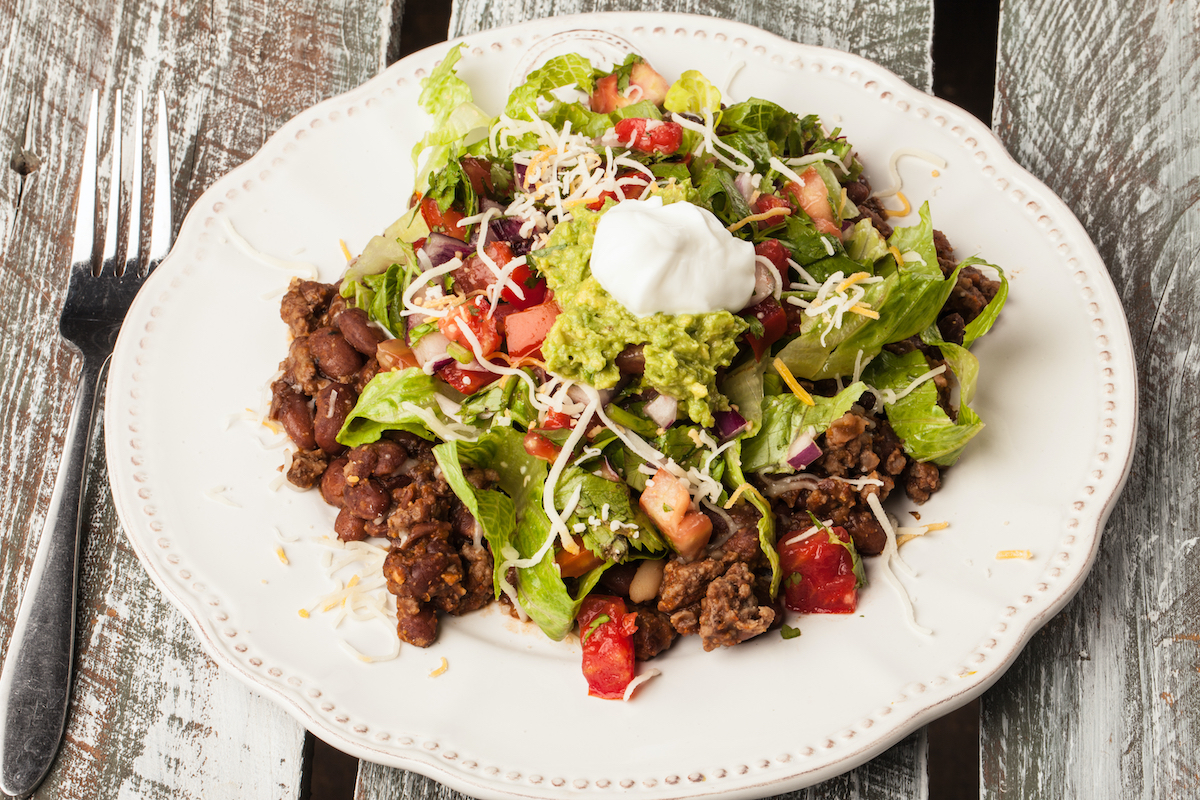 Ingredients
1 pound lean ground meat: beef, chicken, or turkey*
1 Tbsp. chili powder
1 tsp. ground cumin
1 tsp. salt
½ tsp. garlic powder
½ tsp. onion powder
½ tsp. paprika
¼ tsp. dried oregano
½ Tbsp. cooking oil
½ cup water
2 Tbsp. cooking oil
1 head iceberg or romaine lettuce chopped
1 15-ounce can of pinto beans (or beans of your choice), rinsed and drained.
1 cup diced tomatoes (you can add diced fresh tomatoes to the canned ones).
1/3 cup green onion, chopped
1-2 cups shredded Mexican blend cheese
½ or more 11-ounce bag of nacho flavoured tortilla chips
Catalina dressing
Sour Cream
Salsa
Guacamole
Directions
In a large bowl add ground meat, chili powder, ground cumin, salt, garlic powder, onion powder, paprika, and dried oregano. Mix together with salad tongs or with hands until well combined.
Heat a large skillet over medium to high heat. When hot, add cooking oil. Add ground meat mixture. Break up the meat into smaller chunks with wooden spoon. Cook while stirring occasionally until the meat is completely browned, 9 – 11 minutes.
In a rush, you can also use Taco Seasoning instead of spices.
Add the water and bring to a simmer until the water has evaporated. Remove from heat. Cover meat mixture to keep warm.
While the meat is simmering, in a large bowl mix together the chopped lettuce, tomatoes, beans, green onions, cheese, and Catalina dressing to your taste. Toss to combine. Add tortilla chips and toss again.
Serve the salad, topping each serving with the seasoned ground meat.
Add sour cream, salsa, guacamole to your liking.
* Looking to make it vegetarian: Use Beyond Beef, 1 package of Yves Mexican Ground Round (you will need to only heat up the Ground Round) or just keep it plain by cooking together one can beans and one can diced tomatoes with above spices.