An Undeniable Bond: Podcast for Military Women
No matter which direction careers or even someone's life may take them, women who are graduates of the Royal Military College of Canada (RMC) have an undeniable bond forged in common experiences.
To foster this bond throughout their life transitions, Amanda Kalhous, a graduate of RMCC, founded the Women's Mentoring Network of Canada (WMN) Canada. WMN Canada is a podcast about "ex-cadet women mentoring and building a community together."
The hope is that this podcast can help others see what can come after military college and a career in the CAF.
"It's the transition for people who are thinking about starting a family, thinking about changing careers or have already left the military and are trying to figure out what is their community. I'm trying to share different stories so that people can see that even though we have this same foundation of having gone to military college, where you take it, can be vastly different," said Kalhous, a nine-year veteran of the Canadian Armed Forces.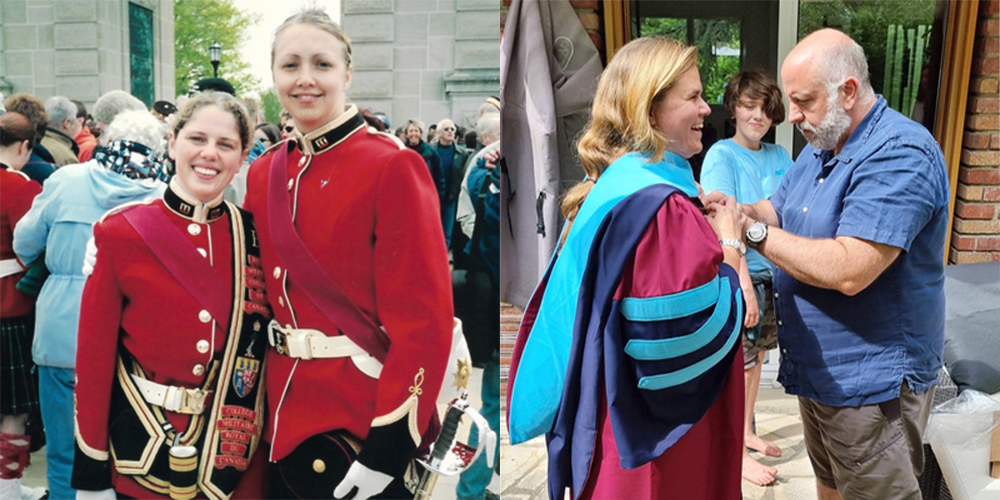 Born From Connections
The idea for WMN Canada was born when Kalhous met Kate Armstrong in 2019, author of The Stone Frigate, a story about Canada's first female cadets.
"What struck me from her book was that even though we'd graduated 10 years apart, there were a lot of things that had still been the same. When I was at military college, it just seemed normal to me that women were there and that it wasn't this new thing. But reading Kate's book, it was just interesting to see how some things had changed and how other things hadn't changed at all. I started to think about all the women who had gone to RMC from Kate all the way through to present time," Kalhous explained.
As she continued to think about all the women who attended RMC, she noticed that even though there is an ex-cadet club, there wasn't anything connecting these women. "I felt like it was something missing," she said.
All of this coupled together led to her finding WMN Canada.
Empowering Female Guests
In her podcast, she is also working towards building a network for people to learn and grow from the experience of others.

When finding guests for the podcast, Kalhous would initially call people she knew and then received connections from friends of friends. This year she has help from Helga Rausch, RMC graduate, and veteran, to bring new people onto the podcast to expand it beyond her one degree of separation. So far, the show has seen 32 guests.
One notable guest featured on WMN Canada was Rosemary Park, one of the first female ROTP candidates. Unfortunately, since she went to university in 1972, there was no opportunity to go to RMC.
"It was interesting to hear about her story and her service," Kalhous commented.
The latest episode features Maj. Heather Reibin, a graduate of RMC from the class of 2005. She completed her degree in Chemical Engineering and now serves as a Combat Engineer for the Army. Heather's career has taken her from West to East, and she is currently based in Ottawa as Staff Officer to the Army Commander.
The Ins & Outs
Kalhous asks her guests questions about their time at RMC, leading up to and after graduation. She also asks them to share any advice they may have about transitions, careers, or anything else. Since not everyone she interviews is actively working right now, she says it makes for an interesting listen.
Doing this podcast, Kalhous says, has been an amazing experience.
"I think it's filled a gap that I felt going through my own career, especially as I transitioned from being a serving member to being a civilian. You feel like you lose a bit of your identity because often our identity can be tied to our employment," she explained.
When asked why people should tune in to the podcast, she said, "There's something to be taken away from everyone that comes on the show, whether it's someone like Charity Weedon who's gone on to be Vice President, Global Space Policy, Astroscale US; or my classmate Josée St-Pierre who makes cakes for the Wishes Foundation," she continued, "The thing that I found is that service is what is really at the core of why all these women joined and went to military college, and that doesn't tend to end when their military career ends."