Veterans Sharpen sharpen Culinary Skills
A delicately assembled French pastry, an intrinsic yet delectable Coq au vin, French food has earned its spot as one of the best cuisines in the world.
The ability to recreate one of these masterpieces is a work of art in its own right. And the skills to make that happen are being taught right here in Canada at the internationally heralded Le Cordon Bleu Ottawa Culinary Arts Institute (LCB).
In recent years, more and more Veterans of the Canadian Armed Forces (CAF), hungry to sharpen their culinary skills, are turning toward this Institution to learn about French cuisine and the art of cooking. And thanks to programs from Veterans Affairs Canada (VAC), more and more Veterans are able to make their culinary dreams into a reality. Le Cordon Bleu is also aware of these Veterans' dreams and has opened its doors willingly, welcoming in several Veterans at each intake and celebrating their former military students.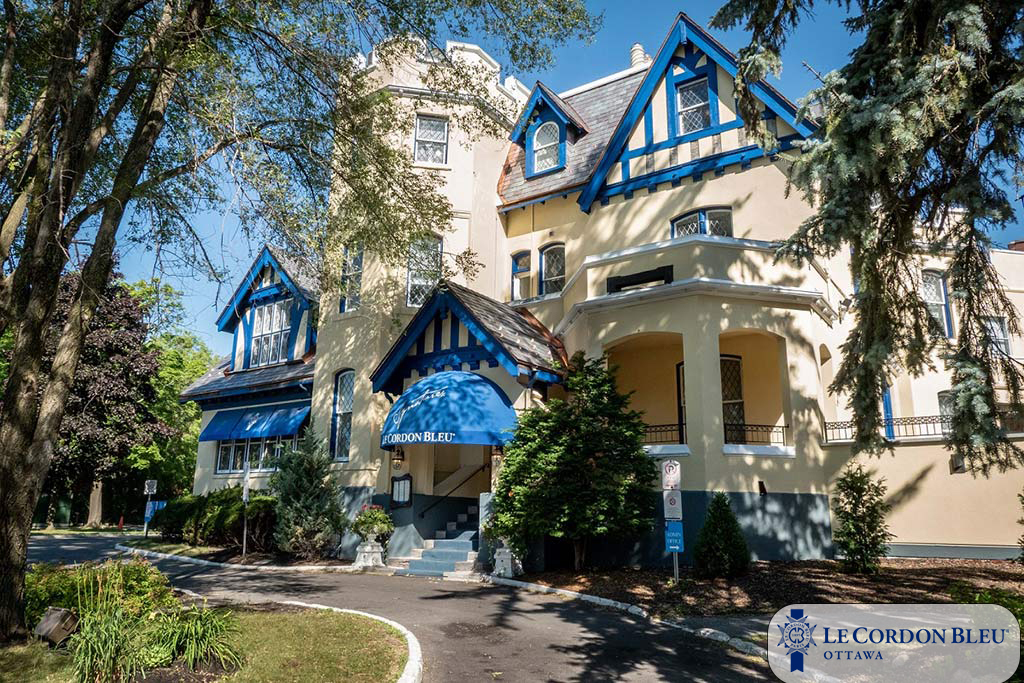 A World Class Institution
Le Cordon Bleu, first established more than 125 years ago, may have started off as a small Parisian cookery school but today stands as a Global Network of Culinary Arts institutes. The name evokes a certain appreciation from those in the culinary field.
LCB offers a wide range of culinary arts, wine, management, boulangerie and hospitality programs. And courses that range from short gourmet to the famous Grand Diplome.
All programs are with French chefs who have worked in Michelin-star restaurants.
Depending on their interests, Veterans have chosen to seek out the different diplomas and courses offered by the Institution, such as the Diploma de Cuisine, considered the most rigorous and comprehensive program in French cuisine. All in all, six different diplomas are offered by LCB, with new programs added every year.
"Our roots may be traditional, but our outlook is very modern," said Abishek Sharma, Sales and Marketing Manager for LCB Ottawa.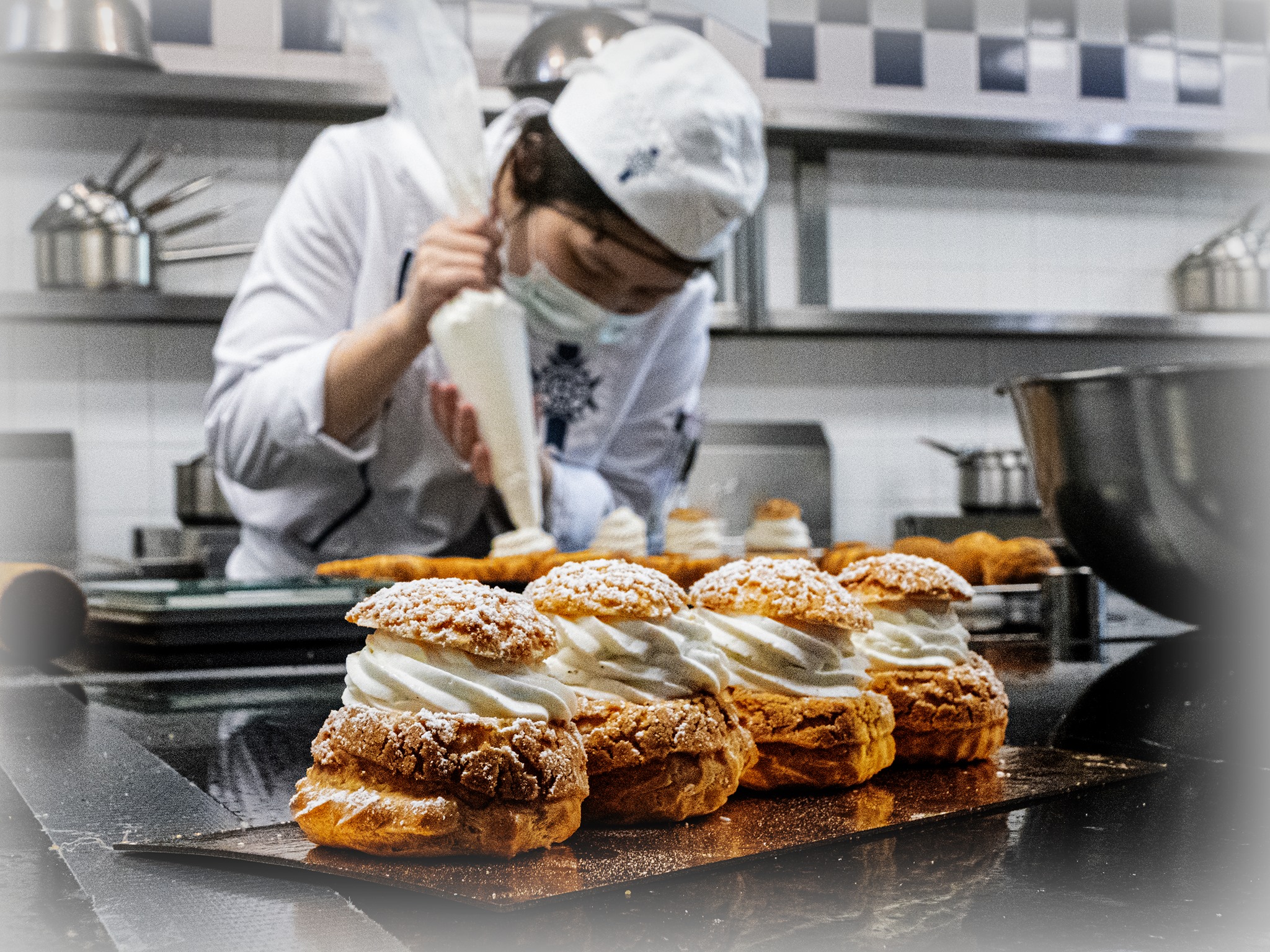 The Only LCB in North America
Currently, Ottawa is the only city in North America that houses this time-old culinary institute. It is located in the historic Munross Mansion and situated right in the heart of Canada's capital. The institute has three commercial-grade kitchens and an upscale restaurant run by Executive Chef Yannick Anton.
Additionally, LCB Ottawa was voted 2022's Best Culinary Training Institution in North America by World Culinary Awards.
Of course, its location in Ottawa makes it all the more attractive for Veterans to join. Veterans like RAdm. (ret'd) Craig Donovan.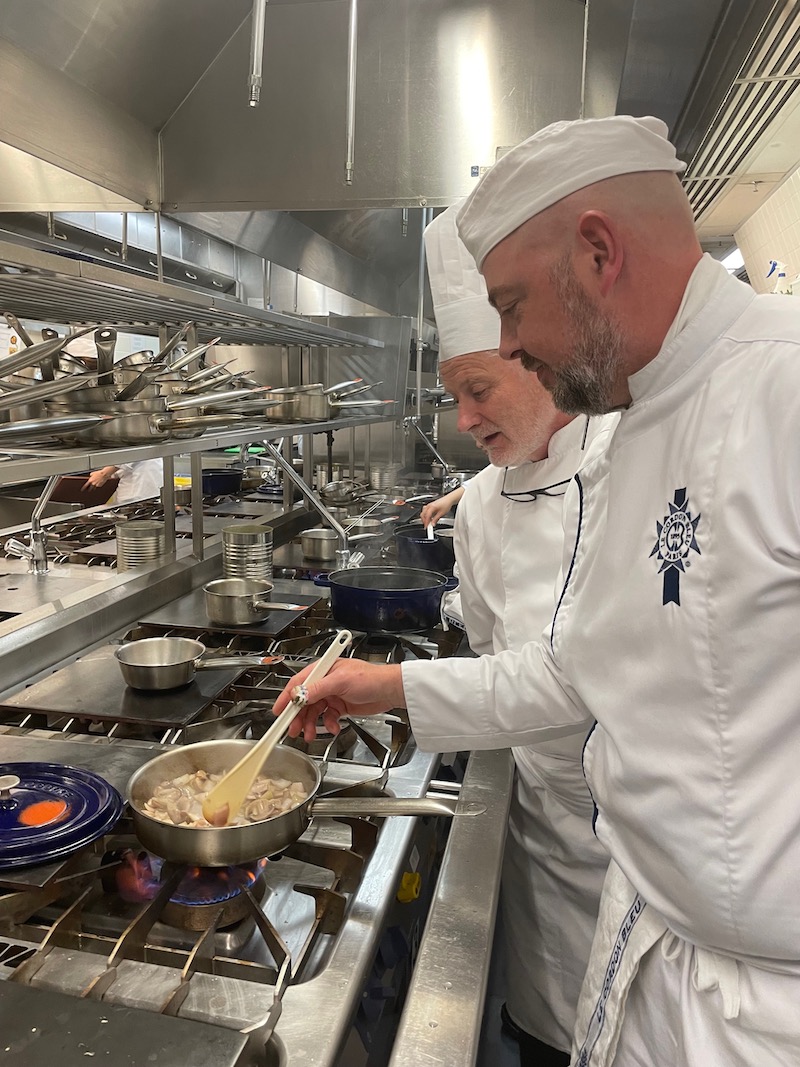 From RCN to LCB
Once the Deputy Commander of the Royal Canadian Navy (RCN), RAdm. (ret'd) Donovan now enjoys his time as a student at Le Cordon Bleu Ottawa.
Donovan served for many decades in the CAF and says he loved every minute of his career. After retiring this year, Donovan decided to pursue his culinary passions, thanks in part to funds received by VAC.
"As a veteran with CAF, I have an opportunity, through VAC, to access funding for either pursuing more education, pursuing training for a second career, or even pursuing a passion. For me being here is a bit of pursuit, a passion. I've always loved cooking, and it was an opportunity at this stage of my life, immediately after retirement prior to seriously considering a second career, to learn to cook better through some professional training," said Donovan.
Donovan is like a number of other Veterans who have decided to pursue their passions at LCB. Many of these Veterans, says Sharma, always have had a passion for culinary arts, and now they have the opportunity to learn.
After a decades-long career in the military, Donovan says he sees many similarities between military training and culinary training, namely the teamwork aspect.
"We can't really function really well in the kitchen without working as a team, communicating as a team, helping each other out," the retired RCN member noted.
To those Veterans thinking of seeking out change and hoping to pursue their hobbies, Donovan says don't be afraid to go for your passions.
"Think about what you like. If you're trying to pursue something you like, you enjoy, you have a passion for, you're more likely to do it well, to enjoy yourself, to enjoy life in general, while you're in that career," said the retired RAdm.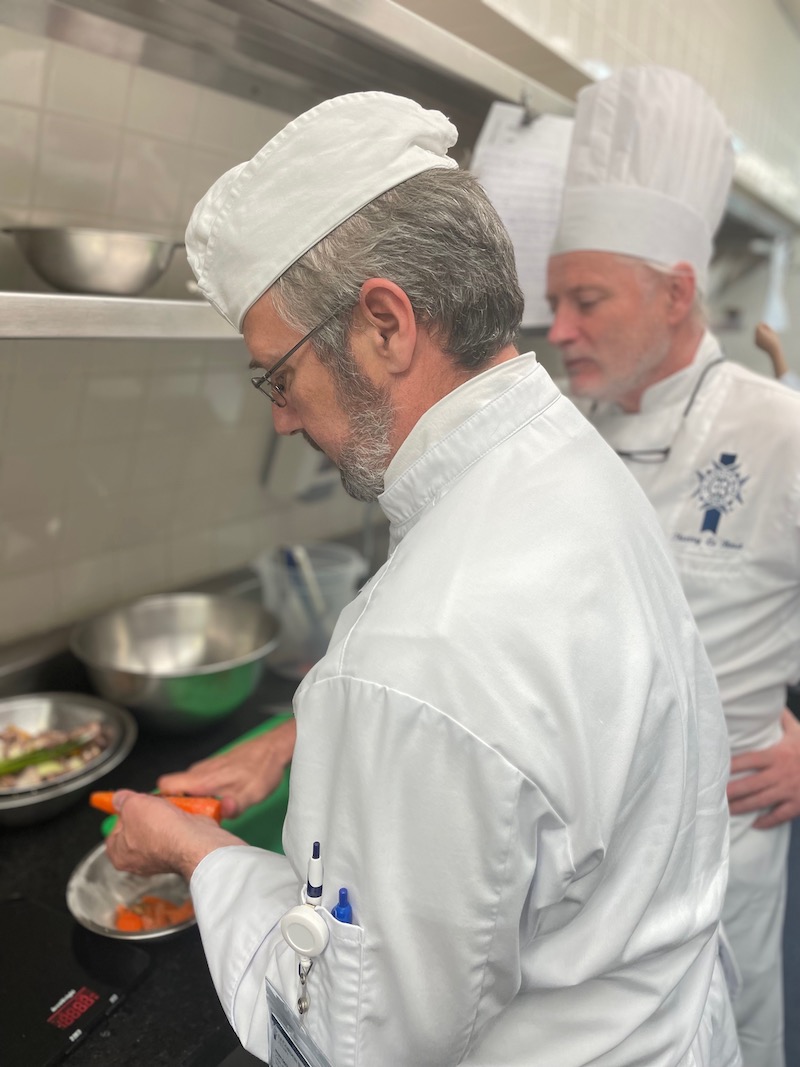 VAC Benefits
In April 2018, the Government introduced the Education and Training Benefit. Administered by VAC, the ETB provides Veterans with the funding to pursue their educational goals at college, university or a technical institute.
Additionally, SISIP provides the CAF Long Term Disability Insurance to eligible veterans. Under this program, veterans can access career counselling to target their training and job search to skills they already have, access money for tuition, books, and supplies, and get help with childcare, travel, and living expenses associated with retraining.