Crafting the Perfect Mug of Ale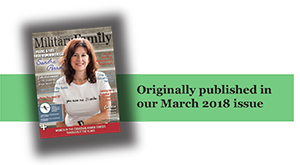 You can't get more Canadian than a crisp, refreshing beer that has been brewed in Canada by military veterans using some of the finest ingredients Canada has to offer. And the Sirko brothers would have to agree. One with the brewing skills and one with the business skills, the Sirko brothers are a dynamic duo taking the world of beer by storm with the opening of Vimy Brewing Company.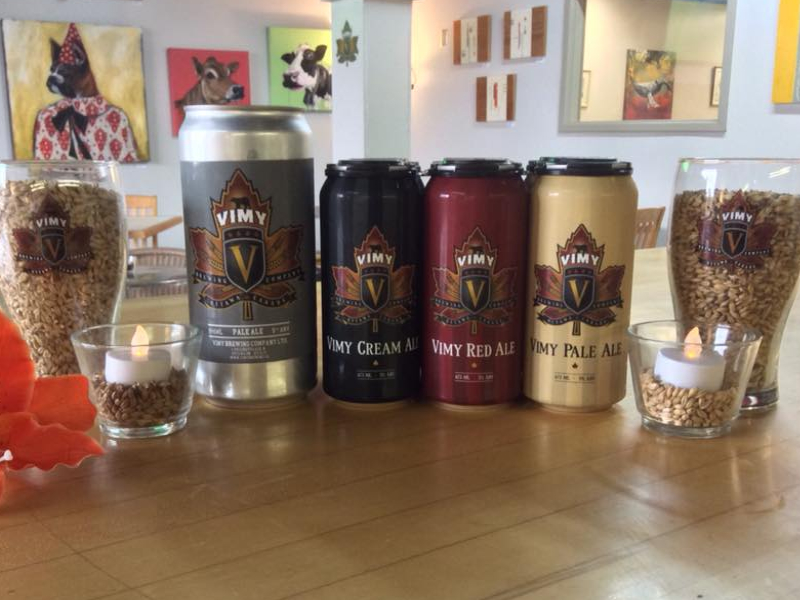 "I love it. I've never worked longer hours in my life, and it's a passion, and when you're able to turn a passion into a career it's a great feeling," said Mike Sirko, the master brewer at Vimy Brewing Company. The Sirko brothers began their journey to crafting some of the finest Canadian Ales around in part thanks to their service
with the Canadian Armed Forces. Kevin Sirko joined the military in 2004, and his brother Mike followed a year after. Both served in the Naval reserves as sub-lieutenants while simultaneously completing their education: Kevin was studying at Queen's University, and Mike was at the Royal Military College of Canada for a master's degree.
Service Leads to Business Idea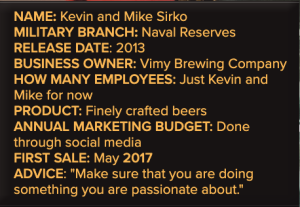 "My grandfather was a telegraphist in the Royal Canadian Navy during the Second World War, so I had always been interested in experiencing what it was like to be in the Navy," said Kevin. While serving in the Naval Reserves, the bothers had a chance to travel across the country and meet people from all over. It was while they were completing various exercises and training with the Royal Canadian Navy, and experiencing local bars, that the idea of a brewery started to take root. "One thing that I noticed every time was that there was no actual truly Canadian beer that we could toast to Canada.
There was a lack of a beer that celebrated Canada that was made in Canada by Canadians," recalled Mike. Mike had been an avid home brewer for ten years and had carefully crafted his hobby over the years by training with professional brewers and completing courses on using commercial equipment. Mike's hobby developed and progressed to the point that he could open up a business. Luckily, Kevin had also just graduated with an MBA from Carleton University. The two decided to build on their natural partnership. "My brother and I have always been close. We knew that we can work well together and we trust each other. We've always wanted to start a business together," commented Kevin.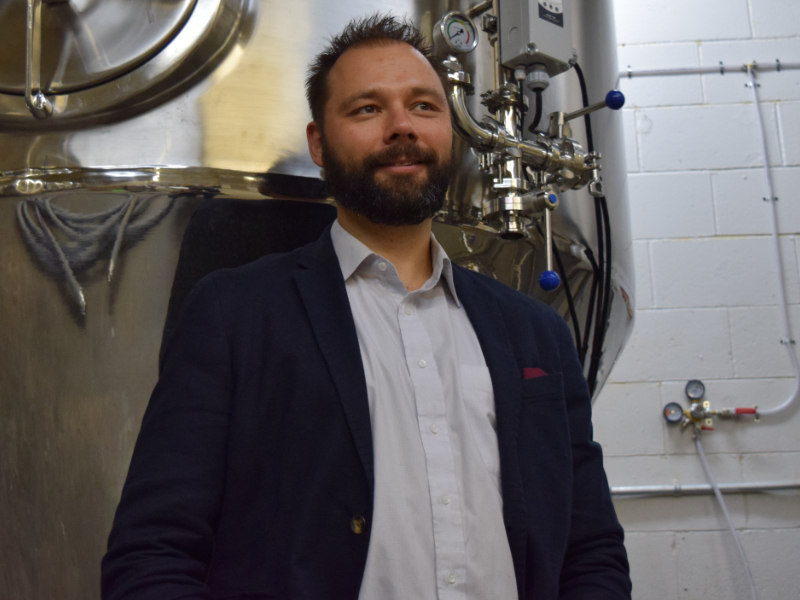 Celebrating Canadian Achievement
The two brothers finally opened the Vimy Brewing Company in Ottawa in May 2017. "We chose the Battle of Vimy Ridge because it was a very inspirational moment for us that we wanted to celebrate as a Canadian achievement, and a proud Canadian moment," explained Mike. The two bring together their unique skills to make the Vimy Brewing Company such a success. Kevin takes care of the behind-the-scenes aspects of the business: sales, accounting, logistics, events, human resources, festivals, and anything else business-related. And Mike takes care of brewing the beer. "I focus on quality. It's something we place a lot of importance on producing a beer of high-quality," stated Mike. Their focus on quality is reflected in the brewing process.
The beers are tested at every single stage and are brewed with as many Canadian ingredients as possible. Although some specialty grains need to be brought in from the United States and the United Kingdom, the bulk of the ingredients are from Canada. The majority of the grain is brought in from Alberta and Saskatchewan, and Mike attributes the fine taste to the quality of the water in Ottawa. The Vimy Brewing Company offers three flagship beers. Their Vimy Cream Ale is a take on the classic Canadian cream ale and is described as having "a light readiness and an earthy, slightly spicy hop finish." The Vimy Red Ale, a take on the Irish Red Ale, is a crisp ale with a mild caramel backbone.

Lastly, the Vimy Pale Ale, a take on the American Pale Ale, has a delicate citrus hop flavour and aroma. All of the beers are brewed at five per cent alcohol. "We aren't brewing high-alcohol beers. We want to brew beers people can enjoy with their friends and can enjoy at events and can enjoy during a hockey game," noted Mike.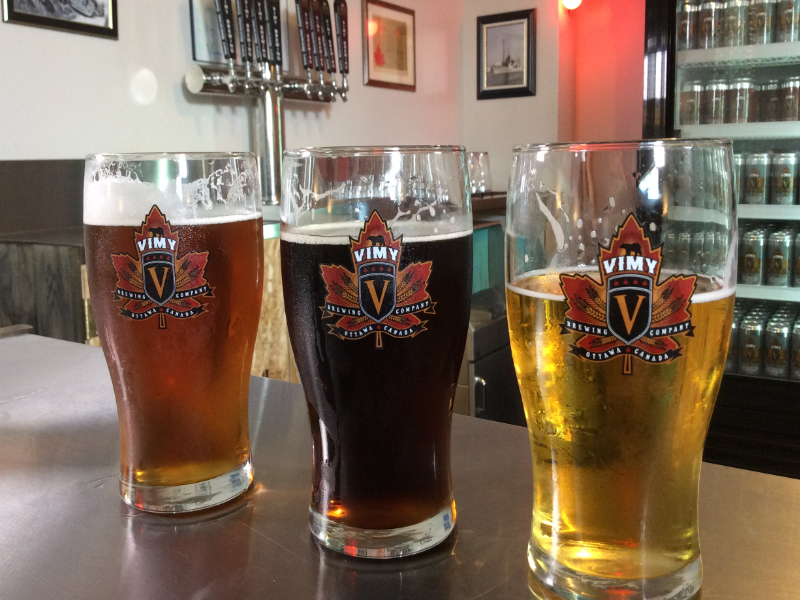 Marking Great Canadian Moments & Achievements
Not only is Canada infused through the Sirko brothers' product, but the Vimy Brewing Company itself is an homage to great Canadian moments and achievements. The walls of the taproom are covered with images of historical moments such as the Olympic Games in Vancouver, BC, and images of Terry Fox, Mike's all-time favourite Canadian hero. In that spirit, the brewery has also rapidly become a hotspot for community events. In the last few months, the Vimy Brewing Company has hosted all kinds of events from parent-teacher council meetings, to birthday parties, to anniversaries, to local bands and has even hosted various military events.
"The community is really enjoying being able to come use our space, and we love having different events in here as well and being able to interact with the community," said Mike. Through their success, the brothers have been able to maintain a strong connection with the military and not only do the host certain regimental events but their beers are also on tap at the Army Officers' Mess, the Warrants' and Sergeants' Mess, and the Cartier Drill Hall. "Having been in the military ourselves, we know that it's important to recognize Canada, the men, and women in uniform. For us to reconnect with the Canadian military community is a great honour for us," commented Mike. Furthering their community involvement, the Vimy Brewing Company also offers tours of the brewery on a weekly basis.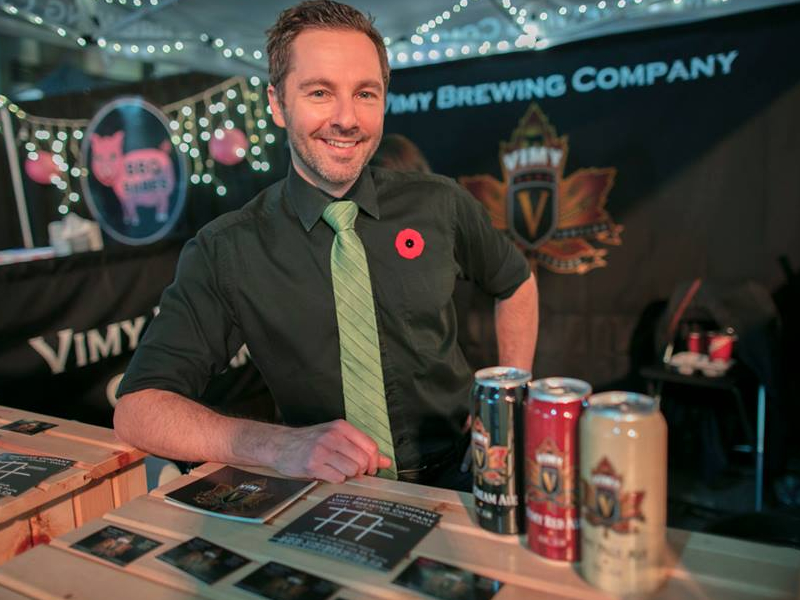 Those on the tour get to interact with the brew master himself. "I love talking beer, and I love getting all kinds of people in here," said Mike. The Sirko brothers and the Vimy Brewing Company have come a long way in less than a year, but both brothers have their eyes set on the future. They are currently looking to expand and get their beers into more and more restaurants and bars in Ottawa. They are also expanding into sites in Whitby, ON; Cornwall, ON; and Arnprior, ON and are in the process of making their ales available in LCBOs across Ontario. "I would like to see beer drinkers in every province and territory toasting to Canada while raising a glass of their favourite Vimy beer," said Kevin.