Military Police Working Dog, Vimy passes away
Above image: Vimy was featured on Canadian Military Family Magazine's Holiday 2016 issue. He was the CAF's only Military Police Dog and served 12 years and retired in March 2020. On the right he is pictured with his trainer Warrant Officer Caron. 
Vimy, the last military police working dog, passed away on Sept. 13, 2021.
Vimy's name was chosen to commemorate the First World War Battle of Vimy Ridge. From April 9-12, 1917, the battle in France saw more than 10,000 Canadian troops either killed or wounded.
Additionally, according to an article in the Trident Newspaper written by MPU Halifax, "The name "Vimy" represented a military nexus to policing, along with a call to service within the Military Police Branch."
Vimy Trained as a General Service Police Dog
When he was just 16 weeks old, Vimy was chosen to be a police dog by the Ontario Provincial Police. Vimy was enrolled into the Military Police Branch in July of 2008 after both Vimy and Warrant Officer (WO) Caron completed their training.
Vimy was trained as a general service police dog for the Military Police Branch and had a specialization in narcotic detection. After 12 years, Vimy retired from service on March 31, 2020.
After 12 year of service beloved CAF police dog, Vimy retires
Trained With OPP
In the beginning, Vimy and Caron trained with the OPP. The pair were certified to track suspects/missing persons, search ships and were also certified to do drug searches and officer protection.
The Trident article mentions, during their career, they worked within the military and with outside agencies such as: Halifax Regional Police, Royal Canadian Mounted Police, Canadian Border Services Agency, Ontario Provincial Police and Corrections Canada.

Vimy followed Caron with police responsibilities to MPU Halifax and 2 MP Regiment, Det Petawawa.
"During the prime of Vimy's career, Vimy and Caron attended on average, approximately 130 calls of service a year," the Trident article noted.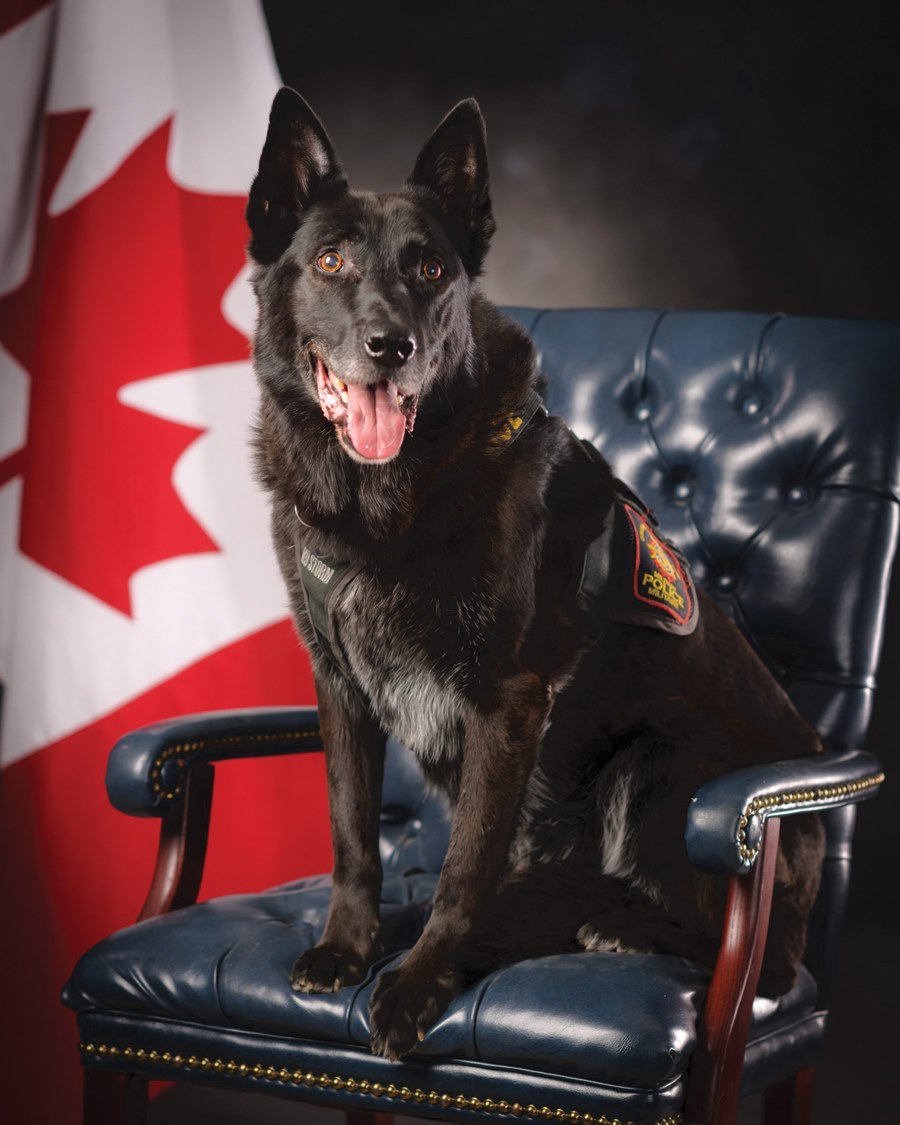 Best Part of Job
One of the best parts of their career together was locating missing persons.
"When you find a missing child or someone that's in crisis, that has taken off to potentially harm themselves, and you're able to locate them safely, those are the bigger highlights to me," said Caron.
Vimy and Caron were inseparable. For 12 of Caron's 14 years in the Canadian Armed Forces, Vimy has been by his side.
'Highly Energetic and Highly Motivated"
"Vimy was described by WO Caron often as 'highly energetic and highly motivated to work."
He also noted that despite the dog's energetic side, Vimy also had an attention-seeking side to him and was often looking for pets.
In the latter part of Vimy's career, the attention-seeking side tended to shine through more and was often a morale boost to members who saw Vimy on a regular basis at MPU Halifax, the Trident article described.
Anyone who would like to send messages of condolences can send them here.