Military couple raising funds for NICU cameras
Above images: The Kerr family. Images courtesy of the Kerr family.
When Corporal Pat Kerr accepted a deployment to Latvia last August, the Army Communications & Information Systems Specialist could not imagine he would repatriated back to Canada and be raising money for their local hospital.
Having settled in to their first posting with Canadian Forces Joint Signal Regiment at Canadian Forces Base Kingston, the couple learned in September they were pregnant.
"My wife and I talked about it, and we decided that it was probably better for us financially to take the deployment and go for it," said Kerr. Kerr's wifeis a nurse at the Kingston Health Sciences Centre.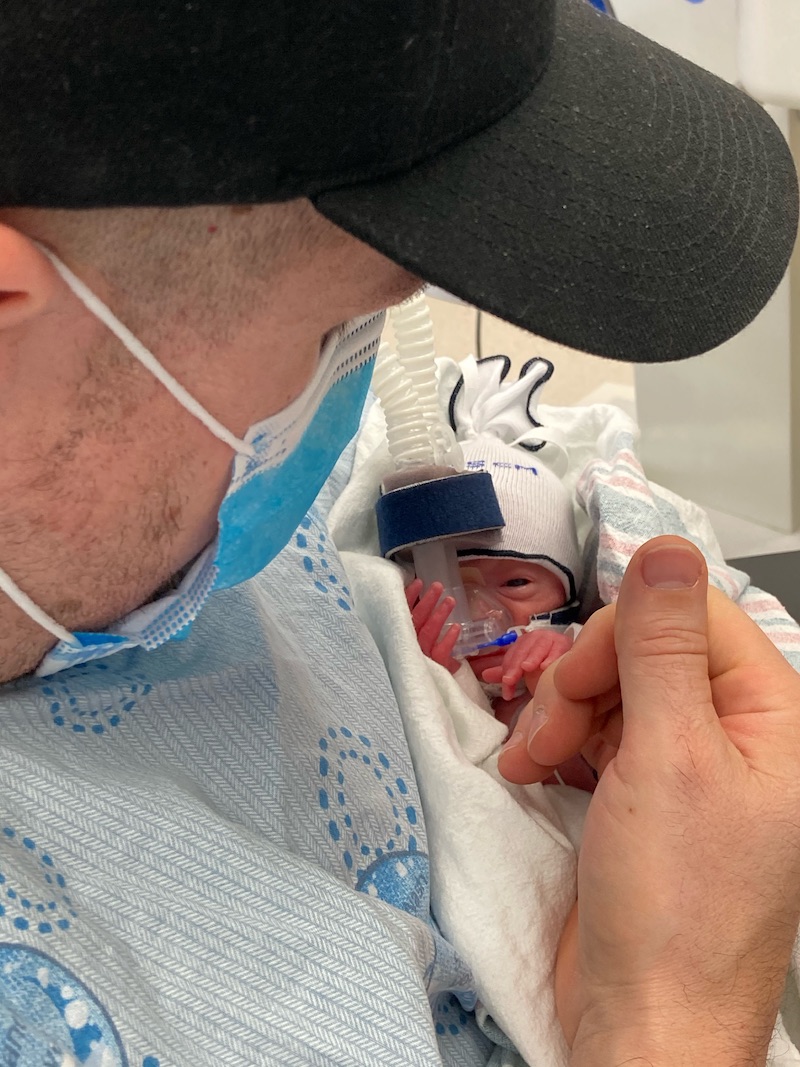 BEST LAID PLANS
He explained that they had everything in place for a typical, standard birth, as he headed overseas this past January. However, his tour was cut short, and everything went out the door in February when his daughter arrived early.
Born on February 25, 2021, Hannah was born at 27 weeks, weighing a mere 1lb 12oz. Due to complications of HELLP syndrome, she arrived early.
HELLP syndrome is a life-threatening pregnancy complication that is considered to be a variant of preeclampsia. Both conditions, HELLP syndrome and preeclampsia typically occur during the later stages of pregnancy or sometimes after childbirth. HELLP syndrome characteristics are hemolysis, which is the breaking down of red blood cells, elevated liver enzymes, and low platelet count.
Hannah is currently in the Neonatal Intensive Care Unit (NICU) at Kingston Health Sciences Centre, receiving treatment.
"When I got repatriated from Latvia, I had to spend 14 days in isolation, and my daughter was born the evening before I came back over here. So my wife was in the hospital for a couple of days alone. I waited at home by myself those 14 days, and my wife eventually went to a friend's house."
It's been tough for the family not to see Hannah as long as they'd like due to the current COVID-19 restrictions.
"You get in there, and the nurses are great. You can call anytime, and they'll give you updates. But, it's just not the same as being there," he explained. "Most times, you want to bring your baby home, but when you can't, and you can't be there with them, you sort of feel like you're failing as a parent."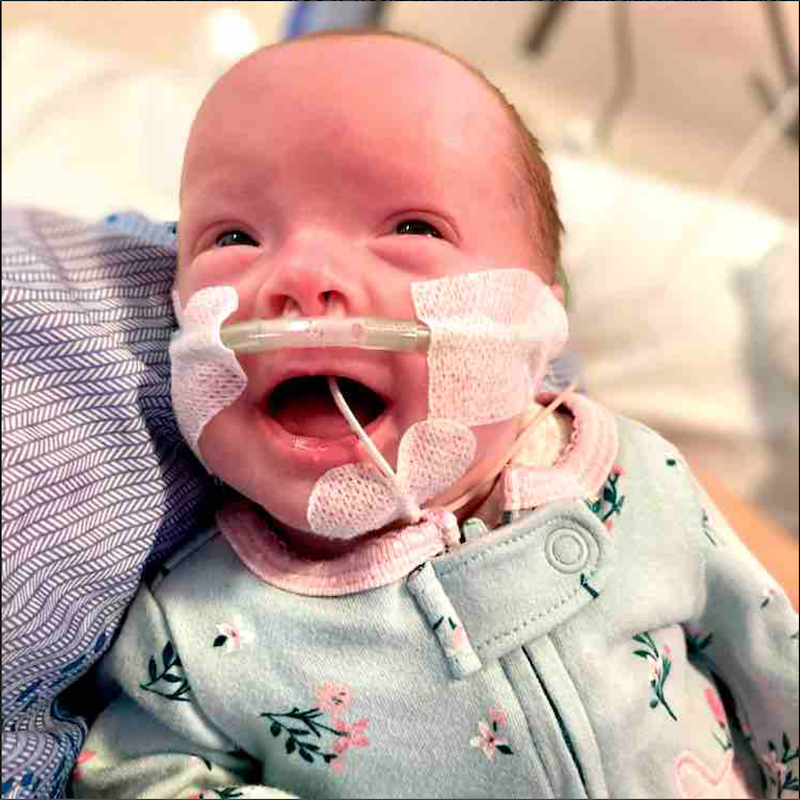 OTHER PARENTS IN THE SAME SITUATION
Unfortunately, the Kerr's are not the only family that has dealt with this situation. Families having babies over the last year have faced a number of challenges concerning health regulations and restrictions brought on by the current COVID-19 pandemic.

"If my wife and I go together, then that one block that we go together counts as like both of our three-hour blocks," Kerr explained. "There's a lot of people who can't spend a lot of time with their babies, and if you're coming from a red zone, every time you want to come into the NICU, you have to do a COVID test."
The NICU in Kingston is one of only six hospitals in the province with a level 3 Neonatal Intensive Care Unit ward, a unit that cares for newborn babies that need intensive care. Since the COVIV-19 pandemic arrived, parents only get two three-hour blocks a day to be in the NICU with their babies.
WEBCAMS FOR NICU BEDS
To overcome the issue and for parents to see their little loved one at a whim, the Kerrs learned about a webcam project through the University Hospitals Kingston Foundation. The project comes in response to an immediate need to outfit the NICU with web camera access. The goal is to equip every NICU bed with a webcam, allowing parents and families to see their baby through a secure connection from a home computer, tablet, or cellphone 24/7, even when they are not at the baby's bedside.
Parents are given a hyperlink to a secure portal to fill in a username and password specific to the webcam they want to access to watch their baby. Family members can log in as well as, the username and password can be shared. The cost to outfit the NICU at the science centre will cost approximately $100,000.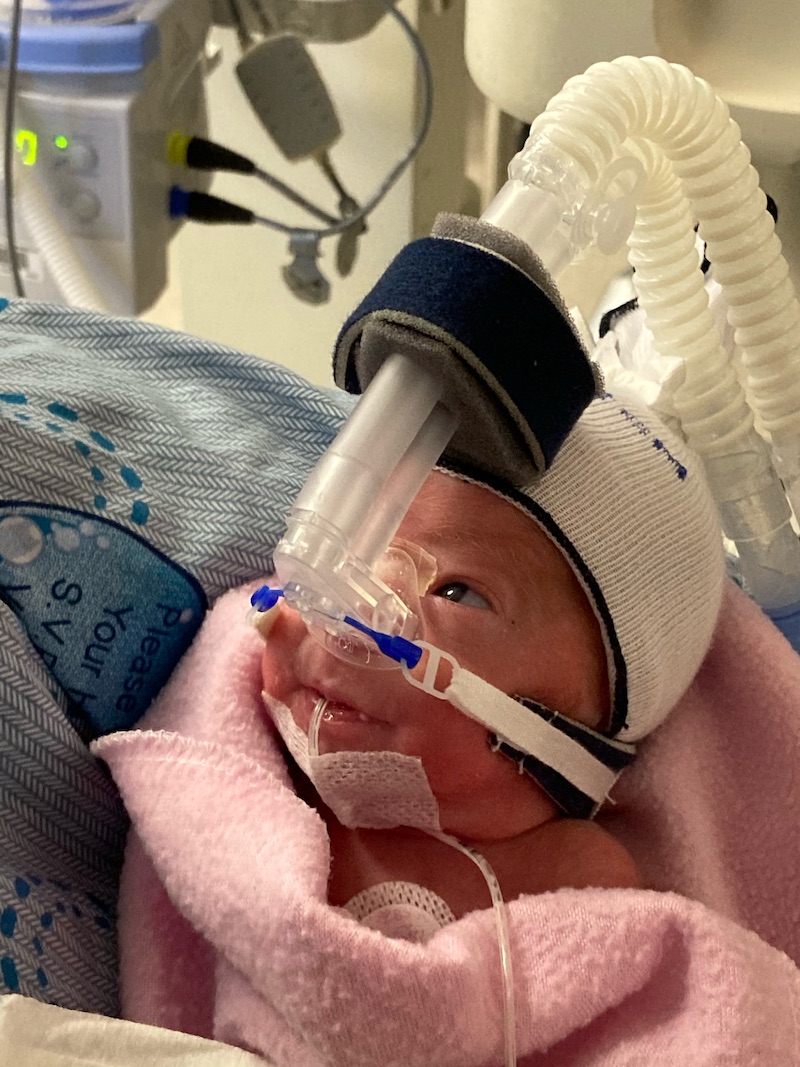 RAISED OVER $25,500 TO DATE
The Kerrs decided to help out as they saw the importance and need for webcams. Kerr plans to ruck 1 km for every day Hannah is in the NICU, once she's home and COVID-19 restrictions are lifted to raise money.
To date, they have raised $25,532, and since a number of people have read about their story, lots of outside donations have also been made.
"We got a $5,000 donation from the Lion's Club here in town, and they were challenging a bunch of other people to donate as well. It looks like the project's almost completely funded now," said Kerr.
While the Kerrs are aware the project isn't going to benefit them, as the odds are the webcams will be installed after Hannah is home, they are happy to help families in the future that might not have the opportunity to see their baby.
Similar projects have happened in Saskatoon and Halifax. Kerr mentioned the webcams are helpful for parents as it gives them the ability to step away for a little while their child is in a NICU.
"I know there's a lot of parents that I've seen that have said 'I was there for six weeks, and I might've left for four hours,' so this might give other parents the ability to leave and decompress a little bit better than living the NICU life over and over again," he said.
To learn more or donate visit Kerr's GoFundMe page.