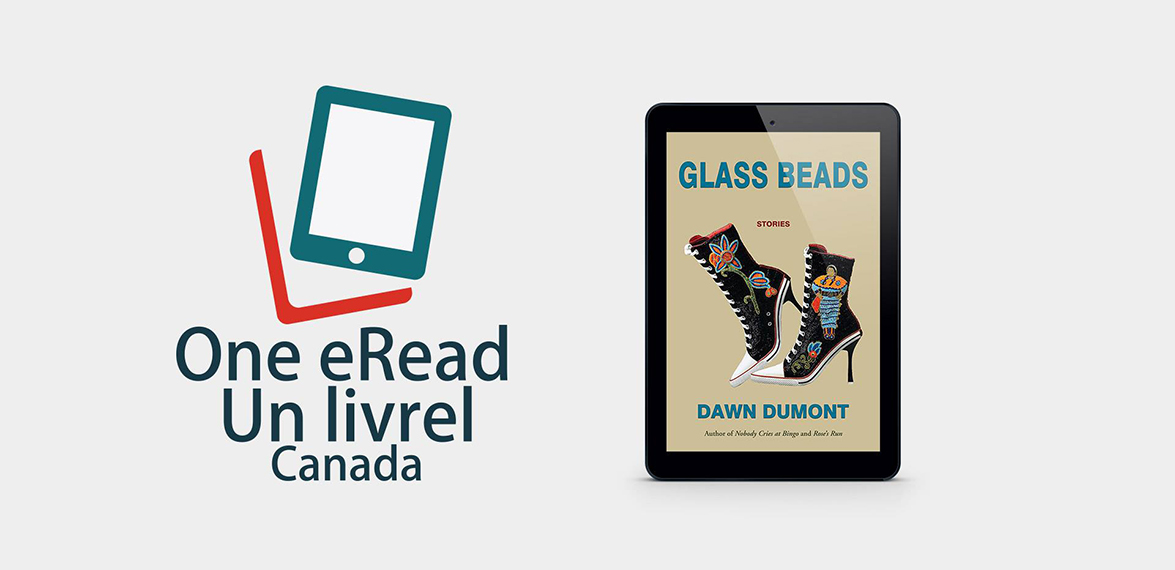 For the month of June, over 300 libraries are working hard to get Canadians coast to coast reading the same book. It is the inaugural One eRead Canada event, and during the month of June participating libraries have unlimited copies of the title in either ebook or audiobook format for patrons to read. The book is Dawn Dumont's Glass Beads, and it was chosen in celebration of Indigenous History Month. 
Dawn Dumont is a writer and comedian, and this is her third published book . Glass Beads is the interconnected stories of four young indigenous youth as they struggle to come of age. Their stories start at their childhood homes on a reserve and follow them as they leave home to make their way in the city, the first in their families to do so. 
The stories follow them through tragedies, travel, world events, their struggles to get beyond racism and isolation, all while finding their own identity. It is an intimate look into the struggles faced by many young indigenous people as they attempt to make their way in the world. The novel spans over two decades, specifically the '90s and 2000s. 
Across the country, different events are happening for One eRead Canada over the course of the month.
 On June 12, there will be a Facebook Live event with the author. Saskatoon Public Library is hosting it, and it is intended to be a venue for people to come together and discuss the book. Questions can be submitted before the event or as it live streams. 
Peace Library System is holding an online book club for One eRead Canada, which will be another opportunity for readers to come together and share their thoughts and impressions of Glass Beads.

So hurry up! Get your ebook or audiobook, and get reading – and don't forget to participate, either at one of the events mentioned above, or maybe at an event happening at your local library. Come June 30. The program will be completed.
For more information on the Facebook Live event, visit the website here.
For more information on the online book club, follow this link here.
Happy Reading!