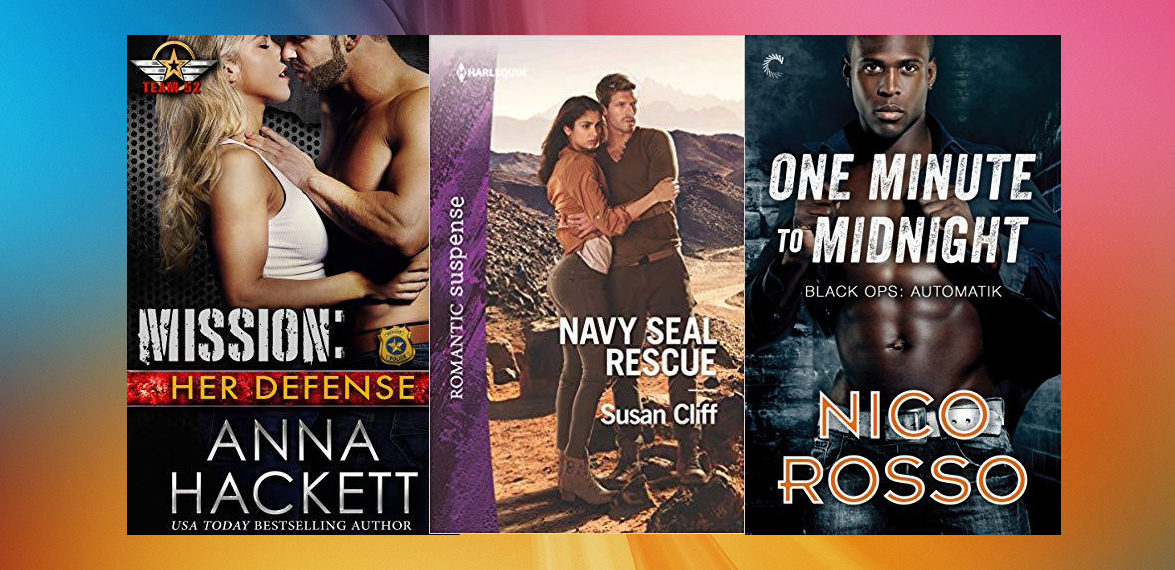 As a librarian, one of my favourite things I do is reader's advisory – which is a fancy way of saying that I help people find the next book they are going to read. 
As such, I try to read broadly over genres – I read everything from children's and young adult books, mysteries, fantasy, non-fiction, and more. At the end of the day, what I love is a well-told story, whatever genre that may be. 
Reading across genres like this is also helpful when I suggest books to patrons at the library.
Another part of my job as a librarian over the years has been taking care of the books donated to the library, which brings me to the books I am reviewing this week. 
Two postings ago, at a library where I was working, we had received a large donation of romances. Now there are a number of sub-genres within romance, but I came across one that I was unfamiliar with – military romances. Though I don't read many romances, I was quite excited to discover this, and have been wanting to write about them ever since.
Interestingly, as I researched for this article, I see that military fiction has become a genre unto itself. I'll have to investigate that more later, for future articles. 
In the meantime, here are a few different titles to get you started in this sub-genre.
The military characters in these books range from Navy SEALs, pilots, special forces, veterans, and more. 

In Susan Cliff's Navy SEAL Rescue, William Hudson ends up teaming up with Dr. Layah Anwar in order to escape enemy captivity. She is attempting to save her family. They journey across the mountains fighting off the enemy and their desire for each other. Part of the Team Twelve romantics thrillers from Harlequin. 
The second book in Nico Rosso's Automatik: Black Ops series, One Minute to Midnight, revolves around former Special Forces sniper, Mary Kuri, and former Navy SEAL, Ben Jackson. Tasked with gathering intel in the town of Morris Flats, they also end up discovering their attraction to each other. Let's hope they don't get too distracted. Lives are at stake…
Mission: Her Defence is book four of the Team 52 series by Anna Hackett. 
Blair Mason is a former marine whose last mission left her with injuries that ended her career. Now she is a member of Team 52, a team tasked with protecting powerful ancient technology. After cursed Samurai swords have been stolen in an attack that left many dead, Mason is ordered to work with Police Detective Luke MacKade. 
Unfortunately, neither of them can get along. However, as they work together to find the cursed swords, they also find that they are falling for each other.
Happy Reading!