It's that time of year again, where we fall back an hour. However, did you know that Daylight Savings Time originated in Canada, and not only does it take place in North America, but around the world?
Clocks Already Turned Back
Military personnel who are deployed may have already experienced it as Latvia, Syria, Ukraine, Lebanon, and Jordan turned their clocks back earlier this week.
Certain areas of the world do not use Daylight Saving Time such as Mali, Norway, Kuwait, and Iraq.
This weekend, the U.S. and the majority of Canada will fall back one hour, except for Saskatchewan and small regions of the following provinces: British Columbia, Nunavut, Quebec, and Ontario. 
The tradition began in Port Arthur, Ontario, in 1908. Today Port Arthur is known as Thunder Bay. Back in 1908, the residents turned their clocks ahead an hour, which was the beginning of Daylight Saving Time.
New Zealand scientist suggests DLS in 1895
Although many sources credit Benjamin Franklin as the first to suggest time change, in 1905, the idea was first proposed by New Zealand scientist George Vernon Hudson in 1895. 
According to TimeandDate.com, "In 1895, Hudson presented a paper to the Wellington Philosophical Society, proposing a 2-hour shift forward in October and a 2-hour shift back in March. There was interest in the idea, but it was never followed through."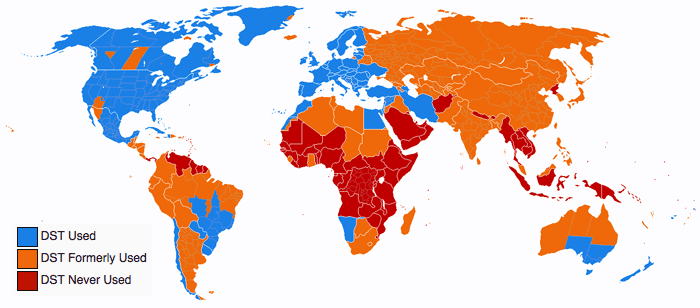 In 1905 British builder William Willett suggested setting the clocks ahead 20 minutes each Sunday in April and switching them back by the same amount each Sunday in September. This caught the attention of Robert Pearce, British Member of Parliament, who later introduced a bill to the House of Commons in 1908.
Germany introduces Daylight Saving Time
The idea did not catch on globally until Germany introduced Daylight Saving Time in 1916, two years into the First World War.
Unfortunately, Willett died in 1915, a year before the United Kingdom adopted DST. It is unknown whether he was aware that it had been in practice seven years before his death in Canada. 
Today Daylight Saving Time takes place in 40 per cent of countries worldwide and affects one billion people.
Concept of winter time change with clock and fir-tree
To check if your deployed loved ones, friends, or family are in a location that participates in Daylight Saving Time, visit the Time and Date website.