Highway of Heroes Annual Clean Up Takes Place
Above image: Volunteers for the Highway of Heroes 2021 clean up in memory of Major Michelle Knight Mendes took place this year. Eight Youth from Kingston travelled to Trenton to meet Mayor Harrison and OPP Detachment Commander Christina Reive before cleaning the Highway Of Heroes on Glen Miller Road. (Image courtesy of Kerri Tadeu).
To bring awareness surrounding the mental health of Canadian Armed Forces (CAF) members, veterans, family members and families of the fallen, Kerri Tadeu adopted the Highway of Heroes to honour "all that gave some and some that gave all."
Tadeu adopted the Highway in memory of Maj. Michelle Knight Mendes, the 118th Soldier to be carried home from Afghanistan.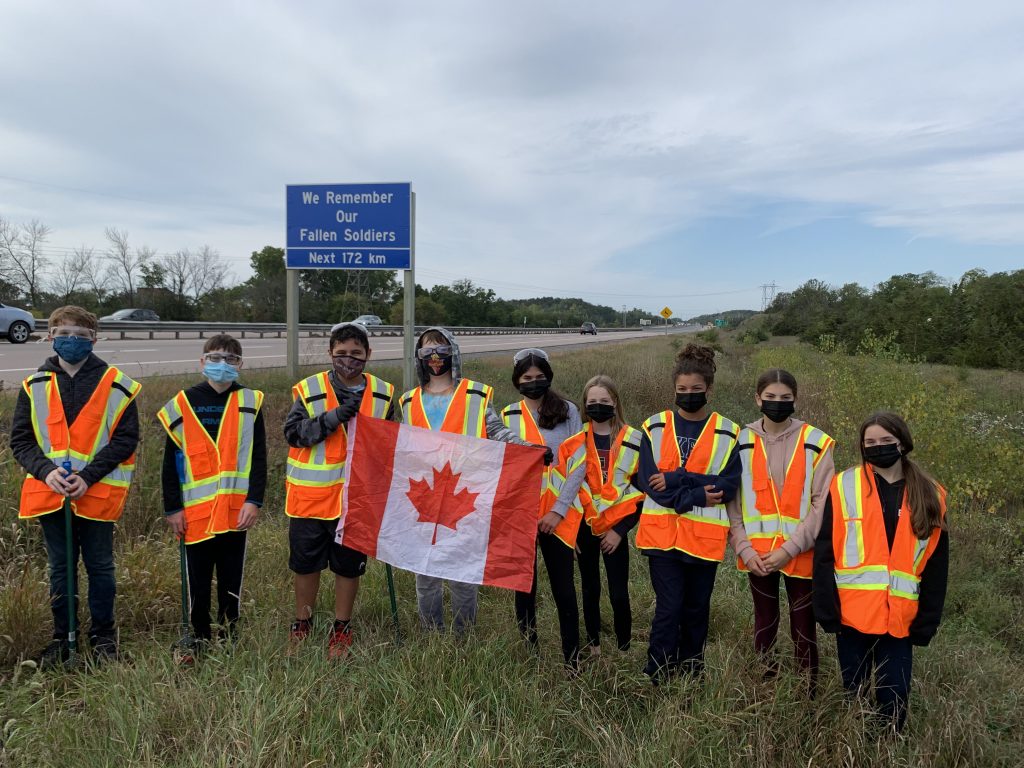 Every April and October since 2017, CAF personnel, Veterans, First Responders, family and friends, pick up garbage along the Highway of Heroes. The Highway is 344 km starting on Glen Miller Road in Trenton and ending on Keele Street in Toronto.
Volunteers Collect Thousands of Bags Over the Years
According to Tadeu, organizer and lead of the initiative, thousands of garbage bags have been collected along the Highway in the past five years.
On Sept. 25, 2021 (Youth Day), students from Archbishop O'Sullivan Elementary School cleaned the start of the Highway of Heroes in Trenton for the third time.
"Human connection promotes mental wellbeing and cleaning the Highway of Heroes although environmentally astute has literally been life saving for a number of individuals." Kerri Tadeu
"Quinte West Mayor, Jim Harrison always greets the students that travel from Kingston to thank them for their service to his community. We speak with the youth about the Service and Sacrifices of our CAF members and how unique and important the Highway of Heroes is to Canada and how the Highway of Heroes came to be named," said Tadeu.
Youth Day Begins
Tadeu started Youth Day when her daughter turned 12, the required age limit to participate in the Ministry of Transportation Adopt a Highway Program.
September is also Women's History Month. This year's theme was Women Making History Now. On Youth Day, OPP Detachment Commander of Trenton Christina Reive, CAF Veteran Christine Morin, CAF Veteran Roslyn Spencer and Tadeu came and spoke to the students on the Highway of Heroes about Major Michelle Knight Mendes.
"The Youth were surrounded by strong women who are making a difference in this world and were encouraged to be strong young women in their school, home life and community and the young men in attendance (Grade 7) were encouraged to support women in their life while being committed to making their own difference in their school, home life and community," said Tadeu. "I believe it is important to lead by example and Youth Day is an extremely important day to inspire our youth to be the change they want to see in the world."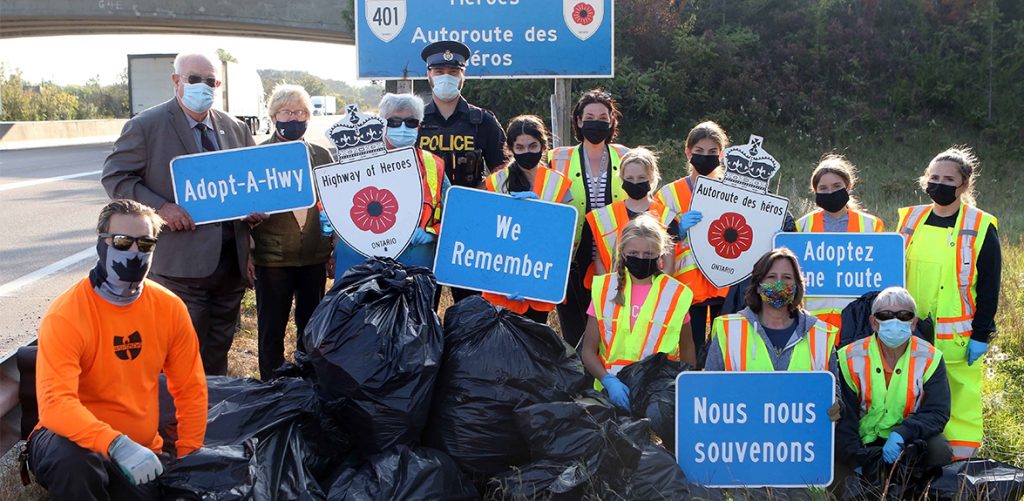 About Highway of Heroes
Not only does the Highway of Heroes adoption focus on garbage collection, but it's also geared towards mental health. Tadeu organizes free Mental Health First Aid Courses for veterans, free NHL Alumni hockey games promoting organizations dedicated to CAF members and their families, and creating a Highway of Heroes mobile memorial dedicated to the 158 fallen soldiers from the Afghanistan conflict.
She believes "human connection promotes mental wellbeing and cleaning the Highway of Heroes although environmentally astute has literally been life saving for a number of individuals."