Summer Reads to Get Lost In
Usually, the books I review have a common theme or themes to unite them, but this time I must say that they are a random collection. They are primarily titles I came across that seemed so interesting that I could not help but share. I will start with a few titles from my favourite genre, then move on to fiction, nonfiction, and more.
As I am sure I have mentioned, I love a good mystery story, and Dial A for Aunties looks like it fits the bill. This new cozy mystery by Jesse Q. Sutanto involves a murder, a wedding, a meddlesome family, and a family curse – how can you go wrong? With humour and a bit of romance, this mystery should keep you engaged to the end.
Speaking of a good mix of plot lines, Carol J. Perry's Be My Ghost looks like it, too, should be a lot of fun. In the first book in this new series, the main character Maureen and her dog, Finn, are both facing career changes – Maureen was laid off. Finn flunked out of guide dog school for being too friendly, and at loose ends, living in a city they cannot afford, the two move to a cute Florida town where Maureen has just inherited a small inn. Things take a strange turn when she finds a body on her new property – and the resident ghosts offer their help to solve the case.
Undoubtedly, the pandemic has been hard for us all, and Charlie Mackesy's Boy, the Mole, the Fox & the Horse provides an illustrated story of inspiration and hope. The boy, mole, fox, and horse are travelling together, sharing their hopes and dreams – and their fears. Mackesy's incredible story and illustrations are inspiring – a perfect pandemic read.
This brings me to travelling – if you, like me, miss being able to travel, then travel vicariously through Anthony Bourdain's World Travel: An Irreverent Guide. This book contains stories told in Bourdain's voice about his travels, including advice both entertaining as well as practical. Along with Bourdain, you will find essays from his friends and family supporting his writing.
With Bourdain being a chef, I find I am drawn to the topic of food – more specifically, one of my favourite ways of cooking on a weekday evening when there is not a lot of time after work. Ricardo Larrivee's Sheet Pan Everything is wonderful. Simple, fast recipes all on one pan – this is perfect after working all day. Not only does the cookbook provide well-balanced recipes, but it also provides advice on meal planning, making life just a little easier.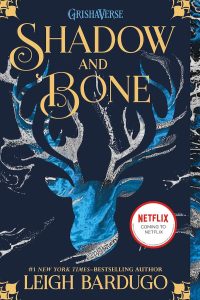 Leigh Bardugo has a fascinating book, the first in a new trilogy, called Shadow and Bone. It is about a land devastated by the Shadow Fold – near solid darkness riddled with monsters. Alina, in a life-threatening situation, discovers she has an unknown power making her crucial in the fight against the Shadow Fold. The story is a gripping fantasy.
Ashley Audrain's The Push is another gripping story, though a thriller. Blythe is a new mother who, like many new parents, worries about her first child, that there is maybe something wrong – she does not connect with her daughter the way she feels she should. She is told by those around her that she is imagining things. Everything is different with her second child. The connection is strong. When something changes the family's life, Blythe is forced to look at the truth about her own past and her daughter. What is of particular interest with this book is the way it looks at the expectations around motherhood.
Another book I am excited about is Joshua Whitehead's, Jonny Appleseed. It won first place in Canada Reads and was the winner of the Lambda Literary Award and George Bugnet Award for Fiction. It was also a finalist for the Governor General's Award for fiction, and many more. The story follows Jonny Appleseed, a young Two-Spirited Indigiqueer who is about to return to his community for a funeral. What follows are stories about his life, love, and ambition and how he learns to come to terms with his past.
Finally, I will share a book for kids, and one for teens: The Secret Lake, by Karen Inglis and They Both Die in the End by Adam Silvera. Inglis's story for children follows siblings Stella and Tom on a time travelling adventure that involves secret tunnels, lakes, and a dog who keeps coming home wet even though they are in a neighborhood in London. This story is a lot of fun and perfect for summer vacation.
Silvera's book for teens managed to hook me with the title. It follows Mateo and Rufus, who have just been informed that they will die today. What follows is one last day of adventure. This is ultimately an uplifting story. It is also a story that has been receiving a lot of attention and is considered the best book of the year by School Library Journal, Kirkus, and more.
Happy Reading!