New Minister of National Defence Announced 
Today Prime Minister Justin Trudeau's announced the new Cabinet, where Anita Anand was made the new Minister of National Defence.
With this shuffle, Minister Harjit S. Sajjan became the Minister of International Development and Minister responsible for the Pacific Economic Development Agency of Canada. Lawrence MacAulay will remain the Minister of Veterans Affairs and Associate Minister of National Defence.
The new Cabinet consists of the Prime Minister and 38 ministers. In following the precedent set in 2015, there is an equal number of women and men, according to the press release on the Prime Minister of Canada's website.
New Minister of National Defence Anita Anand
Minister Anita Anand moved from Public Services and Procurement to Defence. She was born and raised in Nova Scotia before moving to Ontario in 1985. In 2019, she was elected as the Member of Parliament for Oakville, and previously she has served as Minister of Public Services and Procurement.
Minister Anand is known for her skills as a leader and her proven record of service. As stated in her biography on the Prime Minister of Canada website, she has served on the Lighthouse Program for Grieving Children Board, the Oakville Hospital Foundation, and Oakville Hydro Electricity Distribution Inc.
She has also worked as a legal academic, serving as Associate Dean and was a member of the Governing Board of Massey College and the Director of Policy and Research at the Capital Markets Research Institute, Rotman School of Management, and teaching law at Yale Law School, Queen's University, and Western University are some of her accomplishments over the years.
On this Thanksgiving, we have so much for which to be grateful. I will be spending the day with my family as we reflect with gratitude on the joys of being together & the incredible #Oakville community in which we live. Sending my best to you & your families. Happy Thanksgiving🍁 pic.twitter.com/MS0Vo921wF

— Anita Anand (@AnitaOakville) October 10, 2021
As mentioned in her biography, Minister Anand has "completed extensive research on the regulation of financial markets, corporate governance, and shareholder rights, and has appeared regularly in the media to discuss these topics." In 2015, she was made the Government of Ontario's Expert Committee to Consider Financial Advisory and Financial Planning Policy Alternatives. 
She has also contributed research for Ontario's Five-Year Review Committee, the federal Wise Person's Committee, and the Task Force to Modernize Securities Legislation in Canada. 
In 2019, she was awarded the Yvan Allaire Medal by the Royal Society of Canada for her outstanding contributions in governance relating to private and public organizations.

She has many academic achievements under her belt. Minister Anand holds a Bachelor of Arts (Honours) in Political Studies from Queen's University, a Bachelor of Arts (Honours) in Jurisprudence from the University of Oxford, a Bachelor of Laws from Dalhousie University, and a Master of Laws from the University of Toronto. 
Her biography also noted that she was called to the Bar of Ontario in 1994. 
Minister of International Development
Minister Harjit S. Sajjan was first elected as Member of Parliament for Vancouver South in 2015, and he served as Minister of National Defence from 2015 to 2021.
When he was five, Minister Sajjan immigrated to Canada from India with his family.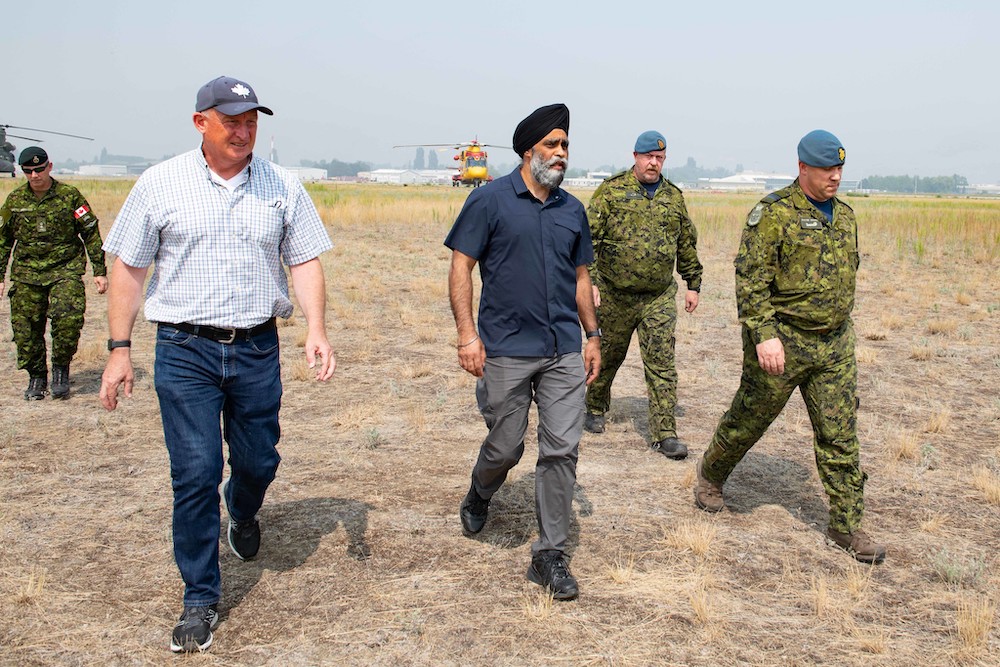 Serving others is something he made a key part of his life. Minister Sajjan was a detective with the Vancouver Police Department, a Lieutenant Colonel with the British Columbia Regiment (Duke of Connaught's Own), and a long-time advocate for youth education and mentorship programs.
For just over a decade, Minister Sajjan served in the Vancouver Police Department, based primarily in South Vancouver. He completed his career as a detective with the gang crime unit. As a member of the British Columbia Regiment, he participated in four operational deployments: one to Bosnia and three to Afghanistan.
Prime Minister Noted Sacrifices Over Past Year
In his announcement of the new Cabinet, Trudeau talked about this past year and the sacrifices made to keep each other safe from COVID-19. 
The press release on the Prime Minister of Canada's website states as the government continues to take strong action to beat the pandemic and get the job done on the vaccine rollout. The government will keep putting Canadians first and delivering on their priorities.
"Canadians need a strong and diverse Cabinet to deliver on their priorities and keep Canada moving forward for everyone," Trudeau stated, "This team will finish the fight against COVID‑19, deliver on $10-a-day childcare, help Canadians find a home of their own, tackle the climate crisis, and continue to advance reconciliation with Indigenous peoples. Together, we will work tirelessly to build a better future for all Canadians."
For more information on the new Cabinet, visit here.