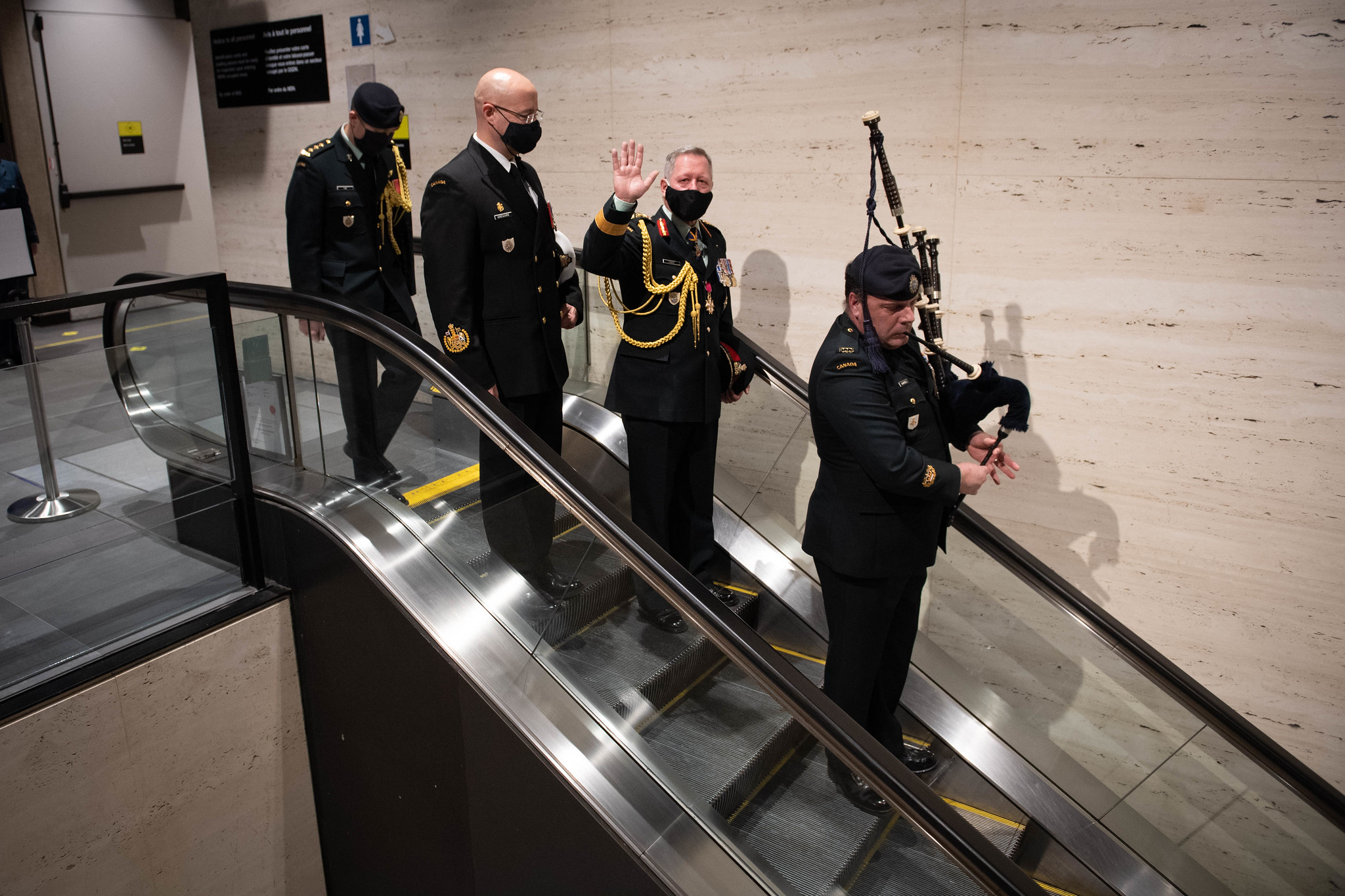 On January 14, 2021, CpI Rachael Allen, Visual Communications Support, Canadian Armed Forces shot this image of CAF Chief Warrant Officer CPO1 Gilles Grégoire and Chief of the Defence Staff General Jonathan Vance.
That afternoon Admiral Art McDonald assumed command of the Canadian Armed Forces from General Jonathan Vance during a ceremony held virtually in Ottawa, Canada.
An infantry officer to his core, General Jonathan Vance served as CDS from July 2015 to January 2021, making him the longest-serving defence chief in the history of the CAF.
General Jonathan Vance is retiring after 39 years of distinguished service in the Canadian Armed Forces (CAF). He joined the CAF in 1982 and was commissioned into The Royal Canadian Regiment in 1986. General Vance has commanded at all levels within the field force as well as 1 Canadian Mechanized Brigade Group in Edmonton, in peacekeeping and combat operations.
General Vance has deployed across the globe numerous times in the service of Canada. Including two tours in Afghanistan as the Commander of Joint Task Force Afghanistan and Task Force Kandahar. He was awarded the Meritorious Service Cross twice, is a Commander of the Order of Military Merit, and was awarded the Mentioned-in-Dispatches for his leadership during peacekeeping operations in Croatia.
General Vance also completed a tour as Deputy Commander, Allied Joint Force Command Naples, in July 2014, before assuming the position as Commander Canadian Joint Operations Command later that year.

As the CDS, General Vance's priority was the readiness for Operations, both domestic and international. Whether it is helping Canadians cope with natural disasters, defending Canadian territory against military threats, or deploying overseas to confront adversaries and help our allies, the CAF stands ready and able to fulfill its duty.
From launching Operation Honour to combat harmful behaviour within the ranks, leading significant change in combat development, to developing improved personnel policies, enabling the CAF to conduct operations, the CAF was transformed under General Vance's command.
When he is not actively leading Canada's finest women and men, General Vance is an avid sailor and happiest on the open water with his family.
Thank you for your service General Vance.
Read more about the ceremony here.