Admiral Art McDonald appointed 20th Chief of the Defence Staff
Above image: Left, General Jonathan Vance and right Admiral Art McDonald at the virtual change of command ceremony held yesterday, January 14, 2021, in Ottawa.
Admiral (Adm) Art McDonald was appointed Canada's new Chief of the Defence Staff (CDS) during a virtual change of command ceremony held yesterday, January 14, 2021, in Ottawa.
Julie Payette, Governor General and Commander-in-Chief of Canada presided over the ceremony virtually. Justin Trudeau, Prime Minister of Canada, Harjit Sajjan, Minister of National Defence, and Lawrence MacAulay, Minister of Veterans Affairs and Associate Minister of National Defence, also attended virtually.
Visit here to watch ceremony
Minister of Defence Harjit S. Sajjan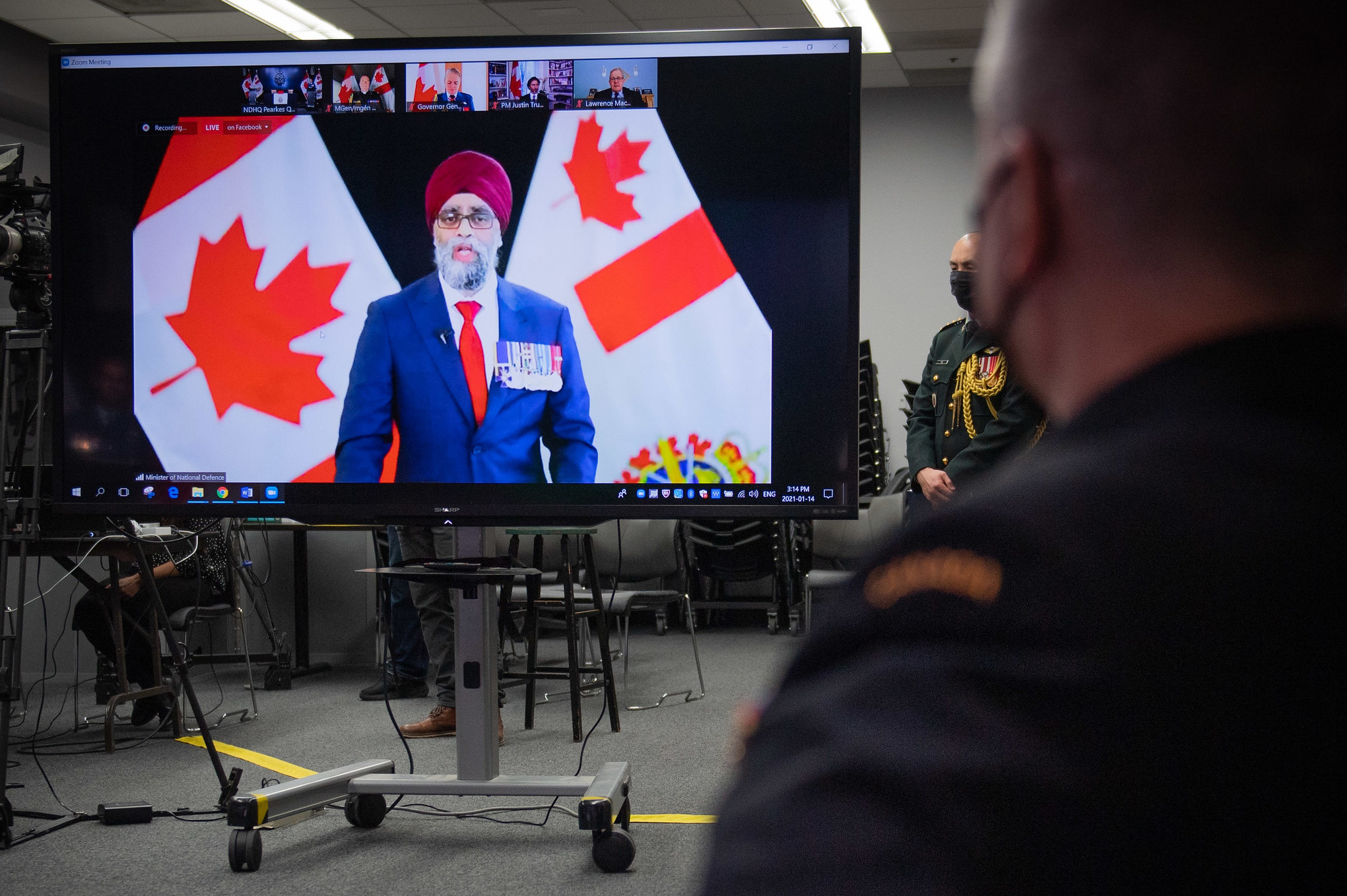 The Minister of Defence Harjit S. Sajjan thanked General Vance for his service.
"His work over the past five years as Chief of the Defence Staff has been critical for protecting the safety and health of Canadians, and we all owe him and his family a debt of gratitude," said Sajjan.
He continued to welcome Adm McDonald as he takes over as CDS at a critical time for Canada.
"His work will be vital in supporting our efforts to help Canadians through the current pandemic while maintaining our commitments to our partners and allies around the world," noted Sajjan.
Admiral McDonald, incoming Chief of the Defence Staff, on behalf of the Canadian Armed Forces (CAF), saluted and thanked General Vance for his distinguished service, leadership and mentorship as he prepares to retire.
"I am humbled and honoured to assume the Watch as the 20th Chief of the Defence Staff. As I do, my focus is quite naturally you, the members of the CAF, who have dedicated yourself to the service of Canada, and your families, who make routine sacrifices to enable you. There is no greater privilege or responsibility than to be charged with advocating for, empowering, and leading you.
I look forward to navigating through these challenging times with you and our invaluable Defence Team teammates – together ensuring that the CAF remains the go-to, no-fail Force that Canadians know," said Adm McDonald.
 General Vance "It has been an honour"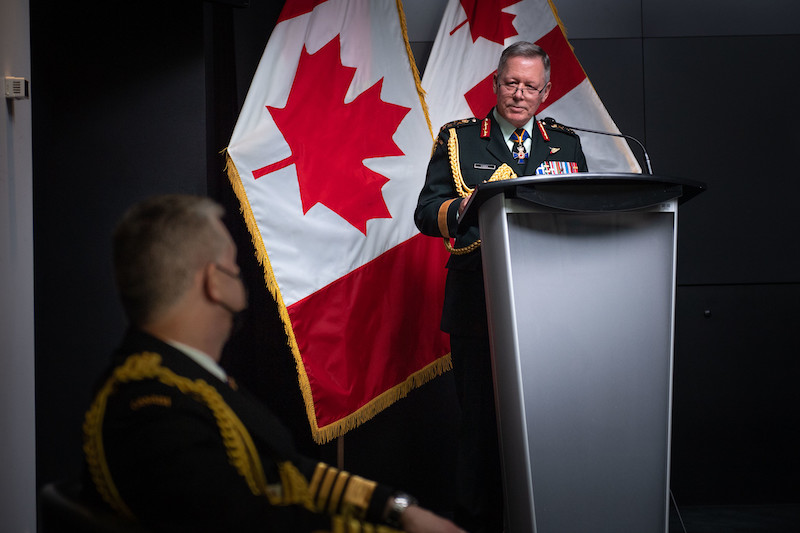 General Vance expressed that for 39 years, the members of the CAF have inspired his life's work, and for those years, he has been proud to be counted among their ranks.
He extended his thanks, "It has been an honour to serve Canadians as your 19th Chief of the Defence Staff. I offer my sincere congratulations to Admiral McDonald. As he takes command, I know he will continue to care for our people and keep the force strong, now and into the future."
A strong, collaborative partnership between the Department of National Defence and the Canadian Armed Forces is critical for an effective Defence Team, says Jody Thomas, deputy minister.
"On behalf of National Defence, I thank General Vance for his lifetime of service, and I welcome Admiral McDonald to his role as Chief of the Defence Staff. The Admiral and I are already working together to ensure Canada is strong, secure and engaged, now and for years to come," she commented.
Apology to CAF personnel who experienced discrimination and hate speech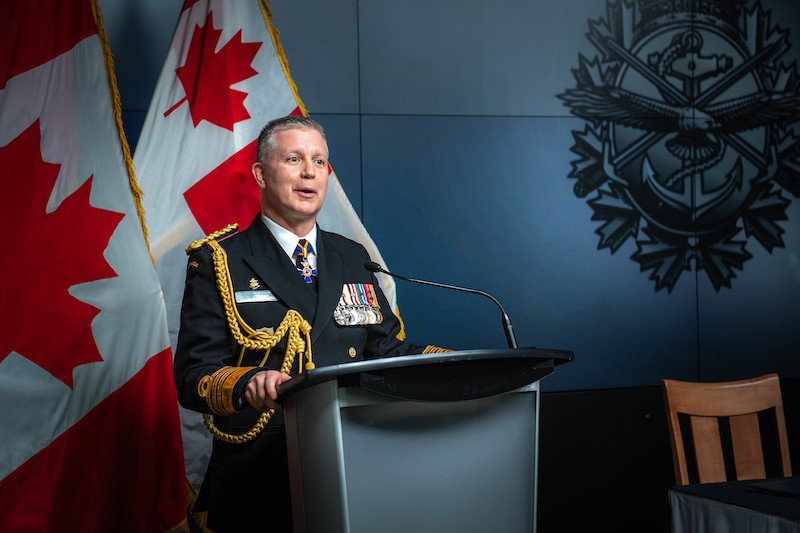 During Adm McDonald's address, he apologized to CAF personnel who experienced discrimination and hate speech during their service. After the ceremony, he explained the apology was a very personal expression from him. He wanted to demonstrate by reflecting on what he's done in the past, believing he was doing the things that needed to be done.
"When challenged by some of the circumstances, I thought maybe I didn't hear a voice," said Adm McDonald.
He referenced no case in particular but explained that when he talked to colleagues in the forces, they believed they were taking the correct actions. Yet, there were still personnel reporting issues or situations that were being reported from outside the military.
"As their Commander, I wanted those people that felt that they hadn't been heard yet in that sense, or that someone hadn't accepted the responsibility and hear their need and state unequivocally that they're going to lean into it, I wanted to be that friend, that family, to those that are hurting," said McDonald.
COVID-19
He raised the important discussion of COVID-19 and the joint effort in the vaccine process and distribution.
"I think the challenge is really around ensuring the variety of stakeholders who are involved, ensuring that from a vaccine manufacturer to injection in the arms and the tracking of those that were treated is done as a system, as a system of systems and that we look for efficiencies, time for interjection, application and points of pressure, which could only be done through a systematic look and collaboration," said McDonald.

He continued to talk about the COVID-19 response, "I've got to say until we have achieved the immunization that we seek for vaccination, we need to continue to be focused on the kind of protocols and procedures that we know allow us to control. These require a sacrifice of everyone. I see it daily in terms of the reports of our operations forces: sailors, soldiers, aviators, who are managing the circumstance and doing so amazingly well-delivering outputs. We need to as Canadians be mindful of that as well and bring our best game at home so that we can win this one and put it behind us."
Admiral Art McDonald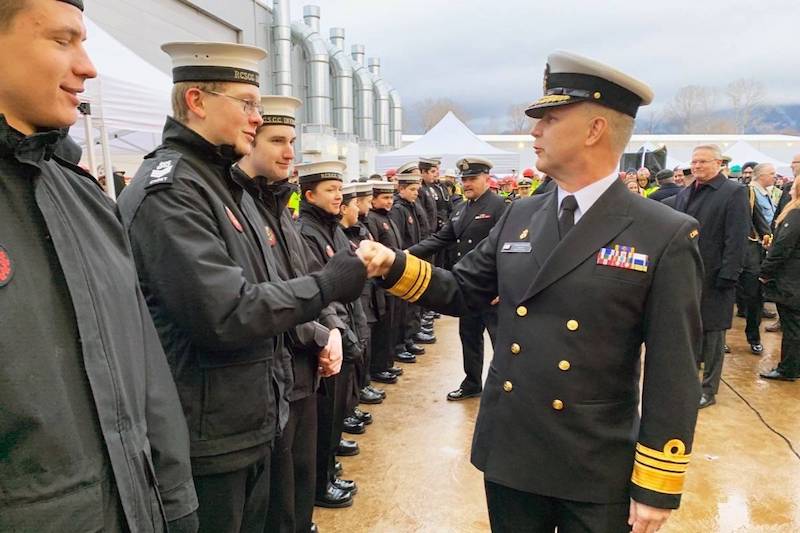 Admiral McDonald was born in New Waterford, Cape Breton, Nova Scotia, in 1967. Prior to his appointment as CDS, Adm McDonald commanded the Royal Canadian Navy (RCN) from 2019 to 2021. He had also previously commanded at the ship (HMCS HALIFAX 2007-2009), Operations Group / Fleet (Maritime Operations Group Five 2010-2011), and Formation (Maritime Forces Pacific and Joint Task Force Pacific 2016-2018) levels.
After completing basic Naval Warfare Officer training and then becoming an Above Water Warfare specialist in the early nineties, he spent most of the next two decades as a sea-going officer while serving in HMC Ships Vancouver, Halifax, Montreal, and Calgary, with the Canadian Fleet Pacific staff, as Executive Officer in Regina 2003-2005, and as Commanding Officer in Halifax 2007-2009. In so doing, he repeatedly deployed, including three Arabian Gulf and one Adriatic Sea tours, and also circumnavigated the globe (Calgary, 1995).
As a Capt(N), he was the Maritime Component Commander of Canadian Joint Task Force (Haiti), leading sea-based humanitarian assistance and disaster relief operations in response to the 2010 earthquake in Haiti. He then commanded a seven-ship combined, multi-national Task Group in the High Arctic later in 2010 during the annual Op NANOOK.
Later, as a RAdm, he also led the CAF's recurring Op LENTUS responses to historic fires and floods in BC while commanding Joint Task Force Pacific 2016-2018.
As a staff officer, Adm McDonald served four tours on the Naval Staff in National Defence Headquarters in Ottawa. In addition to serving as Deputy Commander RCN 2018-2019, he was Director General Naval Force Development (DGNFD) 2013-2016, Director Naval Requirements (DNR) 2012-2013, and Executive Secretary to the Chief of the Maritime Staff 2005-2007.
A 1990 graduate of the Royal Military College (RMC) of Canada who holds a Bachelor's Degree in Military and Strategic Studies and a Masters of Defence Studies, Adm McDonald is also a graduate of the 2003 Canadian Forces College (CFC) Command and Staff Course, the 2012 CFC National Security Studies Programme, and the 2014 US GOFO Capstone Program.
A 2016 alumnus of the Asia-Pacific Centre for Security Studies, he is also a graduate of the Senior Executives in National and International Security program at Harvard University (2017).
General Jonathan Vance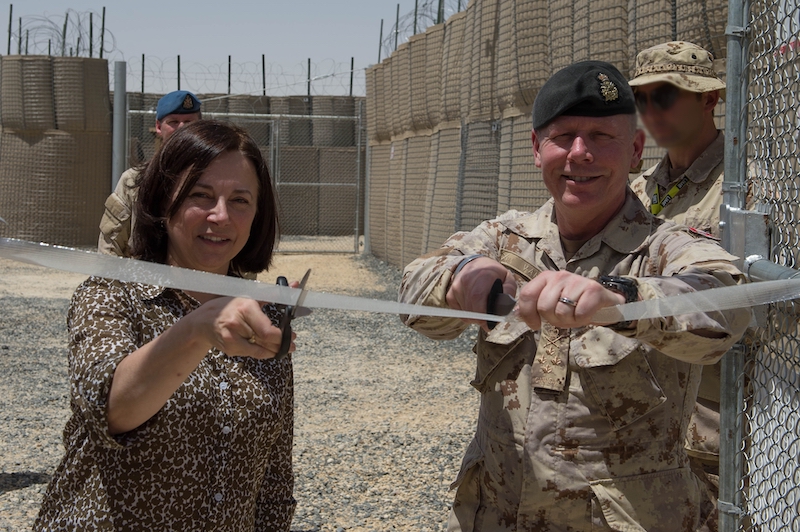 An infantry officer to his core, General Jonathan Vance served as CDS from July 2015 to January 2021, making him the longest-serving defence chief in the history of the CAF.
General Jonathan Vance is retiring after 39 years of distinguished service in the Canadian Armed Forces (CAF). He joined the CAF in 1982 and was commissioned into The Royal Canadian Regiment in 1986. General Vance has commanded at all levels within the field force as well as 1 Canadian Mechanized Brigade Group in Edmonton, in peacekeeping and combat operations.
General Vance has deployed across the globe numerous times in the service of Canada. Including two tours in Afghanistan as the Commander of Joint Task Force Afghanistan and Task Force Kandahar. He was awarded the Meritorious Service Cross twice, is a Commander of the Order of Military Merit, and was awarded the Mentioned-in-Dispatches for his leadership during peacekeeping operations in Croatia.
General Vance also completed a tour as Deputy Commander, Allied Joint Force Command Naples, in July 2014, before assuming the position as Commander Canadian Joint Operations Command later that year.
As the CDS, General Vance's priority was the readiness for Operations, both domestic and international. Whether it is helping Canadians cope with natural disasters, defending Canadian territory against military threats, or deploying overseas to confront adversaries and help our allies, the CAF stands ready and able to fulfill its duty.
From launching Operation Honour to combat harmful behaviour within the ranks, leading significant change in combat development, to developing improved personnel policies, enabling the CAF to conduct operations, the CAF was transformed under General Vance's command.
When he is not actively leading Canada's finest women and men, General Vance is an avid sailor and happiest on the open water with his family.
Chief of the Defence Staff (CDS)
As defined in the National Defence Act, the Chief of the Defence Staff (CDS) has direct responsibility for the control and administration of the Canadian Armed Forces (CAF) and is appointed by the Governor-in-Council, by recommendation of the Prime Minister.
The CDS is accountable to the Minister of National Defence for the conduct of all CAF activities, as well as for the readiness and the ability to fulfill military commitments and obligations undertaken by the government.
The Chief of the Defence Staff (CDS) implements government decisions that involve the CAF, by issuing orders and instructions. Whenever required, the CDS also advises the Prime Minister and Cabinet directly on major military developments and issues. The CDS is the senior serving military advisor to the Government of Canada.
This change of command comes at a time when the Canadian Armed Forces are part of a whole-of-government approach to national COVID-19 response efforts.