Retired veteran opens home to military personnel with PTSD
From star gazing to spending the days in a wooded oasis, former Canadian Armed Forces (CAF) member Bob Grundy's Rally Point Retreat offers a home away from home for service men and women with PTSD.
"Time actually stands still out here. You don't actually realize the day is gone until suddenly it's dark. All of the normal triggers you see and hear during the day: buses, heavy flow of cars, kids outside, it doesn't exist here. It's like we're on our own little island, it's really unaffected," said Grundy.
Quiet, safety, and pure nature are what the 180 acres of wooded paradise retreat in Sable River, Nova Scotia offers.
Grundy served for just over three decades in the Royal Canadian Air Force as an air defence technician.
He believes a culmination of events during his career led to his diagnose with PTSD, including the crash of Swissair Flight 111, which happened while he was stationed at 12 Wing Shearwater and a fishing accident that took place while he was posted in Manitoba. The fishing accident resulted in the death of four individuals.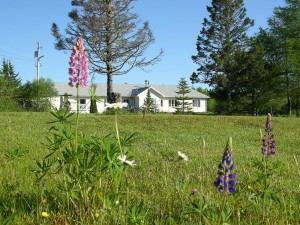 After insistence from his therapist, Grundy joined group therapy.
"The whole time [I was] feeling that I didn't deserve to be there, we had guys that were in Afghanistan. We discovered within the opening of the month-long session that we need a place where can get away and decompress and just away from stressors and I thought I think I got what you need," noted Grundy.
And so, Grundy and his wife Johan decided to convert their ranch-style home into a retreat. Currently, everything is being funded by his pension, and everyone is welcome to stay free-of-charge.
"They pay with their souls because they have PTSD. That means they've either seen something or experienced something or felt something that has upset their moral balance. They're paying for it," stated Grundy.
The retreat offers several leisure activities including a complete woodworking shop, with new tools available; a music area with guitars and a ukulele; a movie/tv room area; a library and art room for painting; and gardening. The retreat also has a hot tub, darts, and a pool.
The Grundy's house offers two suits, with two queen size beds and a complete ensuite.

During the day, visitors can explore the wooded acres while at night they can enjoy star gazing, and according to Grundy the lack of city lights make the view incredible.
Grundy hopes to join the ponds in the front yard and stock them with fish and write a book with the different fauna and flora on site, both activities families can enjoy together in the future.
He also hopes to put up several cabins on his property and grow enough crop to feed visitors off of the land.
Rally Point Retreat officially opened its doors on Monday, June 27, in line with the United State's National PTSD Awareness Day. However, the Grundys have already taken eight visitors over the past few weeks.
Visitors are welcome to come to the retreat at any time during the year.
"If you can go somewhere that is still safe to be, even with PTSD, then you're starting to expand your horizons," said Grundy.
Those wishing to visit the retreat must be in the care of a psychologist or psychiatrist and be in a positive phase of their healing.
For more information or to book your visit to the Rally Point Retreat visit their website.