Acting CDS LGen Wayne Eyre announces incoming Canadian Army Sergeant Major
Above image: Chief Warrant Officer (CWO) James Smith. Image courtesy of CAF 
Chief Warrant Officer (CWO) James Smith will be replacing CWO Hartnell as the new Canadian Army Sergeant Major (CA SM).
Acting Chief of the Defence Staff Lt. Gen Wayne Eyre made the announcement on February 21, 2021. The CWO Smith will be the most senior of the CWO appointments in the Canadian Army (CA).
The Army Sergeant Major is a Non-Commissioned Member (NCM) advisor to the Army Commander and also serves as the Command's CWO.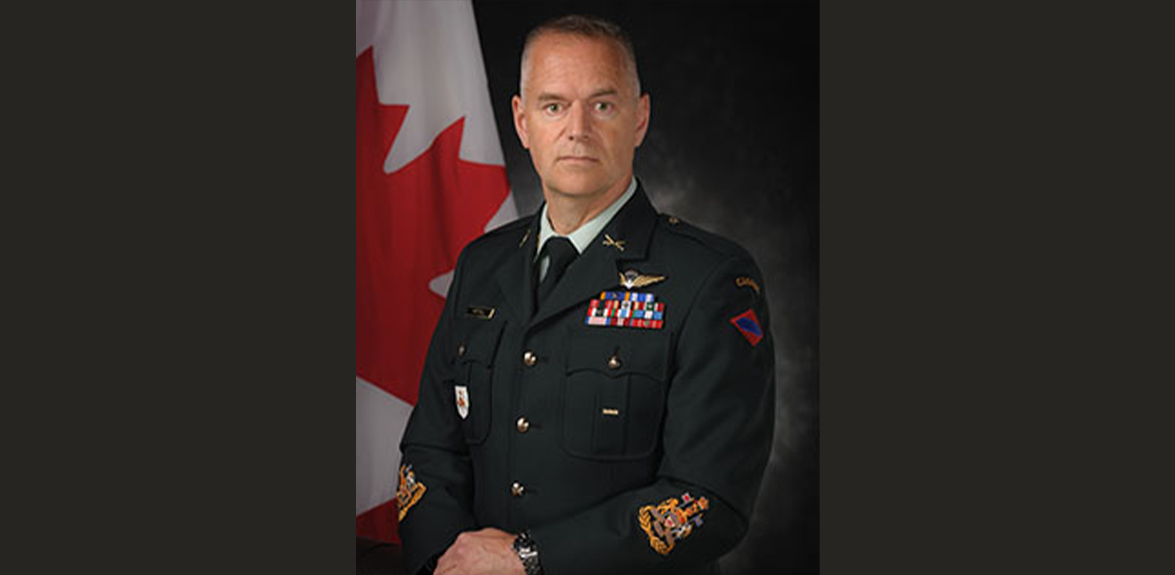 They represent the welfare of all Army personnel and are responsible for promoting excellence, professionalism, and teamwork among the troops. The Canadian Army Commander relies on the Army Sergeant Major to provide the NCM perspective on behalf of Regular and Reserve Force Army NCMs across the CAF.
CWO Smith enrolled in the Canadian Forces
CWO Smith enrolled in the Canadian Forces on May 25, 1990, as an infantry soldier with the Princess Patricia's Canadian Light Infantry (PPCLI) in Halifax, NS. After completing basic training in Cornwallis, NS, and basic infantry training in Wainwright, AB, he was posted to the 2nd Battalion PPCLI at Kapyong Barracks in Winnipeg, MB.
In 2003, after serving in various infantry positions, including four operational tours to the Balkans, he was posted to 17 Wing, Winnipeg, for French language training.
Upon completing French training, he was posted to Canadian Forces Leadership and Recruit School in St-Jean-sur-Richelieu, QC as both a Platoon Commander for recruit training and as Platoon Second in Command for Basic officer training.
In 2006, he was posted to JTF 2, where he was employed as the Unit Training WO and as Squadron Quartermaster. In 2008, he returned to the 2nd Battalion PPCLI in Shilo MB. During his return to 2VP, he deployed to Afghanistan, on TF 3-09 with Alpha Company, within the Provincial Reconstruction Team as the Stabilization Company Quartermaster.
He assumed the role of Company Sergeant Major Alpha Company upon his return from TF 3-09 in Jun 2010. In Feb 2011, he was promoted to Master Warrant Officer.

He was posted to Chief of Force Development as a Strategic Analyst for Capability and Structures Integration in June 2011. Two years later, he was transferred to Director General Military Careers to assume the responsibilities as the PPCLI career manager. Upon promotion to CWO on June 11, 2015, he was appointed as RSM of the 2nd Battalion PPCLI in Shilo, MB.
The #MightMaroonMachine said goodbye to CWO Bob Beaudry & welcomed CWO Jim Smith to @5CdnDiv at a Change of Appointment ceremony (Division Sergeant Major). We wish CWO Beaudry all the best & look forward to working w/ CWO Smith.
We are #StrongProudReady in the @CanadianArmy pic.twitter.com/w80QE1nDBo

— Commandant_5Div_Commander (@5Div_Comd_5Div) October 15, 2019
From August 2016 to March 2017, he was deployed to Ukraine on Operation Unifier Roto 2 as the Task Force Sergeant-Major.
From July 2017 to September 2019, he served as the first Brigade Sergeant-Major of the Canadian Combat Support Brigade in Kingston, ON.
In Oct 2019, he assumed his current appointment as the Division Sergeant-Major of the 5th Canadian Division in Halifax NS.
CWO Smith's wife is also a serving member of the Canadian Armed Forces, and they have four adult children. He was awarded as Member of the Order of Military Merit in December of 2013.
Responsibilities of the Canadian Army Sergeant Major
Advises Comd CA on all matters pertaining to Army HR and personnel issues;
Advises Comd CA on all matters of the condition of service and morale;
Advises Comd CA on all matters of Op Tempo and tasks affecting morale of CA personnel and their families;
Advises Comd CA on matters of personnel, the NCMPD System in general (the Army Environmental portions in particular), Recruit and Leadership Training Issues (both common and Army Specific), CBT Arms occupation specifications, and CSS and CS occupation specifications;
Promotes professional development of all NCMs within the Command;
Monitors the application of The Code of Service Discipline within the Army ensuring equitable dispensation of justice throughout the Command;
Is the CA representative on the CAF CWO Council and Personnel Appointment Boards (reviews personal files of candidates for CWO Appointments/Special Requirements Position/Selected Positions within the
Command and for positions outside of the Command);
Manages and directs all information flow to Area CWOs and other formation CWOs within the Command and also all NCMs in DEU Army outside of the Command where appropriate;
Plans, coordinates, chairs, and reports to the Comd CA on an annual CA CWO Conference. The purpose of the Conference is to provide Comd CA an opportunity to pass Army directions and info to all Army CWO in senior appt and to hear from them their concerns, to clarify Army and HR policies, to obtain feedback on policy effectiveness, to obtain a sense of the state of affairs within the Army, vis-à-vis Army and HR policies and morale;
Accompanies the Comd CA on visits when required;
Liaises with the CAFCWO and other Level 1 CWOs as required to ensure harmonization of CAF approach to the promotion of HR policy and programs and to obtain timely feedback regarding the effectiveness of those policies and programs;
Review, amend and promote CAF, environmental and operational dress policies; and
Review amendments to the drill manual when requested.