4th Division Support Group confirms positive COVID-19 cases
This week 4th Canadian Division Support Group (4 CDSG) Petawawa confirmed a small number of positive COVID-19 cases had been identified at Garrison (Grn) Petawawa.
"In accordance with Canadian Armed Forces (CAF) COVID-19 protocols, contact tracing and isolation of affected personnel have occurred. Those who have tested positive have access to required medical support," tated a press release dated April 27, 2021.
The statement from 4 CDSG Command also noted, CAF personnel at Garrison Petawawa are prepared to respond to positive COVID-19 cases through a series of immediate action drills. There is also a layered risk mitigation strategy in place to ensure essential and critical training can continue.
Adding, the layered risk mitigation strategy includes personal health protection measures such as mask-wearing in all Department of National Defence (DND) buildings, DND vehicles, and outside on DND property when two metre spacing cannot be achieved.
While conducting essential training, personnel are strongly enforced to reduce the possible spread of the COVID-19 virus in the event of community transmission.
"Grn Petawawa will continue to adhere to Federal, Provincial, and local Renfrew County District Public Health Unit guidelines when conducting essential training activities," stated the press release.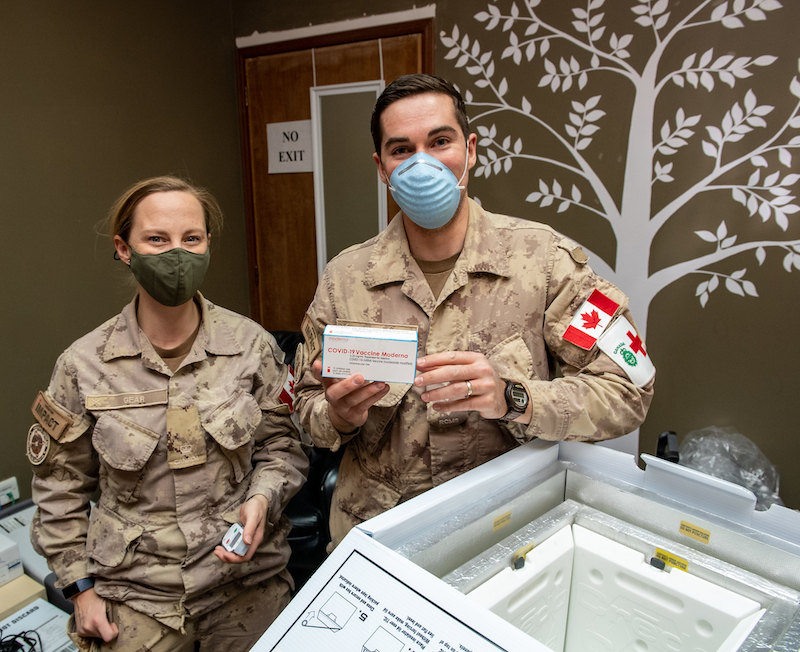 COVID-19 cases within the CAF population
According to the Canadian Government website Military response to COVID-19 as of April 26, 2021, the number of active resolved and total cases of COVID-19 within the CAF population:

All current active cases: 61
All resolved cases: 1533
Total of all positive cases since the beginning of the pandemic: 1594
These numbers apply to the whole of the CAF regardless of location or mission since the beginning of the pandemic.
At this point the CAF is in the midst of a COVID-19 vaccination campaign domestically and internationally and they are taking every step to educate their personnel on the importance and benefits of the COVID-19 vaccine in order to allow members to make an informed decision regarding the COVID-19 vaccine.
Located in the Eastern Ontario, Petawawa is in the Ottawa Valley, 134 km west of Ottawa.
For more information on the Military response to COVID-19 visit here.