Large-Scale Exercise Aims to Increase Cooperation and Compatibility
Squadrons taking part in this year's Exercise Cougar South will converge from different bases across the country. Above image: Two Royal Canadian Air Force CF-18 Hornets pull up to a CC-150 Polaris refueling tanker during refueling operations in training airspace over Alaska during the Red Flag-Alaska 19-3 exercise, August 15, 2019. Image courtesy U.S. Air Force photo/Justin Connaher.
Several Royal Canadian Air Force (RCAF) tactical fighter squadrons are participating in Exercise Cougar South in the United States.
Running from mid-March until April 24, Exercise Cougar South is taking place at Naval Air Station Joint Reserve Base (NAS JRB) in New Orleans, Louisiana.
The exercise aims to increase cooperation and compatibility between the CAF and U.S. military.
"This high-tempo, large-scale exercise is intended to increase the RCAF's fighter force readiness and maintain tactical fighter interoperability between the RCAF, the United States Air Force and the United States Marine Corps. This training is essential, particularly during periods where the weather can limit training in Canada," stated a press release from the CAF.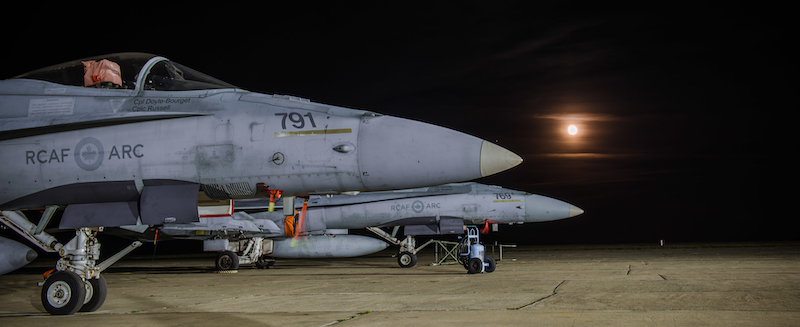 Personnel From Across the Country
Squadrons taking part in this year's exercise will converge from different bases across the country, such as:

3 Wing, Bagotville, Quebec
4 Wing, Cold Lake, Alberta
8 Wing, Trenton, Ontario and
17 Wing, Winnipeg, Manitoba.
Specifically, squadrons taking part include 425 and 433 Tactical Fighter Squadrons and 12 Radar Squadron from 3 Wing Bagotville, Quebec, along with 409 Tactical Fighter Squadron and 42 Radar Squadron from 4 Wing Cold Lake, Alberta.
Twelve CF-18 Hornets have been deployed for the exercise and will fly daily sorties.
Training Encompasses
The training encompasses a wide range of tactical uses of the CF-18 Hornet. According to CAF, in particular, squadron members will practice:
scenario-based missions,
air combat tactics,
close air support training,
air-to-air refueling training and
employment of precision-guided munitions.
Air to Air refuelling
The CC-150T Polaris from 437 Transport Squadron, 8 Wing, Trenton, Ontario and CC-130T Hercules from 435 Transport and Rescue Squadron (based in Winnipeg), 19 Wing Comox, British Columbia, will be responsible for providing air-to-air refuelling during the exercise.