150th-anniversary patch approved for Royal Regiment of Canadian Artillery personnel
A patch commemorating the 150th anniversary of the creation of A and B Batteries has been approved for wear by all Royal Regiment of Canadian Artillery (RCA) personnel.
This year is the 150th anniversary of A and B Batteries' founding, a significant milestone. In a move to centralize forces at home, the batteries were created in response to the decision by political authorities in Great Britain to withdraw colonial garrisons.
HISTORY
A and B Batteries of the Garrison Artillery, in Kingston and Québec city in the order given, were authorized by the Canadian government in Militia General Order 24 on October 20, 1871.
"These Corps were created to provide for the care and protection of the forts, magazines, armament and warlike stores, recently, or about to be handed over to the Dominion government. These batteries were intended to serve as practical schools of gunnery to train all ranks of the militia artillery, a role previously filled by regular Royal Artillery personnel stationed in Canada," informed the CANFORGEN released on March 27: RCA UBIQUE 150 Commemoration Patch.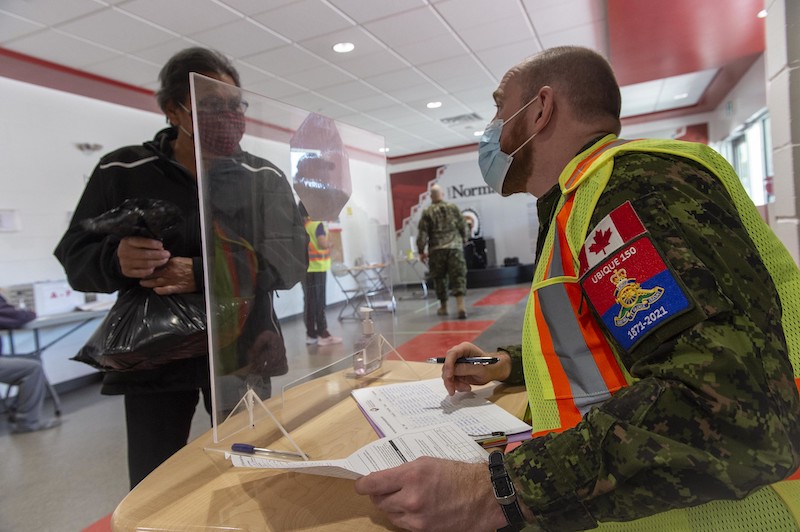 FIRST FULL-TIME CORPS
A and B Batteries' creation as the first full-time Corps of the active Canadian militia symbolizes the shift in the Canadian Army to a professional military force, as well as the transition Canada went through from a colony to an independent nation.
Members can wear the patch from April 1 to December 4, 2021. Non-RCA personnel serving in RCA or RCA-affiliated units have also been approved to wear the patch.
ACCORDING TO THE CANFORGEN
According to the CANFORGEN, The patch is to be worn on the no. 5B Canadian Army operational dress uniform on the left arm, under the Canadian flag (in preference to trade badges).

The CANFORGEN described the patch as such, "In line with the traditional RCA Camp flag, the design features a red over blue square, with the RCA crest centrally located. Ubique 150 is written above the crest, and the dates 1871-2021 below. The patch's design reflects the regiments regular and reserve, French and English traditions, and its unique design and colour scheme will be conspicuous against the Cadpat background. The red-over-blue shield is superimposed over a square background measuring 10 cm x 10 cm."
Canex will produce and distribute the patch through canex.ca and select retail outlets.
According to the Royal Regiment of Canadian Artillery website, A and B Batteries exist today as sub-units of 1st Regiment, Royal Canadian Horse Artillery.
The Royal Regiment of Canadian Artillery (The RCA, The Royal Regiment or The Regiment), of which they form part, comprises 23 regular and reserve force regiments and independent batteries represented in 33 communities from Victoria to Yarmouth.