Government of Canada and Treaty One First Nations sign Comprehensive Settlement Agreement for Kapyong Barracks
On August 30 the Government of Canada and the Treaty One First Nations signed a Comprehensive Settlement Agreement for the former Kapyong Barracks land in Winnipeg.
 The settlement is the result of a successful, multi-year process that brought together the Treaty One First Nations and federal partners to arrive at a satisfactory solution for all parties.
 On behalf of the Minister of Defence Harjit S. Sajjan, Minister of Crown-Indigenous Relations Carolyn Bennett and Minister of International Trade Diversification Jim Carr joined Chief Dennis Meeches, Long Plain First Nation; Chief Deborah Smith, Brokenhead Ojibway Nation; Chief Glenn Hudson, Peguis First Nation; Chief Craig Alexander, Roseau River Anishinabe First Nation; Chief Derrick Henderson, Sagkeeng First Nation; Chief Lance Roulette, Sandy Bay First Nation; and a representative, on behalf of Chief Francine Meeches, Swan Lake First Nation in a signing ceremony in Winnipeg.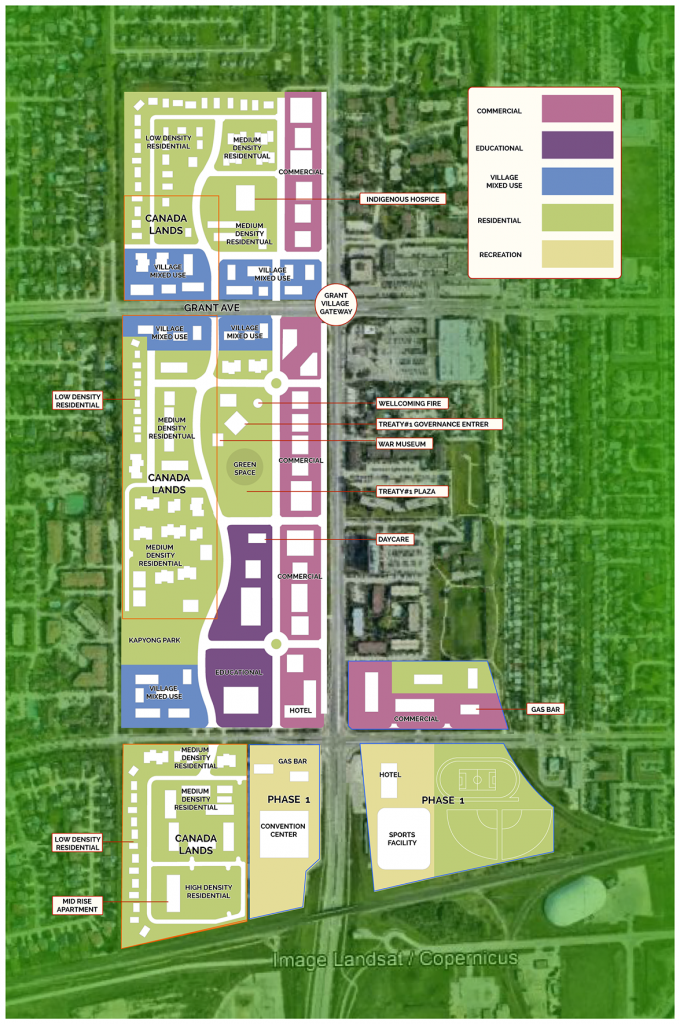 "As we move forward on this initiative, we begin to build on the foundation of a renewed treaty relationship with all levels of government. This relationship is a collective approach to clarity and specific understanding that our treaty relationship cannot go forward unrecognized. The shared resources and partnerships that we will embark upon shall be one of equality and revenue sharing. We as Treaty One believe that our involvement is key in any project or initiatives that proceeds in our territory as indigenous people of a sui-generous nature," says Chief Lance Roulette, Sandy Bay First Nation.
 This agreement outlines the terms for the sale of the Kapyong Barracks land, based on the shared understandings outlined in the April 2018 Agreement in Principle.
Under the terms of the Comprehensive Settlement Agreement, the Department of National Defence will sell 68 per cent of the Kapyong Barracks property to the Treaty One First Nations.
 The remaining 32 per cent of the former Kapyong Barracks lands will be sold through a separate agreement to the Canada Lands Company CLC Limited for redevelopment.

 "This Comprehensive Settlement Agreement reflects a renewed relationship that our government will continue to build on. This is a significant milestone in the relationship between Canada and the Treaty One First Nations," Sajjan. 
 Formerly part of Canadian Forces Base Winnipeg, the Kapyong Barracks property is comprised of approximately 65 hectares of land. The property was used by the Canadian Armed Forces until 2004, when the 2nd Battalion of the Princess Patricia's Canadian Light Infantry moved to Canadian Forces Base Shilo.
 It represents a renewed, positive relationship between Canada and the Treaty One First Nations.
 "In the spirit of Tecumseh, we acknowledge our Treaty One family for their perseverance and dedication to Kapyong. We acknowledge Canada and DND for coming to terms, and in the spirit of reconciliation, with the Treaty One Government after 17 years. The promise of tomorrow is upon us," says Chief Dennis Meeches, Treaty One First Nations Spokesperson, Long Plain First Nation.