Construction begins on HMCS William Hall
Another significant milestone of the National Shipbuilding Strategy was reached today as Minister of National Defence Harjit S. Sajjan participated in a ceremony at Irving Shipbuilding highlighting the start of construction for the fourth Arctic and Offshore Patrol Ship (AOPS), the future HMCS William Hall. 
This is the fourth of six such ships to be built at the Halifax Shipyard for the Royal Canadian Navy (RCN) as articulated in Canada's defence policy.
"We are making significant progress on the Arctic and Offshore Patrol Ships as Canadian workers start the construction of the fourth ship, here in Halifax. These vessels will be critical assets to the RCN, enhancing our Arctic capability and greatly contributing to the future success of our operations in the most isolated regions of Canada. As outlined in Strong, Secure, Engaged, our government is delivering modern and versatile equipment to our women and men in uniform so they can successfully accomplish the work we ask of them," stated the  Minister of National Defence in a press release. 
 Security in the Arctic is complicated by the region's geography and harsh climate. This new class of vessel was specifically designed to patrol Canada's waters and northernmost regions.
It will have the versatility to navigate abroad and contribute to international operations. The Harry DeWolf-class will significantly enhance the CAF's capabilities and presence in the Arctic, better enabling the RCN to assert Arctic sovereignty for years to come.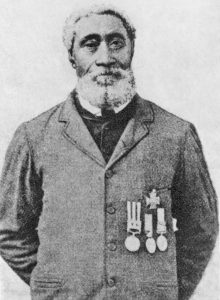 "Today's ceremony for Canada's fourth Arctic and Offshore Patrol Ship marks an important milestone. It provides ongoing evidence that the National Shipbuilding Strategy is revitalizing our world-class marine industry, supporting Canadian innovation, creating good middle-class jobs, stabilizing employment and generating economic benefits across Canada. We remain firmly committed to the Strategy, and will continue to work closely with our shipbuilding partners to position it for success now and into the future," said Minister of Public Services and Procurement and Accessibility Carla Qualtrough. 
Since the start of construction for the first AOPS in 2015, the project has progressed well. The first vessel is expected to join the RCN's fleet this summer.
William Hall received the Victoria Cross in 1859 for heroism and support of the British Army during the relief of Lucknow (1857). Son of freed African-American slaves living in Nova Scotia, he is the first black person, first Nova Scotian, and third Canadian to have been awarded this honour.
"I am delighted to see so much progress on the Arctic and Offshore Patrol Ships this year, and look forward to seeing it continue in the years to come. Through this partnership with Irving Shipbuilding, we will sustain over 4,000 highly skilled jobs and create opportunities right here at the Halifax Shipyard and throughout Nova Scotia," said Minister of Rural Economic Development Bernadette Jordan.