Trending
11th Annual Canada Company Scholarship Awards ceremony was held on Aug. 24
Children of fallen Canadian Armed Forces personnel were awarded Canada Company Scholarships during a ceremony on Aug. 24 in Toronto.
The Canada Company Scholarships Fund was established in 2007 at the height of the Afghanistan War to support the post-secondary education of the children of fallen soldiers, sailors, airmen and airwomen. Post-secondary education scholarships are annually given to children of our Canadian Armed Forces, both Forces and Reserves, who were killed while serving in an active role in a military mission or who died from suicide attributed to military service since 2002.
Each recipient is eligible to receive up to $4,000 per year for up to four years to help defray the costs of their post-secondary education. Since the Scholarship was established in 2007, Canada Company has awarded $504,000, and 47 young people have benefited from the initiative.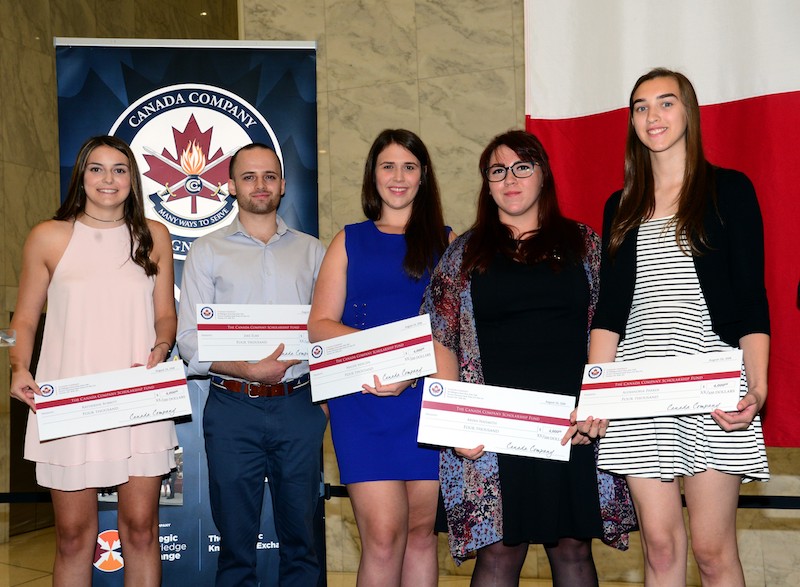 This year, Canada Company presented a total of $48,000. The 2018 recipients are: Katherine Arnold, Elizabeth and Katherine Bobbitt, Jacob Elms, Kari Anne Kruse, Maude Mercier, Kestrel Musselman, Arina Naismith, Jamie Nolan, Charles and Alexandria Parker and Elliott and Samantha Webb.
A federally registered charity, Canada Company was founded by businessman and Honorary Colonel, Blake Goldring. The company oversees the fund and is supported by an independent Scholarship Fund Oversight Committee to ensure that bereaved children have the opportunity to receive scholarship grants for their post-secondary education. This oversight committee also determines the eligibility criteria, disburses the funds and makes recommendations to Canada Company for future funding requirements.

"The Canada Company Scholarship Fund was created to recognize the selfless sacrifice that Canada's brave military personnel make in the service of our country and in tribute to the children they have left behind," Goldring said in a statement. "We are committed to ensuring that those who serve in the Canadian Armed Forces and Reserves and their families receive the widest support, recognition and care they deserve."
To learn more visit the Canada Company website.
Feature photo: The 11th Annual Canada Company Scholarship Awards ceremony was held on Aug. 24. Canada Company Scholarships are awarded annually as a tribute to fallen Canadian Forces personnel to support the post-secondary education of their children.