The MFRC-NCR Self-Employment Club Launch a Success
The National Capital Region Military Family Resource Centre's Self Employment Club kicked off February 4th. Nearly 25 participants met at the Ottawa MFRC for the club's first meeting which focused on Social Media 101. The MFRC-NCR plans to have the club meet monthly and cover a broad range of topics benefiting entrepreneurs. Each meeting will feature a speaker on a specific topic and networking opportunities.
"The Self-Employment Club was formed to support military family members who are self-employed or looking to be self-employed," says MFRC-NCR Community Development Coordinator, Heather Cudmore-McCarthy. "Recognizing that military families often choose self-employment, we offer informative and networking opportunities to assist the entrepreneur in achieving success in their professional ventures."
Seeing the success of the Halifax and Region MFRC, Cudmore-McCarthy and the MFRC-NCR knew such a program would benefit military families in the National Capital Region.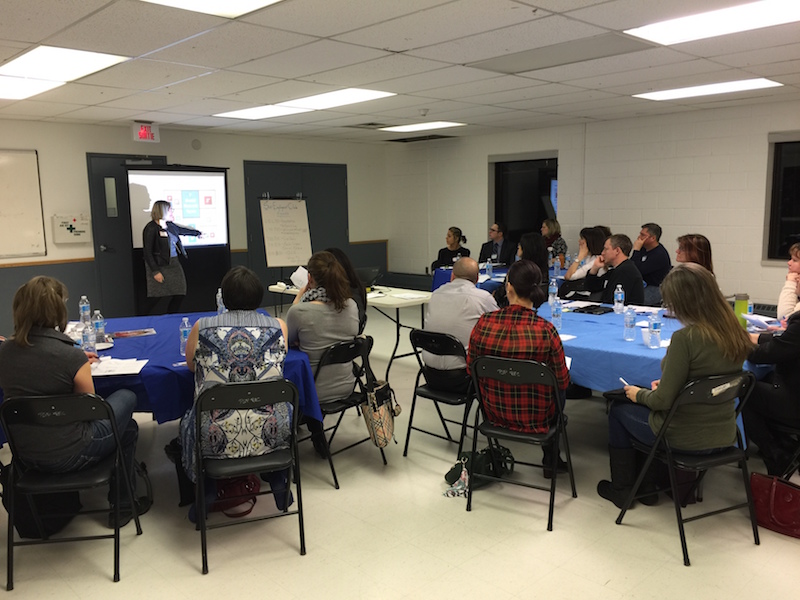 "It was a great meeting, we were made to feel at ease and given the chance to network and hear about each other's businesses," says participant and military spouse, Ramona Moore-Docherty. "Sometimes it's intimidating to go to a networking event, but the MFRC staff did a great job getting everyone interacting when they came in, then launched into a very informative session on social media in small business." Moore-Docherty co-owns a music company, teaches piano, operates a health and wellness business, and owns a project management consulting company. She calls herself a "serial entrepreneur".
"I love working for myself," she says. "I work from my home office, which allows me the flexibility to be home for my family when I need to be." She says when her husband is deployed, managing their three teenage girls and her work schedule is much easier as an entrepreneur.
"I can also work from whatever location we are in, which is amazing, and take my vacation to correspond with his leave," says Moore-Docherty. "It is challenging at times, but I wouldn't give this up to work for someone else. It just suits our lifestyle too well."

Moore-Docherty isn't the only military spouse who has discovered the benefits of being self-employed in a military family.
"The response so far to the club has been very encouraging, and we see a need being met for our military community," says Cudmore-McCarthy. "We will continue to respond to the needs and demands of the participants. We hope that the club will be the place for military family members to get the support, information and networking opportunities that help to make their businesses a success!"
The next meeting will take an in-depth and hands-on look at Facebook for business. Cudmore-McCarthy says she expects another excellent turnout for the next meeting on March 3rd at the MFRC-NCR Main Hall, 330 Croil Private, Ottawa.