New Arctic Ship for Royal Canadian Navy
HALIFAX– Last Friday  Minister of National Defence Harjit Sajjan announced that the Royal Canadian Navy will receive a sixth patrol ship, which will help sustain hundreds of highly-skilled middle-class jobs at the Irving shipyards. 
The new ship will reinforce the RCN's capabilities while equipping its men and women with versatile and reliable ships to complete their missions. 
"I am delighted to confirm today that the Royal Canadian Navy will receive a sixth Arctic and Offshore Patrol Ship, as outlined in our defence policy, Strong, Secure, Engaged. This versatile vessel will offer greater capabilities to our women and men who will sail on the AOPS and will bolster the RCN's future operational capacity,' says, Sajjan. 
The decision for a new ship came after ensuring adequate funding for the acquisition of the ship, as well as the modified production schedule. Three ships are in full production and steel cutting for the fourth ship is planned for this winter. 
The Government of Canada is also committed to providing the best economic opportunities for Canadians. Through the National Shipbuilding Strategy, the Government of Canada is providing the Royal Canadian Navy with safe and effective vessels to carry out their missions, while providing meaningful economic opportunities for Canadians.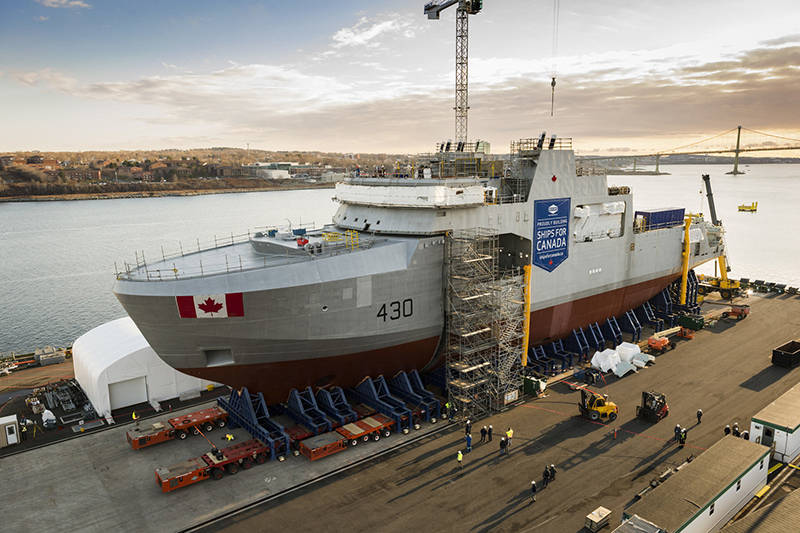 "The National Shipbuilding Strategy continues to create social and economic benefits for Canadians from coast-to-coast-to-coast. The construction of the sixth Arctic and Offshore Patrol Ship underscores our commitment to maximizing stable employment for our skilled shipbuilders while supporting the brave women and men of the Royal Canadian Navy in their important work," says Carla Qualtrough, minister of public services and procurement and accessibility. 
The Royal Canadian Navy requires a diversified fleet to respond to the challenges it faces today and will face in the future. The AOPS will patrol Canada's Oceans, including the Arctic, and are well suited for missions abroad to support international partners, humanitarian aid, disaster relief, search and rescue, and drug interdiction. 

"I could not be more pleased with the decision to proceed with the construction of the sixth AOPS. These ships will enhance the RCN's capacity to operate in the North while continuing to contribute to a wide range of security, humanitarian and capacity building operations at home and around the world," says, Vice-Admiral Ron Lloyd, Commander Royal Canadian Navy.
The first AOPS is now in the water and is expected to be delivered to the Royal Canadian Navy in summer 2019.
Main photo:
One of the future HMCS Harry DeWolf's mega-blocks emerges from the Halifax Shipyard's Ultra Hall (July 2017).
Photo credit: Canadian Armed Forces