Greenwood MFRC Military Child Month
The Greenwood MFRC is celebrating and recognizing the military children of their community by partnering with local schools for a multimedia art contest, held for the first time during April, Month of the Military Child.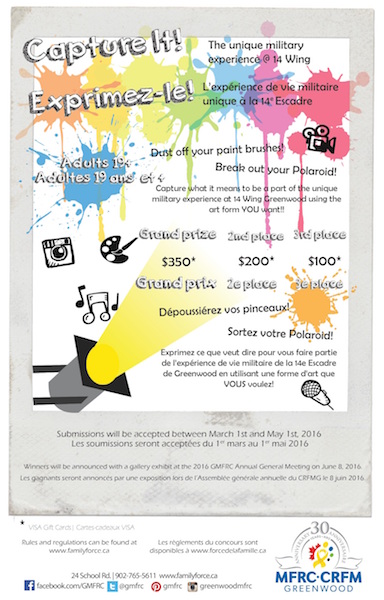 "We just thought it was a really great idea to express what it means to them to be a military child," said Pascale Robichaud, Coordinator of Community Engagement at the GMFRC.
The MFRC is inviting students to share what it means to them to be a military child through short stories, poems, video, photography, audio, painting or sculpting.
In late April, an in-house committee will choose the winners. Winners receive gift cards or subway lunches based on submission type. The winning art pieces will also be displayed at the 30th-anniversary celebrations of the GMFRC in May at the annual meeting in June.
The GMFRC invited schools throughout southwest Nova Scotia, but the contest is open to military youth throughout the province.

Robichaud explained the importance of this competition is recognize that military children also face a unique set of challenges, similar to the adults in their families.
"Sometimes we forget about all the struggles the children have. We often think about the member and spouses, but the children are also living all those same things. We thought it was important to honour and celebrate the children as well. So, that's school age all the way up to adult children because they've been through the military lifestyle as well," said Robichaud.
An adult multimedia contest is simultaneously taking place, and the public will have the opportunity to vote on the submissions.
The GMFRC is accepting submissions until April 22. Winners will be announced on April 29. Entry forms and rules and regulations can be accessed on their website.