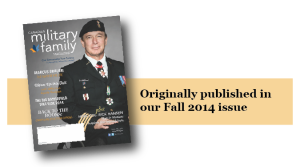 Apples are one of my favorite local fruits to eat.  Choosing local foods is a good idea for so many reasons. First, these foods are fresher, maintaining more available nutrients. Second, buying local is good for our economy, supporting local farmers. Third, it is better for the environment because of the shorter transportation that is required. It makes sense to eat local foods, and apples are in season right now!
Do you have a baby? Make your own applesauce! Applesauce is one of the most nutritious first foods you can give your baby. Just peel and chop some apples into a pot with a little water. Boil until soft and puree in a blender. Applesauce is also a great substitution for sugar in many recipes.
Unfortunately, apples do fall into the 'Dirty Dozen' list, according to the Environmental Working Group (source: ewg.org).  This means they have been tested high in pesticides.  For this reason, I recommend apples that are grown organically.  If you decide to eat apples that are not organic, at the very least remove the peel first.
Here are a few recipes with apple you can try. Apple pie is my personal favourite!
Butternut Squash Apple Soup
1 tbsp. butter
1 butternut squash, peeled and cut into cubes
1 medium onion, peeled and chopped
2 carrots, chopped
½ tbsp. ginger, minced
¼ tsp. cinnamon
4 cups vegetable broth
2 medium apples, chopped
1 tsp. sea salt
Melt butter in a large pot. Sauté butternut squash, onion, carrots and ginger. Add cinnamon and cook for 10 – 12 minutes, stirring often. Add water if the pot becomes dry.
Add vegetable broth, apples and sea salt. Bring to a boil, reduce heat and simmer for 15 minutes.
Puree in a blender and serve.
Option: garnish with bacon pieces, raw pumpkin seeds and/or scallions.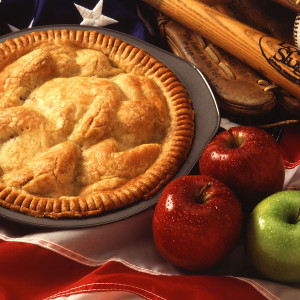 Old Fashioned Apple Pie
Crust:
2 ½ cups whole wheat flour
1 tsp. sea salt
1 cup chilled unsalted butter, cut into ½ inch cubes
Approximately ½ cup ice water
Mix flour and sea salt in a large bowl. Add butter and cut with a knife until it creates a crumbly mixture.
*Option: You may also use a food processor or pastry blender.
Gradually add ice water and form into a ball. Divide dough in half, flatten each piece and wrap in plastic. Chill for 2 hours or overnight.
Filling:
8 apples, sliced
½ cup pure maple syrup
1 tsp. cinnamon
1 tsp. vanilla extract

In a small bowl, whisk maple syrup with cinnamon and vanilla.
Preheat oven to 350 degrees F.
Roll out dough on a floured surface and place bottom piece in pie plate or cast iron pan, cutting off edges to fit. Spread apple slices inside and pour in maple syrup mixture. Place top layer of dough, pinching edges and cut off excess dough. Insert vent holes with a knife.
Bake for one hour.
Apple Oat Cookies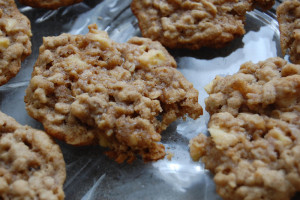 1 cup butter, softened
½ cup maple syrup
½ cup applesauce
2 eggs
1 tsp. vanilla extract
2 ½ cups whole wheat flour
2 cups oats
2 tsp. cinnamon
1 tsp. baking soda
¼ tsp. sea salt
1 apple, peeled and finely diced
4 dates, pitted and chopped
Pre-heat oven to 350 degrees F.
Cream butter and maple syrup. Add applesauce, eggs and vanilla. Blend with hand mixer.
In a separate bowl, combine whole wheat flour, oats, cinnamon, baking soda and sea salt. Stir and add wet ingredients, apple and dates. Mix well, drop spoonfuls onto greased cookie sheet and bake for 10 – 12 minutes.
Makes approximately 36 cookies.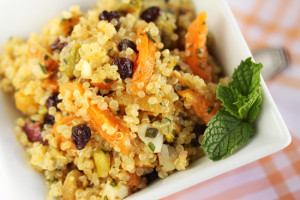 Quinoa Fruit and Nut Salad
1/3 cup quinoa
2/3 cup water
1 orange
1 apple
1 mango
1/2 cup raisins
1/2 cup raw pecans
Rinse the quinoa in a fine mesh sieve, and then add it to the water. Bring it to a boil over high heat. Reduce to low heat and simmer for 20 minutes. Refrigerate until it cools.
Meanwhile, peel the orange and cut it into sections. Dice the apple, chop the pecans, peel and dice the mango. Mix all the ingredients with the quinoa and serve.
Karen Stoyles is a Registered Holistic Nutritionist, military wife, mother and owner of Nature Prenatal. You may visit her website at www.natureprenatal.com for more recipes and information on her services.
Karen Stoyles is a Registered Holistic Nutritionist residing just outside of Ottawa.  Graduating from the Canadian School of Natural Nutrition in 2010, she and her husband welcomed their daughter that same year.  She is grateful for what she learned about the human body, how to properly nurture it with food and thrilled to share this knowledge with others.
Karen Stoyles, RHN
613-854-9848