Dogs & Defence: Helping Military Personnel Heal
MBdr. Blair Walton was never a dog person. 
After being bitten in the face by a dog as a child, Walton had a deep-rooted fear for the canine species and mostly grew up around cats. 
That was until he met Judah, the lovable, a 110 lb. Mastador that would rather be pet than have breakfast.
"He's just a big, old teddy-bear," said Walton. 
As a service dog, Judah has provided Walton with a much-needed lifeline after the Master Bombardier was diagnosed with Post Traumatic Stress Disorder as a result of a tragic accident that he was part of in 2014, while deployed to an exercise in Wainwright, AB.
Walton has served in the Canadian Armed Forces (CAF) since 2007. He joined the military out of a desire to serve his country, which at the time was in the midst of the Afghanistan War, and the desire for some structure in his life.
"I felt like it was a good opportunity to see if I could deploy in that time frame and serve my country," recalled Walton. 
Looking back at the decade he has served in the Canadian Army, he points to experiences like visiting Fort Bragg in the United States or being part of a contingent that visited Juno Beach in France as some of his most memorable times in the military. Visiting Juno Beach had made an especially significant impact on Walton.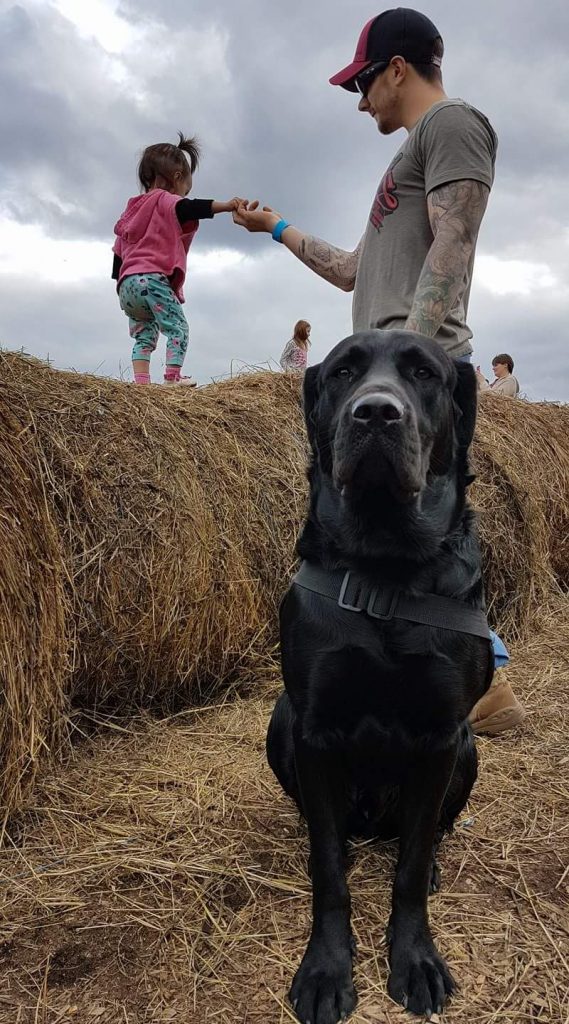 "A lot of the tombstones were very young individuals. At the time they were 16 and 17 year olds who gave the ultimate sacrifice. It really put into perspective how young and how badly people wanted to serve the country and win the war," remembered Walton. 
In 2013, Walton had the opportunity to work very closely with his Commanding Officer: LCol. Dan Bobbitt. As Bobbitt's driver, Walton had frequent personal and often one-on-one interactions with his commanding officer, even getting to know his family well. 
"You become part of that life. Not only was he my CO but he became my friend as well," noted Walton. 
One of the most notable things Walton recalls about LCol. Bobbitt was his dedication to the job. Bobbitt would often be working until the early morning hours. 
"He was a hard-charger, a go-getter," said Walton. 
In May of 2014, Walton and LCol. Bobbitt were deployed to Wainwright, AB for Exercise MAPLE RESOLVE. 
May 21 started out just like any other routine day on the exercise. LCol. Bobbitt, Walton and a small group of other soldiers were travelling in a Light Armoured Vehicle (LAV) III.
"It was just like a normal training day. You don't think that something could happen," said Walton. 
The group was on their way to meet with other members of the regiment when the LAV III rolled over when coming down from a hill. 
Aside from a few vivid memories and the sounds of people yelling, most of the accident was a blur to Walton who had hit his head and received a concussion. He was taken to Edmonton for treatment. 
"I really live that day through the other members," remembered Walton. 

What Walton would soon come to know is that the horrific accident had tragically taken the life of his commanding officer. 
"When you lose a friend it hurts," said Walton. 
As a result of the accident, Walton was diagnosed with PTSD.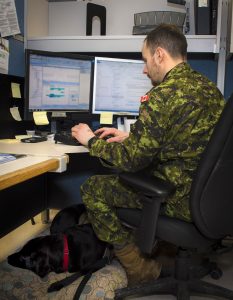 As part of his ongoing treatment for PTSD, Walton was introduced to Judah in August 2017. Initially the pair worked together only on nights and weekends. Two months later Walton was given the green light to bring Judah with him to his work with 2 Royal Canadian Horse Artillery. He is one of the few members in the CAF allowed to bring his service dog with him to work full-time.
In the few short months he's worked with Judah, Walton says his new furry friend has made a world of difference for him. He is now able to get out and go to the gym or store thanks to Judah. 
"He knows when I'm worked up in a situation. He'll give me clues that it's time to leave when my anxiety starts to come up," explained Walton. 
The Mastador also calms Walton down from his nightmares. 
"He gives me a focal point. He keeps me able to concentrate on him so that I'm able to still continue to be a functioning member of society, and within the military as well," commented Walton. 
Others have also noticed the difference Judah has made in Walton, and because of his relationship with his service dog, Walton says he now has a stronger bond with his two year old daughter. 
The loveable, calm, friendly canine has also stolen the hearts of his coworkers and has proven to be a morale booster for the entire workplace. 
The base, particularly 4 CDSB Petawawa, has been supportive of Walton and Judah. In Sept. 2017, along with the rest of the CAF, the base received a Defence Administrative Orders Directive (DAOD) in regards to allowing service dogs on Defence Establishments. 
"In that light we have developed a new Base Administration Instruction dealing with the housing of CAF members with service dogs; safety of members and the animal; and policies to deal with service animals within the various types of workspaces on the garrison. The guiding principle behind these Administration Instructions has been twofold: firstly, the spirit and letter of the DAOD; and secondly, the safety and best quality of living that we can offer for the service dogs. 
"One of the new developments is a transition of some of our quarters into suites designed to support the animals and the CAF members. This coupled with a newly installed dedicated fenced off leash area will provide a suitable living space on base for those CAF members in the future who are prescribed service dogs.  This transition of accommodations is expected to be complete early spring 2018. 4CDSB Petawawa aims to accommodate and support the operational capability of all our lodger units and personnel on the base, and this is one more area where we are adapting our procedures to best meet the need and to achieve our motto Training Ground of the Warrior," said LCol. Darcy J Wright Commanding Officer, 4th Canadian Division Support Base Petawawa. 
Walton says he is aware he and Judah are breaking down some barriers and is honoured to be among the few who can help pave the way for other military members. 
Speaking from his own experiences, Walton knows how much of a difference having a service dog can make for other Canadian soldiers across the CAF. 
"It's another resource for ill and injured soldiers to be able to have the opportunity to have a service dog and have that member continue to serve later on, have that member functional as best as they can," said Walton.