Canada and Latvia sign declaration
Above image: Minister of National Defence Anita Anand and Latvian Deputy Prime Minister and Minister for Defence, Dr. Artis Pabriks.
In the face of threats to NATO's eastern flank, Canada and Latvia signed a joint declaration to augment NATO's enhanced Forward Presence Latvia on June 29.
"Today's announcement is another example of Canada continuing to help defend every inch of NATO territory, and strengthening NATO's deterrence and defence posture in Latvia. Canada leads this Battle Group with great pride and responsibility, and I offer my sincerest thanks to Dr. Pabriks and the Latvian Armed Forces for their steadfast support and trusted partnership as the Host Nation.
"This Battle Group shows the resolve of our Alliance, and demonstrates to any potential adversary, that any aggression against NATO would bring them more harm than good. In the face of Russia's full-scale invasion of Ukraine, our efforts to strengthen NATO's deterrence and defence posture are more important than ever, and we will continue to step up," said Minister of National Defence Anita Anand, who signed the statement on behalf of Canada during the NATO Summit in Madrid.
She was joined by Latvian Deputy Prime Minister and Minister for Defence, Dr. Artis Pabriks,
Augmentation the Forward Presence Latvia
According to a Department of National Defence press release, the declaration means that Canada will:
Continue to lead NATO forces as the Framework Nation in Latvia;
Work with Latvia and NATO Allies to generate and stage forces in order to surge to a combat capable brigade;
Establish and lead elements of a forward brigade command and control; and
Be prepared to provide critical capabilities to operations, such as ammunition and explosives, air defence systems, and anti-tank weapons systems.
Detailed planning as to how Canada will begin to implement new commitments in the shortest timeframe is ongoing.

"Through today's joint declaration, Canada is reaffirming its strong military presence in Latvia, which will continue to grow. The declaration demonstrates both countries' commitment to bolstering deterrence and defence, to the greater security of the Euro-Atlantic area, as well as NATO and its Allies. It will also allow Allied countries to more rapidly and effectively deter and respond to threats," stated a DND press release.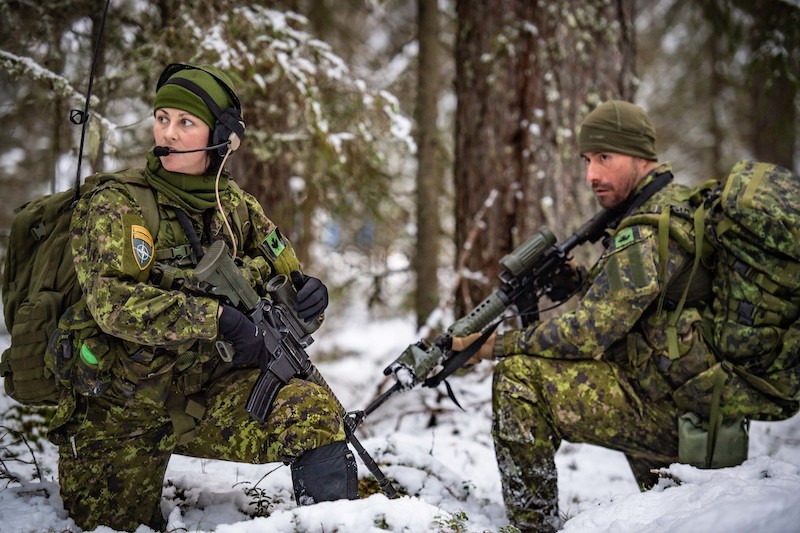 Operation Reassurance
Under Operation Reassurance, Canada has led NATO's enhanced Forward Presence Battle (eFP) Group Latvia for the last five years. Since then, according to DND, eFP has grown to become the most diverse of all the NATO battle groups, with one-third of NATO Allies participating.
The 11 nations part of this battle group include:
Albania,
Canada,
the Czech Republic,
Iceland,
Italy,
Montenegro,
North Macedonia,
Poland,
Slovakia,
Slovenia, and
Spain.
Operation Reassurance is currently the Canadian Armed Forces (CAF) largest military operation with 1,400 overall members deployed and approximately 700 personnel serving in Latvia.
Canada's contribution to the eFP at this time consists of battle group headquarters, a mechanized infantry company, an artillery battery, a combat support company, an electronic warfare troop, and a combat service support company.
Since Russia's Invasion
Since Russia invaded Ukraine in February, Canada has expanded Operation REASSURANCE – supporting NATO's assurance and deterrence measures in Central and Eastern Europe. According to DND, Canada has surged additional land-based capabilities to Latvia, to include an artillery battery and an electronic warfare troop. In addition, Canada has deployed a Brigadier-General and staff officers to the Multinational Division North Headquarters in Latvia to strengthen command and control.
In Feb. 2022, Prime Minister Justin Trudeau announced that Canada would expand and extend Operation REASSURANCE beyond March 31, 2023.