Iron Warrior change format for annual event
The 38th Iron Warrior exercise, a showcase event of the 2 Canadian Mechanized Brigade Group, was held Sept. 11-12.This year, a format change allowed for a 21 km sprint and a longer marathon length of 42 km. The changes maximized the opportunity for individual participation and reduced the number and severity of injuries.
Competition Changes
Col. Eric Landry, Commander, 2 Canadian Mechanized Brigade Group, also shared his excitement for the change before competing in this year's Iron Warrior.
"By bringing this event into the community, everyone has the opportunity to come out and support the competitors along the route this weekend. Every Canadian Armed Forces member who takes on this incredibly challenging competition should be proud of their accomplishments, and I look forward to competing, but also to joining them, and the members of our community, in celebrating their achievements," he said.
By adjusting the format of this year's competition, "more participants than ever will have the opportunity to push their limits while ensuring the challenge and achievement of the traditional event is maintained," said Lt. Pamela Turney, CD, Public Affairs Officer, 2nd Canadian Mechanized Brigade Group, Canadian Armed Forces added.

Master Corporal Shane Stewart stands beneath the finish line upon winning the top spot for male participants of the 35th annual 2 Canadian Mechanized Brigade Group Iron Warrior Competition
Maximizing Public Participation
Organizers also changed the location for this year's exercise to more publicly accessible areas in the Town of Petawawa and along the Ottawa River.
In addition, portions of the race routes for the exercise moved off base to maximize opportunities for members of the public, including family and friends of competitors, to safely observe the competition and show their support to the participants.

Specifically, the exercise started at Dundonald Hall, Garrison Petawawa, then went to Petawawa Point Beach to Laurentian Drive (canoe take-out and final ruck march) and ended at Petawawa Civic Centre (adjacent to Central Bark dog park).
The public was asked to follow all public health measures concerning COVID-19 restrictions, as laid out by the Renfrew County District Health Unit if they were attending.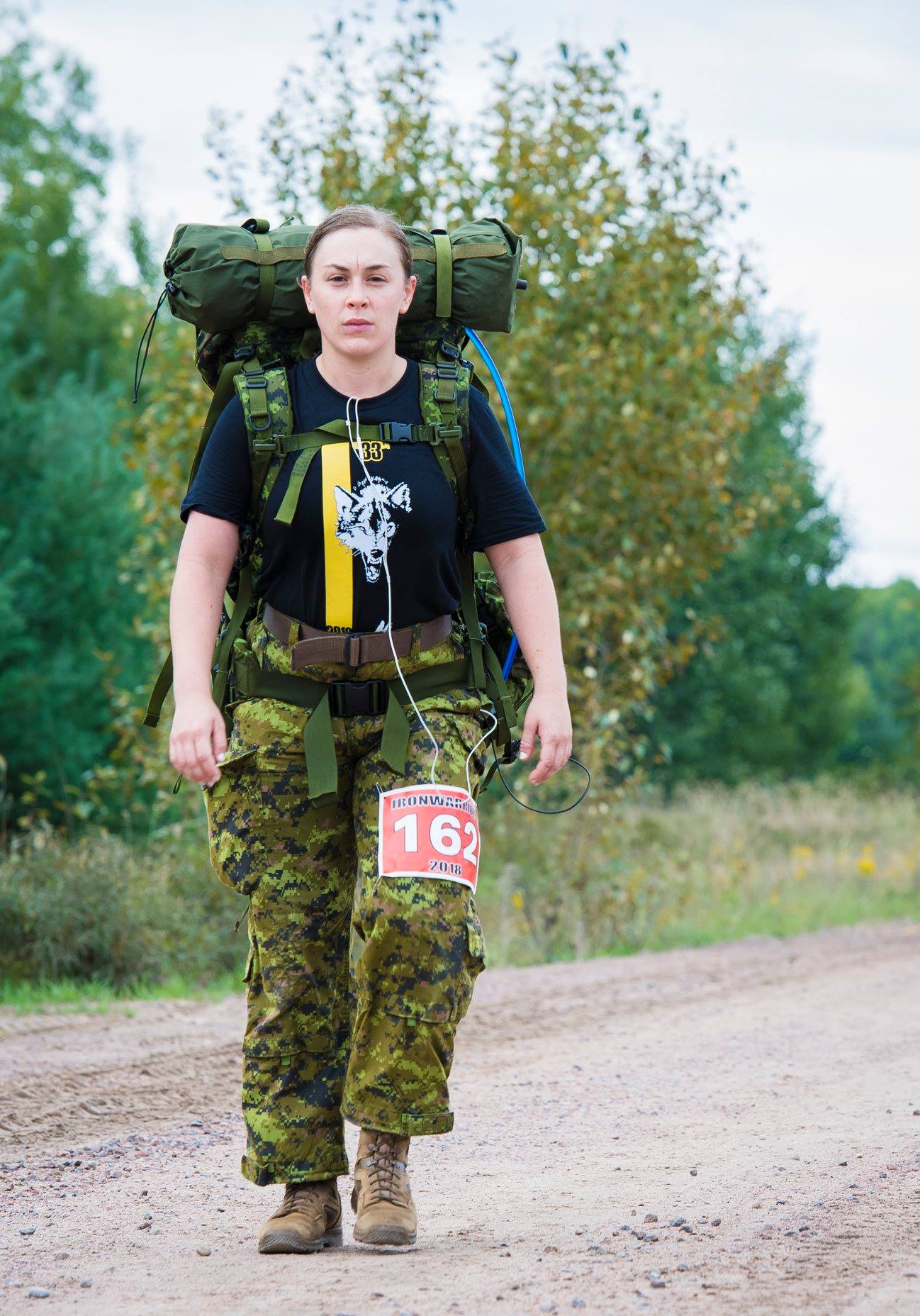 Challenging Resiliency
According to Turney, this enduring individual competition allows individuals to undertake a significant personal challenge, develop their mental and physical resiliency, and provide motivation to maintain readiness.
Chief Warrant Officer Jeramie Leamon, Brigade Sergeant Major, 2 Canadian Mechanized Brigade Group, thanked all those who supported them this year.