Defence Minister and Chief of the Defence Staff affirm their commitment to NATO during European Trip
Defence Minster Anita Anand and Chief of the Defence Staff Gen. Wayne Eyre, concluded their trip to Europe this week to affirm their commitment to the North Atlantic Treaty Organization (NATO) in light of Russia's war in Ukraine.
"They reaffirmed Canada's strong support to Ukraine and commitment to working with North Atlantic Treaty Organization (NATO) Allies and partners to strengthen the Alliance's deterrence and defence posture, and support the security of the region," stated a Department of National Defence (DND) press release.
Always energizing to visit our troops, especially on ops. Great to see firsthand the steadfast resolve, cooperation and collaboration of our Forces with Allies in support of NATO enhanced Forward Presence efforts in Latvia. pic.twitter.com/ecPjKifbfa

— General / Général Wayne Eyre (@CDS_Canada_CEMD) March 8, 2022
Major Stop: Latvia
At the heart of the European tour was the visit to the Eastern European country of Latvia. In Riga, Latvia, Gen. Eyre and Minister Anand joined Prime Minister Justin Trudeau in meeting with several European counterparts such as:
Latvian Prime Minister Krišjānis Kariņš,
Prime Minister of Estonia, Kaja Kallas, and
Prime Minister of Lithuania Ingrida Šimonytė,
Prime Minister of Spain, Pedro Sánchez.
The trio also came together to meet with NATO Secretary General, Jens Stoltenberg. During this meeting, they discussed "ongoing security challenges facing Ukraine and underscored the importance of collective security in preserving global peace and security and the rules-based international order," according to the press release.
While in Latvia, Gen. Eyre and Minister Anand also had the opportunity to visit with Canadian Armed Forces (CAF) personnel deployed to Task Force Latvia Headquarters and the enhanced Forward Presence Battle Group at Camp Ādaži, in support of NATO assurance efforts.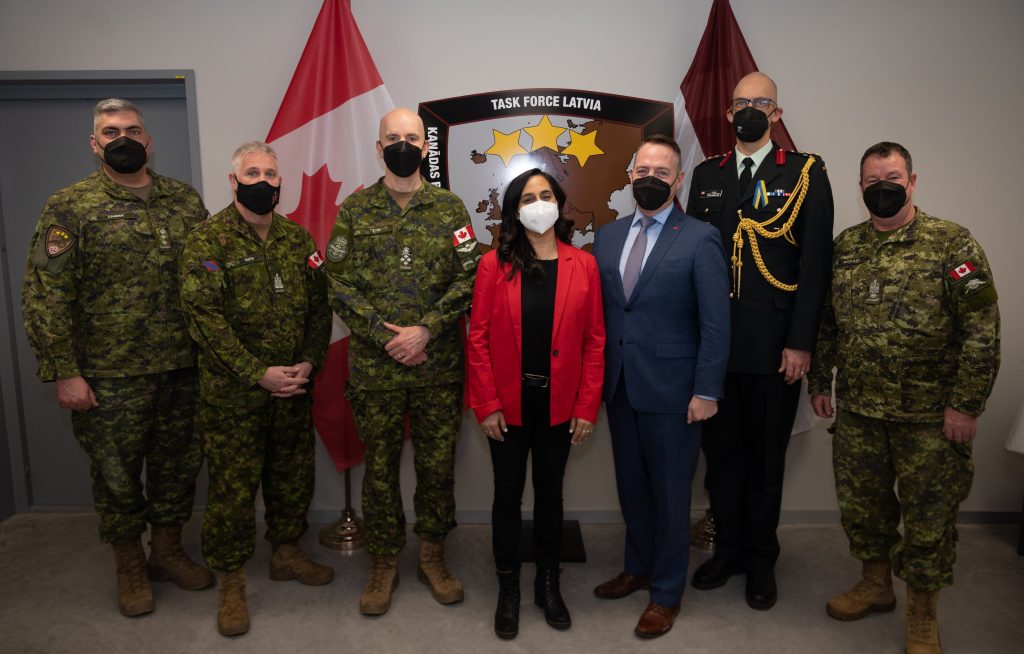 They also met with Latvian Minister of Defence Artis Pabriks and Lieutenant General Leonīds Kalniņs, Commander of the Latvian National Armed Forces.
Prime Minister Trudeau, during this time, announced that Canada would renew its multiyear commitment to Operation REASSURANCE, the CAF's support to NATO's assurance and deference measures in central and eastern Europe.

"Russia's unprovoked invasion of Ukraine has reaffirmed the importance of a strong and unified NATO. Now more than ever, the Canadian Armed Forces must continue the important work of collaborating with our closest Allies and trusted international partners. This week, Minister Anand and I met with several of our NATO counterparts to discuss current and future security threats, and we thanked personnel deployed throughout Europe for their unwavering commitment and steadfast resolve," said Gen. Eyre.
It was great to meet our 🇨🇦 Forces and counterparts from Allied nations who support the Joint Forces Command Naples' critical mission of planning and conducting NATO military operations. These challenging times have focused our efforts and brought us closer together. pic.twitter.com/n36NcqLjx2

— General / Général Wayne Eyre (@CDS_Canada_CEMD) March 9, 2022
Second Leg in Naples
After they visited Latvia, the pair then travelled to Naples, Italy, to discuss NATO assurance and deference measures with members of the Allied Joint Force Command stationed there.
They also participated in a town hall with CAF members deployed in the region.
Canada's Ongoing Commitment to Ukraine
Since January, Canada has responded to Russia's aggression turned war against Ukraine through financial, humanitarian, and military means. Canada has also imposed sanctions to support Ukraine.
The total amount of aid provided to Ukraine and NATO amounts to $67.5 million.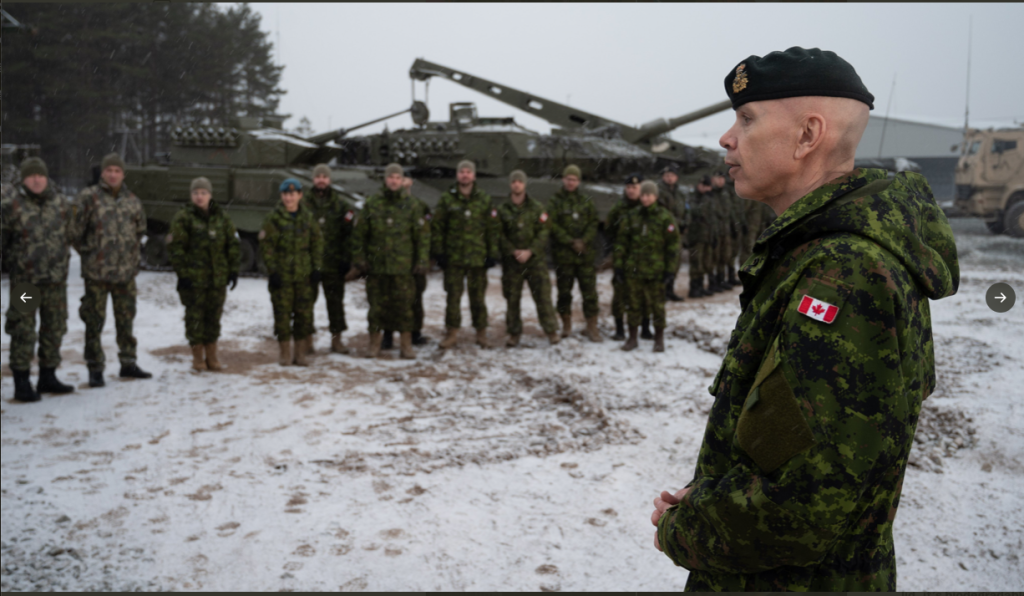 Specifically, the aid is for:
$10.5 million for 4500 M72 rocket launchers and 7500 hand grenades
$1 million for the purchase of commercial satellite high resolution and modern imagery;
Approximately $10 million for 390,000 Individual Meal Packs and approximately 1600 fragmentation vests;
$12 million donation, from existing Canadian Armed Forces stocks, of at least 100 anti-armour weapons systems – Carl Gustav M2 recoilless rifles, as well related accessories and scopes, 2000 rounds of 84 mm ammunition;
$25 million in non-lethal aid, which could include: night vision gear, helmets, and body armor;
the deployment of two C-130J tactical airlift aircraft, along with an air detachment of 40-50 CAF personnel, which have already begun transporting aid destined for Ukraine;
over $7 million of lethal weapons and support items to the Armed Forces of Ukraine;
over $2 million of personal protective and load carriage equipment, as well as surveillance and detection equipment.
The equipment also includes machine guns, pistols, carbines, 1.5 million rounds of ammunition, sniper rifles, and various related equipment.