Sears Canada Military Family Shopping Day
Christmas shopping just got easier and less expensive for military families. Sears Canada is once again celebrating Operation Wish: Military Family Shopping Day.
On Sunday, December 7 select Sears stores will be opening early for military families, personnel and veterans, offering them a private in-store family experience and a shopping discount.
"The best way to describe the event is to let everyone know it's a country wide party. Kids can get their faces painted, mom's get makeovers at our makeup counters, there are games and the atmosphere is all about Christmas spirit. Sears is indeed proud to support military members and their families," said Alicia Richler, director, corporate affairs and communications, Sears Canada Inc.
Sears associates will tour families throughout stores prior to doors opening to the general public. Store departments will create special activity stations. It is recommended shoppers contact their local Sears store to find out what activities are taking place in their area.
"There are several very large in-store parties happening in major urban centres close to bases, including Victoria, Winnipeg, Belleville, Halifax and Quebec City. On the other hand, some of the smaller Sears stores are working with their closest Military Family Resource Centre to buy cakes, or decorations for parties held right at the MFRCs. The day is about letting military families know Sears cares," said Richler.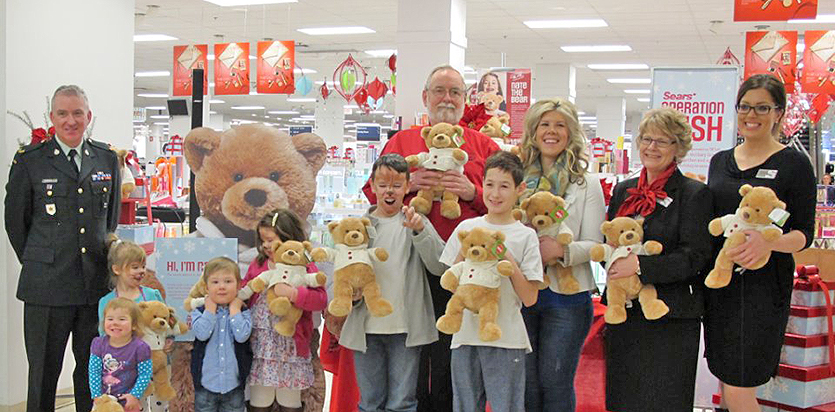 On Military Family Shopping Day a 15 per cent discount will be offered to families on most items. To make use of the discount shoppers need to produce either a CFOne card, or a military identification card. Families can take advantage of the discount on-line as well.
"Within the next week Sears will be providing a coupon code to every MFRC. Military families can connect with their MFRC to get the code number. At the end of placing their on-line order shoppers will be asked to input their code. At this time their 15 per cent discount will be applied," explained Richler.
Sears launched Operation Wish in 2006 in coordination with what was Canadian Forces Personnel and Family Support Services, now Canadian Forces Morale and Welfare Services. The program began as an initiative to send Sears Wish Book catalogues to deployed troops so they could place discounted orders for loved ones back home. Then the Christmas gifts were delivered to the door by Sears employees.

The program has evolved over the years to include supporting Christmas parties for deployed families, having huge cards and banners signed by community members to send to the troops overseas, and offering financial support for military charities like the Hospital Comforts Fund, and the Military Families Fund.
This year the Sears Foundation is selling the Charity Stuffed Bear, Finn and 100 per cent of proceeds from in-store and on-line sales will be directed to the Sears Youth Development Program. One beneficiary of this program is the Canadian Association of Military Family Resource Centres.
For more information please visit  Sears' website.
Like this?  Here's more…

EMFRC Elves at Londonderry Mall
CFOne Card Reaches 100,00 Milestone
Get More! Receive six issues of Canadian Military Family Magazine in your mail box for only $17.95! Click here to subscribe NOW.