CAF Firefighting Efforts in Saskatchewan Continue
Intense wildfires are still burning out of control in western Canada.
The Government of Saskatchewan requested firefighting support from the Federal Government on July 4. On July 5, the Canadian Armed Forces (CAF) were asked to support provincial efforts in northern areas of the province.
"The Canadian Armed Forces (CAF) will continue to assist the provincial authorities as long as we are required. The Immediate Response Unit (IRU) West was able to deploy to Prince Albert, complete training and achieve effects on the ground very quickly upon receipt of the Request For Assistance. The situation on the ground is assessed on a continual basis to ensure we have the proper manning level and eventually transition back to provincial resources as soon as that is possible," said Lieutenant Colonel Mason Stalker, commanding officer, PPCLI.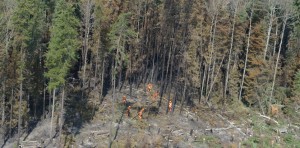 Initially, the CAF announced it was prepared to send up to 1,400 personnel including a firefighting force and integral logistics support.
"We currently have 850 soldiers in Northern Saskatchewan, 600 of those directly fighting fires under the direction of our Provincial authorities, which is quite substantial.
"At this time the Province of Saskatchewan has asked for us to contribute 600 Type 3 fire fighters to help alleviate some of the strain on provincial resources, and we're happy to step up and support them," said Lt Col Stalker. "We recognize that deployments have an impact on the family lives of our members. We're always looking to minimize those impacts while achieving the required effects on the ground and helping out those in need here in Saskatchewan."
Other CAF units supporting the IRU in Saskatchewan are:
•  1 Canadian Mechanized Brigade Group Headquarters and Signals Squadron, Edmonton, AB;
•  1 Field Ambulance, Edmonton, AB;
•  1 Military Police Unit, Edmonton, AB;
•  1 Service Battalion, Edmonton, AB;
•  1 Combat Engineer Regiment, Edmonton, AB;
•  3rd Battalion Princess Patricia's Canadian Light Infantry, Edmonton, AB;
•  408 Tactical Helicopter Squadron, from Edmonton, AB; and
•  4 Canadian Ranger Patrol Group, La Ronge, Saskatchewan
More than 350 personnel completed wildfire training from Saskatchewan Wildfire Management, received individual protective equipment including hard hats, goggles, and gloves, and are conducting fire line operations in the vicinities of Montreal Lake and La Ronge.
CAF personnel will support local and provincial efforts by:
• conducting fire line operations including patrols, surveillance, digging and control;
• conducting fire line operations near cities and critical infrastructure;
• putting out hotspots in and around vulnerable communities; and
• providing logistic support such as moving fire hoses.
The Royal Canadian Air Force (RCAF) deployed two CH-146 Griffon helicopters to Prince Albert to transport CAF personnel as required.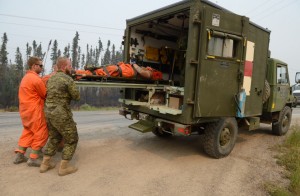 "The CAF is having a very significant impact on the ground in assisting the Province of Saskatchewan to protect life, limb, and property from the wildfire threat.  We've responded very quickly to this threat, because our number one priority in the Canadian Armed Forces really is the home game, which is helping Canadians in their time of need and we're very proud to be doing that," said Colonel Trevor Cadieu, commanding officer, Strathcona's CAR.
Support to civilian authorities during a crisis such as a natural disaster is one of the core missions of the CAF identified in the Canada First Defence Strategy.
Operation LENTUS is the Canadian Armed Forces (CAF) contingency plan that outlines the joint response to provide support for Humanitarian Assistance and Disaster Response (HADR).
LENTUS facilitates the CAF assisting provincial and territorial authorities in the case of a major natural disaster that overwhelms their capacity to respond.
In addition, specialized abilities such as engineering, health services, force protection, transport, aviation or logistics may also be employed.
The Australian Victorian Government is also contributing 102 personnel including 45 fire personnel towards the effort. They will travel to Canada to assist with the wildfire situation.
Crews from Victoria, New South Wales, Western Australia, Australian Capital Territory, Tasmania and Queensland will fly into Vancouver, and then travel to key areas in Canada.
British Columbia's relationship with Australia in sharing firefighting resources has been in place for over 15 years. Victoria has had a specific agreement for ten years allowing for the exchange of personnel, knowledge, skills, equipment, technology and mutual support in the event of an emergency.
Get More! Receive six issues of Canadian Military Family Magazine in your mail box for only $17.95! Click here to subscribe NOW!