EMFRC Elves at Londonderry Mall
Have your Christmas gifts wrapped with care by Edmonton Garrison Military Family Resource Centre staff and volunteers at the Londonderry Mall in Edmonton, Alberta starting November 28.
As many as 100 cheerful elves will be wrapping gifts during typical business hours until December 24 on the upper level of the mall. All proceeds from the annual holiday fundraiser are directed to the provision of support and resources, programs and services for military families.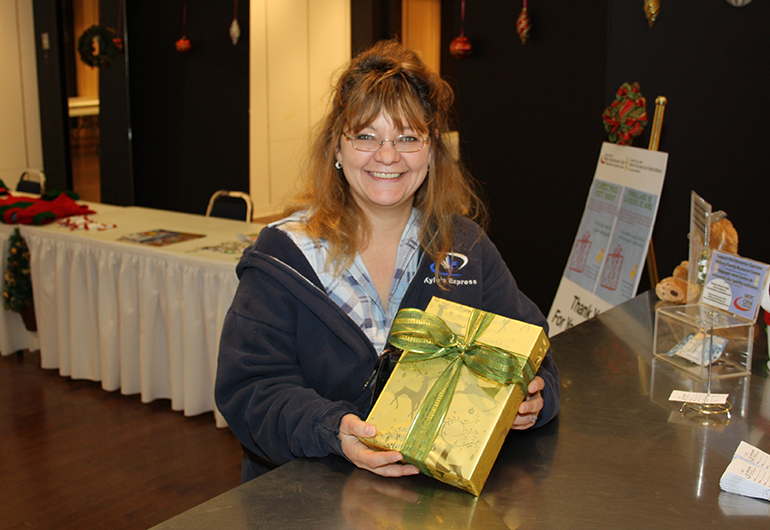 "I always enjoy my experiences volunteering with the MFRC. These times prove fun and informative, and I get to meet and interact with new people, sharing our experiences with each other," said Susan Bennett, military spouse and EMFRC volunteer.
Bennett considers the events put on by the EMFRC, especially those for the children and their families well organized and very entertaining. She believes the Christmas wrapping event integrates volunteers into the community, provides a needed service to mall shoppers, and raises much needed dollars for future programs at the EMFRC.
"I consider volunteering with the MFRC a privilege and it is an honour to be able to give a little back to those who serve our country."
The City of Edmonton has also shown itself to be a great supporter of the military and their families. The partnership between the EMFRC and the Londonderry Mall is not only a fundraiser, it facilitates a  greater awareness of unique challenges of military life and strengthens community partnerships.
"Being part of the supportive greater Edmonton community has a profound effect on military families beyond the Christmas season, lasting all year long," said France Bourgeois, fund development coordinator, EMFRC.

For over 20 years, the EMFRC, its board of directors, staff, and volunteers have been committed to supporting military families as they navigate the unique challenges of military life. Regardless of the situation, coping with an injury or loss, absences from family support systems, family relocation, difficulties during deployments, or solo parenting the EMFRC wants to help.
Programs are designed to enhance the strength and resilience of military families and include personal development and community integration; family separation and reunion; child and youth development and parenting support, and prevention, support and intervention.
The EMFRC is a non-profit, charitable organization governed by a volunteer board of directors compromised of at least 51% civilian spouses of full-time serving Canadian Armed Forces personnel. Their mission is to provide exemplary support, resources, programs and services that enhance the strength and resilience of military families to meet the unique challenges of military life.
For more information on the EMFRC gift wrapping initiative fundraiser visit www.familyforce.ca
Get More! Receive six issues of Canadian Military Family Magazine in your mail box for only $17.95! Click here to subscribe NOW.