A new and unique sponsorship opportunity is taking place June 11 at the Chateau Laurier.
The Bravo Zulu Gala is a flagship fundraiser for [email protected], a not-for-profit initiative helping transitioning Canadian Armed Forces (CAF) members, including the ill and injured, find rewarding civilian careers.
"The evening promises to be full of storytelling and entertainment by Canadian celebrities like host Brian Williams, a distinguished CTV, and TSN media personality. Chief of the Defence Staff, General Thomas J. Lawson, will also be in attendance with forty of his senior flag officers," said Andrew Williams, senior manager, military employment services, Prospect Human Services.
The gala evening is limited to just 400 people at 40 tables. Many attendees will have the company of a Canadian celebrity and a senior military officer as they dine in style. Guests will be served a multi-course meal prepared by an award-winning chef and team inside the Chateau Laurier grand ballroom overlooking Parliament Hill. Entertainment will be led by Alan Frew, formerly of Glass Tiger. As well, one of the ever popular CAF military bands will play.
[email protected] was created by Prospect Human Services, one of Canada's most innovative not-for-profit organizations. Prospect helps people who face barriers to employment find and keep jobs. The organization's motto is, "Break barriers. Employ change."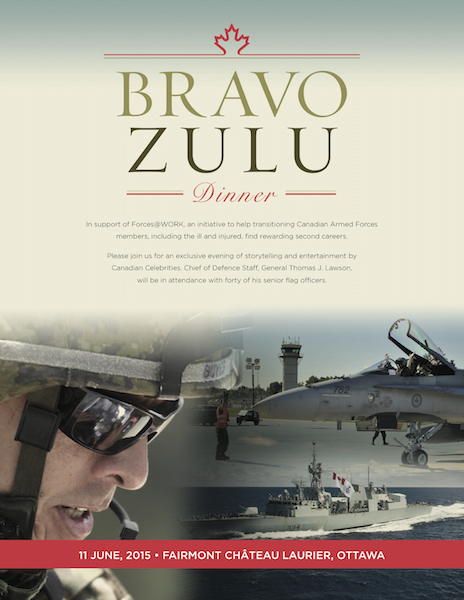 "Transitioning members of the CAF acquire an unparalleled work ethic, a solid understanding of the value of teamwork, adaptability, dedication to a task, and a whole range of skills not always apparent to traditional civilian requirements," explained Williams.
In 2012, Prospect identified a gap in the existing military employment transition process, specifically for the ill and injured, an absence of active job placement and retention services for those facing employment challenges related to mental health, disability, career and cultural differences. There were no services focusing on the individual and the employer, supporting both to overcome the barriers and ensure a successful transition. [email protected] was designed to fill that gap.
According to Williams, status-quo military transition programs left the individual and the employer alone at the point where the employment relationship is most vulnerable when they are trying to figure out how to work together.
"It's well documented that stable, long-term and meaningful employment has a significant positive impact on physical and mental health, marital relationships, and family life. Economic security, the well-being of the family's children, emotional warmth—all improve with stable employment, as well as decreased stress levels."

In addition to the social and emotional costs of unemployment and underemployment, there are economic costs and reputational consequences when CAF personnel and veterans are unable to fulfill their potential.
Williams says it is imperative that transitioning CAF personnel and veterans, particularly the ill an injured, receive timely and appropriate supports that allow them to transition successfully to civilian careers. In the absence of such supports, barriers to employment accumulate, adversely impacting the wellness of CAF personnel and veterans, and their families.
Since its inception, the [email protected] initiative has helped over 300 participants. The career placement rate is over 90%, with 73% finding employment in less than three months, and over 90% meeting or surpassing their career goals.
For more information visit [email protected] website.
Get More! Receive six issues of Canadian Military Family Magazine in your mail box for only $17.95! Click here to subscribe NOW!