Approximately two years ago, I called up my dad to see if he would be up for a trip. Like most people today, I have a bucket list, and marching the four-day Nijmegen March was on it.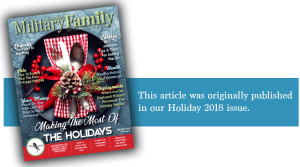 Growing up in a military family, I was blessed to live in some amazing places. I was born in Iserlohn, Germany, and moved to Canada when I was three. My family was then posted to Calgary, Alberta and we lived there for six years. We also lived in Chilliwack, BC for four years, then moved to Lahr, Germany for fi ve years, and then to Petawawa, Ontario, which has been my home now for the past 31 years.
I have always been inspired by the many soldiers that I have chatted with who had completed the four-day march. Participating in the march was something I have always wanted to do as a civilian and better yet, to have my dad alongside me. This would be a trip of a lifetime. He immediately said yes, as this would be an amazing opportunity for us to catch up and spend time together. Like most military dads, he was away a lot when my brother and I were growing up due to postings and deployments.
I have always had a strong desire to return to Europe and my birth country of Germany, and even better to go with my father, Chuck Hills, a retired veteran who served 43 years with the Armoured Corps. I have been working as a dental assistant for the last 27 years, and currently work at 1 Dental Unit at Garrison Petawawa.
I seriously think we both started training for the march the very next day. My Dad researched the walk and discovered that with him being 69, he would only have to complete 30 km per day for four days, and with me being 47, I would have to complete 40 km per day for four days. Naturally, he chose to do the 40 km a day with me, being the soldier he still is. He started training in Calgary, as that is where my parents have retired. I started my training in Petawawa. It didn't seem like we were apart, as we exchanged many texts, and Facetime calls. We were constantly always encouraging one another. We guessed that we completed approximately 1,400 km in preparation for the marches, which we participated in from July 17, 2018 to July 20, 2018.
The Nijmegen Marches are a four-day event that draws in over 47,000 civilians as well as 5,500 military personnel, police offi cers and fi refi ghters. It is in fact, the biggest walk in the world. What an exciting countdown it would be to this trip of a lifetime with my father. The only part of the trip I planned was that we would end our holiday with the march. The rest of the planning was up to my dad.
Returning to Europe after 31 years was exciting enough, and adding the Nijmegen March was a bonus. I looked forward to visiting my birthplace in Iserlohn, and to Lahr where I lived as a teenager. The most poignant part of the trip was to honour and pay our respects by visiting the many military cemeteries.
The day came where we boarded the plane to make our journey back to Europe. We landed safely in Amsterdam. As many people may be aware, the Dutch people are serious bikers, so we had to negotiate the streets and walkways very carefully. It was impressive to see how much they biked, as there were more bikes on the road than vehicles. Dad and I enjoyed a boat cruise through the canals, where both of us dozed off for a bit. We attributed it to jet lag, but it may have been the Heineken beer that we enjoyed earlier that day.
We continued driving the next several days through beautiful France, where the poppies really do grow wild along the sides of the roads and in farmers' fi elds. We drove to Belgium, Germany and then back to Holland. We made many stops and paid our respects to the many Canadians who lost their lives at various cemeteries, which included Beaumont Hamel, Vimy, Hill 62, Moreuil Wood, and went as far south as Dieppe and Groesbeek. Seeing the graves and walking through some of the grounds where battles were fought truly gave me a deeper appreciation and respect for all the lives lost. So many sons, husbands, brothers, and fathers did not return. When we walked through the trenches and stood on the grounds where these battles took place, it made one think about the atrocities of what these men experienced. It is diffi cult to put into words how this made me eel, but knowing that my father was at my side, made me feel like his presence was truly a gift that after all the years he served, and that we were able to make this trip together and visit the battlefi elds with him. I am forever grateful that my dad always returned home safe from his deployments some of which were Bosnia, Cyprus, West Africa, and the Golan Heights.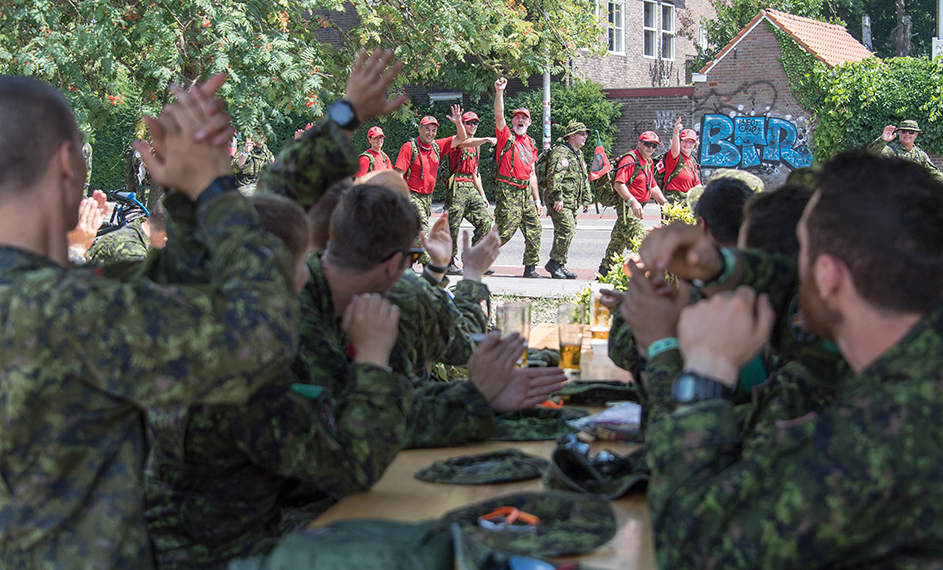 The Dutch people have never forgotten the Canadians and their sacrifices.
During the four days of the Nijmegen Marches, the Canadian Forces members walk the same ground where many Canadians fell. Over 7,600 Canadians died in he nine-month campaign between 1944 and 1945, which liberated the Netherlands and helped bring the Second World War to its conclusion.

The big day arrived for us, and we landed in Nijmegen to pick up our kits for the March. It was the 102nd March, so it was extremely well organized, considering there were 47,431 people to register. Now, all we had to do was relax, rest, hydrate, and fuel up with some good carbs!
DAY 1 -THE START TIME WAS 5:00 A.M.
We were thankful to walk in the cooler part of the day, as Europe was experiencing a hotter than normal summer. We couldn't believe how the crowds lined up on both sides of the street to cheer on all the walkers. It wasn't like anything I had experienced before. People would stand along the walking route with bowls of cucumbers, watermelon, pretzels, and salted licorice. It was fuel that we absolutely needed with the heat. We fi nished the fi rst day in seven and a half hours, which was a pretty brisk pace, no doubt brought on by the excitement of doing this journey together.
DAY 2 ˜ WE KICKED OFF AT 6:00 A.M.
Thankfully we were able to walk most of the morning in the shade. The crowds lined the streets once again on both sides. Lots of young students to cheer us on, with beer still in hand, saluting all the marchers. They gave us high fi ves as we walked by, yelling "Yay CANADA." Believe it or not, some guys had even picked up street pylons and were shouting "SUCCESS" which meant, "Good luck!" We even saw people in costumes. One especially comes to mind, and I still laugh inside. A person was dressed in a white fl uff y bunny suit who obviously got tired of waiting or had too much to drink. The inebriated bunny was lying along the side of the hill amongst the crowds, and the only visible part noticeable was the fluffy cotton tail. We knew that bunny was going to be hurting more than us. My dad and I had many laughs, and these distractions certainly helped to pass the time! We completed Day 2 in eight and a half hours.
DAY 3 START TIME 5:00 A.M.
This was the toughest day, as it was the day of "The Seven Hills." The crowds were unbelievable. People were dancing and singing, and the costumes were out of this world. It was like walking through a storybook. Some of the little towns had colour themes in which all the people were dressed in white and in the next little town, the crowds were dressed in red. It was impressive. The children were up at the crack of dawn handing out candy, bowls of marshmallow candies, and homemade cake. The best part was when dad and I would hand some of the children a pin or keychain with the Canadian fl ag on it. The look on their face was priceless. This helped distract us from the hill which had a gentle incline, we adjusted our pace and took shorter steps. We completed day three in nine and a half hours.
DAY 4  LAST DAY. START TIME 6:00 A.M.
It was a hot 35 degrees and uncomfortable from the start. Dad and I were a little sore, but we warmed up after a few kilometres. We had already completed 120 km, and I thank my father for setting the pace. With his vast experience as a soldier, he knew what had to be done. Each day that we walked, we only stopped for five minutes every hour. My five minutes was usually spent lining up to go to the washroom and then back to the task of walking. There was a time limitof 12 hours in which the walk had to be completed or face disqualification. This was the hottest and longest day, and we did not want to give up. The crowds were fewer in the early part of the day, but then I said to my dad "I bet they are all at the fi nish line which is where we will really need them." There was still music along the route, and bands were playing traditional European music, military personnel singing songs. There was so much to take in, and at times it was overwhelming. And at other times it was just sheer joy to be able to spend this precious time with my father. We were handed some beautiful gladiolus along the route, and it was so amazing to receive these beautiful flowers. We, in turn, gave them to some people in the crowds, as we still had a long way to go and even one fl ower would be too heavy to carry for the rest of our march.
Throughout the march, I found myself reflecting on all the Canadians who lost their lives fighting to liberate the Netherlands. As we came to the last stretch of the March, we each proudly had our Canada flags draped over our shoulders and hearts, and what a feeling of joy and excitement that gave us knowing that we completed the 160 km over four days. Bucket list complete! Father and daughter journey a success!
I am still processing this entire trip which I had the opportunity to share with my dad. This indeed was an incredible journey that we were able to complete, and I am forever grateful to have had this special time with my father. He has shown me fi rst hand what strength and determination are and what it is to "sacrifi ce." And especially to never give up. The memories that we made on this trip will last a lifetime and stay in my heart forever. Our family has been blessed in that you always returned home safely to us.
Dad, you will always be my hero.
Written by: Christie Hills-Walton