Whether you are looking for a new cookbook, the science behind what you are eating, getting lost in a spy network, teaching your young ones to say dada as their first word, or learning more about a powerhouse judge, we have a fantastic line up of books for you this week.
Forks Over Knives
By Del Sroufe
I am not sure why, but when working on my book reviews this time, all I wanted to do was review cookbooks. don't know if I was just hungry, or if there are just a lot of particularly good cookbooks being released. Regardless, I couldn't resist including another one here. This cookbook focuses on the current trend of eating a plant-based diet and includes not only vegan and vegetarian recipes but recipes that are free of refined oils and processed foods. Seems like the perfect cookbook to get more veggies into my family's diet!
The Food Lab
By J. Kenji López-Alt
This fantastic cookbook investigates the science behind cooking, and how, with a better understanding of that science, you can go about making the best meals possible. Kitchen chemistry should be fun for young and old alike. This cookbook is full of colour illustrations, hundreds of easy-to-make recipes, and many useful cooking tips. This is a great choice for both the novice cook and the kitchen expert – and everyone in between.
The Alice Network
By Kate Quinn

The First and Second World Wars seem to be an eternally popular topic in fiction and non-fiction alike – and I am glad. They should not be forgotten, and what better way to not only remember them but to give life to their history, than through literature. This bestselling novel involves the Alice Network – a real female spy network that existed during the Second World War – and splits its time between an "Alice" spy in the First World War and a young woman who searches for a family member during the aftermath of the Second World War. This is an excellent read for those who love historical fiction, military history and fiction, and mysteries.
Your Baby's First Word Will Be Dada
By Jimmy Fallon
This title made me laugh. It reminded me of when our children were babies trying to say their first words, and how they inevitably ended up saying "Dada" before they said "Mama." Comedian Jimmy Fallon, best known for The Tonight Show, brings us this hilarious picture book inspired by his campaign to get his baby to say Dada before anything else. With it focuses on simple words (like Dada) and animal sounds, this book is a great choice to share with babies and toddlers.
Notorious RBG
By Irin Carmon
How can I not include a book about Ruth Bader Ginsberg here! She is an incredible, groundbreaking individual.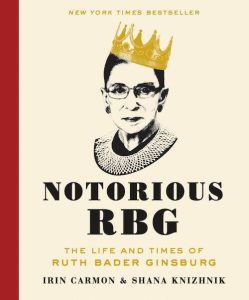 Ruth Bader Ginsberg is an American Supreme Court Justice with a goal – make the U.S. (and the world) a better place. She is known for fighting for human rights and has become an inspiration to many. Irin Carmon is also the author of the popular Tumblr that shares the book's title – a Tumblr that even Bader Ginsberg herself liked. Not only does this book contain interviews with the Justice, but it includes rare photos and documents, giving a more in-depth and complete story of her life and groundbreaking career. Not quite a biography, this is a great choice for anyone interested in politics, the U.S., – or anyone who likes a good story about an interesting person.