Providing Mental Health Services to CAF Personnel and their families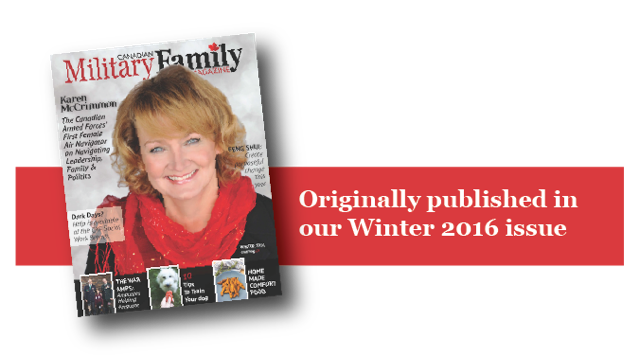 As the stigma associated with mental health illness is slowly brought to light across the country, the Canadian Armed Forces (CAF) is actively working with agencies and campaigns like the upcoming Bell's Let's Talk on Jan. 27 to bring awareness to services available to the military community.
A vital part of the CAF mandate to improve mental health is the Canadian Armed Forces Social Work Branch. "Over the past several years, mental awareness and understanding have given more opportunity for members to seek help without feeling less of a person…
They
[social work branch] promote the well-being of the members which in turn supports mission readiness by allowing CAF members to achieve their highest functioning level," stated Jennifer Eckersley, communications advisor at health services public affairs.
Comprised of military personnel and civilian social workers, the CAF Social Work Branch offers several services to military members battling mental health injuries. There are currently 150 social workers part of Canadian Forces Health Services Centres across Canada, each employee with a bachelor or master's degree in social work.
Support and counselling are available to military members alongside couple and family counselling. The main services offered by the Social Work Branch are: brief intervention, crisis intervention, administrative requests, treatment and education and awareness of the community.
Brief Intervention, short-term counselling services, can be offered to both the service member and his or her family to solve issues surrounding adjustment difficulties, workplace issues, marriage or family violence.
Social workers handle administrative requests by recommending to the chain of command about compassionate status, compassionate postings and contingency cost moves for personal reasons.
Treatment can be provided through an interdisciplinary team of psychiatrists, psychologists, social workers and mental health nurses in individual or group therapy sessions.
Social workers are also responsible for the pre and post deployment screenings of military personnel. Pre-deployment screenings determine if the service member is prepared for the deployment. After returning home, these members are then interviewed and must complete a questionnaire.
With winter here it can be an especially tricky time for those already suffering from depression and a time when the services of social workers can come in handy.
"Winter affects everyone differently. Some don't mind going to and from work in darkness, where others loathe it. For those who have difficulty during what they consider a dark and lonely existence, help is available," explained Eckersley.
The Social Work Branch cautions loved ones and family members to watch out for the following if a loved one is stressed, overwhelmed or depressed and seek help if necessary.
"Watch for impatience, insomnia, mood swings, fatigue, withdrawal or anxiety. Offer to go for a walk with them – physical movement and exposure to daylight and fresh air can be calming. Listen to what they are experiencing. Recognize feelings and see if they can identify some ways to manage. Encourage them to lessen commitments and make time for themselves. Suggest possible support," said Eckersley.
Though the social workers are specifically responsible for military members, the DND has set up other services for families. Some of these resources include the MFRC, Canadian Forces Member Assisted Program and the You Are Not Alone guidebook.
Through the work of the Social Work Branch and other initiatives of the CAF, including a series of four videos focusing on mental health: Stigma, Suicide Prevention, Transition in the Canadian Armed Forces and Process of Mental Health Treatment, there is a shift in the way mental health is now perceived. The Social Work Branch agrees,
"Members and leaders have access to mental health training throughout the span of their careers, which results in greater mental health literacy. Members who are educated on mental health issues are more likely to be open for discussion among peers, colleagues, supervisors, and subordinates. In fact, our research suggests that stigma reduction activities have had some effect; military personnel are more likely to speak to their supervisors and colleagues about mental health issues than civilians," noted Eckersley.
The videos are available on-line at the "You are not alone – Mental Health Resources" for CAF members and families.
Personnel can also visit a social worker at any CFHS Centre while family members can reach out to social workers at the local Military Family Resource Center. Members and their families can also obtain short-term support services through Canadian Forces Military Assistance Program (CFMAP: 1-800-268-7708) or call the family information line at 1-800-866-4546.
For more information about services for families visit familyforce.ca.
By Mishall Rehman with files from Lee Jarratt