Fifth Avenue Collection Jewelry
With a posting to Halifax on the horizon and a move from the Regular Forces to the Reserves Wanda Leclair was also looking for something different career wise.
"I was going from contract to contract in the Reserves and I looked at this particular company because it was Canadian. My husband and I had tried direct sales in another company but it was too busy for us at the time … and it was great to find a company that I felt very very comfortable with."
That company is Fifth Avenue Collection Jewelry based out of Saskatchewan. Wanda was introduced to the twenty-five-year-old family owned business when she hosted a show with the jewelry that features gold, Swarovzki Crystal and natural gemstones. As part of a service couple, this was the perfect fit for her.
"With direct sales, for the most part, there is no overhead and there is no big investment financially and that's a big thing when you move around and you want something that is portable. You have a huge support system with direct sales, no matter where you are or what you're doing. Your product is ready, your website is set up, you're in business for yourself but not by yourself."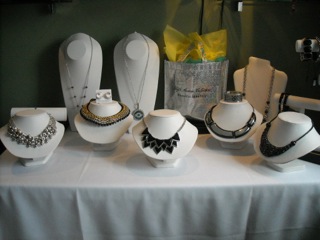 While Wanda started with no sales experience she has received training through monthly meetings and seminars as well as calls and texts with her sales manager. Celebrating her 10th anniversary as an Independent Jeweler in January, she advises other entrepreneurs to find a business they're both interested in and comfortable with, particularly when facing the challenges of a military lifestyle.
"I've been doing this for 10 years, full time, part time and back to full time again. Just don't give up. It comes back full circle. I continued raising my kids, working for the Reserves, going through deployments with my husband and I kept going with this business and now I've retired from the military and just side stepped into this business that was already set up for me. I didn't stress about what I was going to do when I retired, it was ready to go."

Wanda wasn't the only one to benefit from her perseverance.
"It's also a lot less stress on my husband who will be retiring in the next few years because it takes some pressure off of him also knowing I've got this income."
And with this hard work, there's always fun.
"You go from combat clothing in the day to jewelry and glam at night to do a show!"
You can find Wanda at www.fifthavenuecollection.com/wleclair
$3 from the sale of each Support Our Troops pin goes toward the True Patriot Love Fund.