Communication Key to a Strong Relationship
Journalist Mignon McLaughin once said, "a successful marriage requires falling in love many times, always with the same person." While this may be true, a successful marriage also requires various building blocks, all constructed on the foundation of strong communication.
Research suggests that couples often split due to a lack of and poor communication skills. For military couples, proper communication can often be a more difficult task. Overcoming hurdles that regular couples may never experience, military couples must navigate through postings, deployments and lack of career opportunities for the civilian spouse. The first step in ensuring a successful marriage is to discuss what the civilian spouse should expect after becoming part of the military family and the sacrifices that go along with it.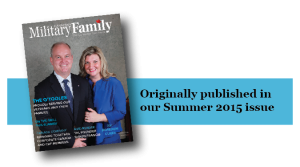 "The first thing is to make sure you understand that lifestyle. The spouse has to have an understanding of everything; of deployments, of going away on courses…they [civilian spouses] have to be able to support that member emotionally, spiritually, psychologically, really any which way to support the lifestyle," said Linda Reade Director of Clinical Services at the Trenton Military Family Centre.
In her experience, Reade finds one of the major problems couples come to her with is poor communication.
A key factor in effective communication that couples often can forget is good listening skills. Some reports suggest that we only hear 25 to 50 per cent of what is said to us in a conversation. Listening to our spouses becomes even more difficult during arguments and high-stress situations. Spouses must learn how to walk the fine line between communicating their needs and saying something we might regret. It's also a must for couples to discuss important issues such as health conditions, PTSD, family and financial situations.
One of the exercises Reade practices and recommends to clients involves spouses taking turns listening and sharing their feelings.
"I'll tell couples to sit in the living room floor back-to-back, so you're not looking at each other, and he [husband] won't get upset if she [wife] starts crying, and they take turns. So she'll say something like 'you're not paying enough attention to me' then it's his turn. And I tell them to put a stopwatch in front of them, and they each get an equal amount of time. And so they say 'I feel this' or 'you did this' and the other person is just supposed to listen and notice how they are feeling. Then the alarm goes off, they sit for a minute and take turns. And when they're done, they face each other hold hands and ask 'how was that to hear?" explains Reade.
Body language goes hand-in-hand with verbal communication, and research suggests that people rely heavily on body language to express their thoughts and to decipher the thoughts of another. Spouses can practice positive body language by remembering simple steps such as leaning into to your partner when they are talking to show interest or extended eye gazing.
Reade also suggests that couples improve on communicating their love and appreciation for one another. There are many small gestures that couples can incorporate in their daily lives to solidify their love and marriage. Saying things like "I love you" or "I appreciate you for taking care of the house and kids" are just simple ways to show gratitude. Or you can take it a step farther by describing what you specifically appreciate about your spouse. Making a daily habit out of paying compliments to your partner can significantly improve a relationship.
Other gestures include sending flowers to your loved one, cooking a special meal and leaving affectionate notes in your partner's lunches. Couples can also find ways to stay connected by planning simple date nights and socializing with other couples.

"Let your partner know when you appreciate them… don't assume or take each other for granted," reminds Reade.
She also recommends Gary Chapman's 5 Love Languages: Military Edition for spouses looking for ways to show their love and gratitude effectively.
Sharing household chores is another way couples can improve their relationship and remain on the same page with their household. Managing a household as a military spouse can sometimes become overwhelming especially during deployments. Reade suggests spouses should negotiate which chores the military spouse can do.
One of the most difficult times for spouses to stay connected is during deployments. If possible, spouses need to find the time to FaceTime, Skype or even just email.
"Just talk about day-to-day positive things because one of the things we do know is the member can't be worried while they're away. That would distract them from their mission," said Reade.
In order for a relationship to be successful, couples also need to take time for themselves and not get lost in household chores. In between managing a household single-handedly sometimes and raising children, the civilian spouse often forgets to take time out to enjoy hobbies or spend time with friends. Reade recommends that spouses find hobbies or join clubs and connect with other spouses. It can often be easier to relate to other military spouses rather than family members.
"Clients will say their family won't understand if she [wife] is the only one in the family with a military person. A lot of people say they can't explain how it is because people just don't get it," said Reade.
Couples wanting to improve their communication or need marriage counseling can reach out to their local MFRC where the social work team teaches strategies and tips on ways to communicate better.