120 CAF Personnel deploy to Latvia
Above image: 5e Régiment d'artillerie légère du Canada board plane. Image courtesy of MGen M.-H. St-Louis, Acting CCA Twitter account. 
Approximately 120 members from the 5e Régiment d'artillerie légère du Canada deployed on March 23 for a three-month deployment to Latvia as part of Operation REASSURANCE.
The deployment is especially crucial in light of the growing security concerns in the region after Russia's invasion of Ukraine. According to a Department of National Defence (DND) media advisory, this deployment "follows the Government of Canada's decision to strengthen its presence in Central and Eastern Europe."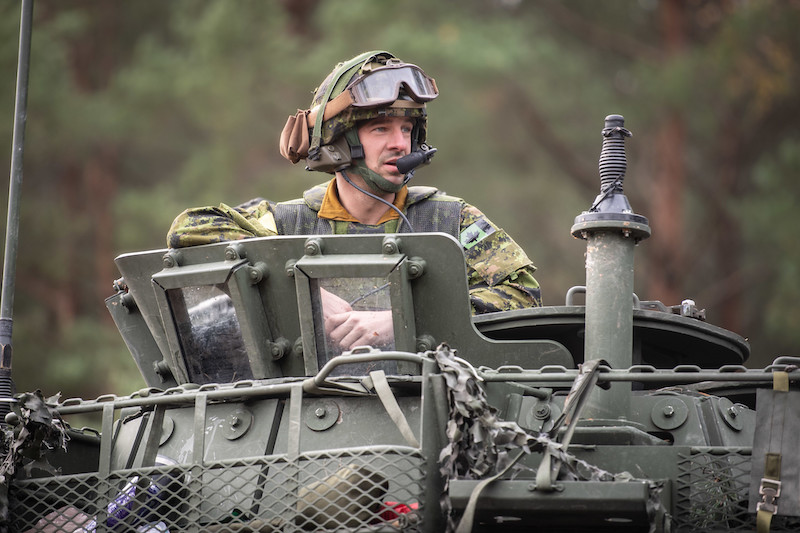 Role in Latvia
During their stay in Latvia, CAF members will work collaboratively with NATO allies to "bolster deterrence and defensive postures which is the focus of our presence in Latvia," according to Capt Kathleen Soucy, a public affairs officer with 5 Canadian Mechanized Brigade Group.
In Latvia, CAF members lead a NATO Battle Group, which forms the backbone of the Enhanced Forward Presence in Latvia.
NATO has deployed four such Battle Groups to the Baltics and Poland. According to the Department of National Defence website, these Battle Groups demonstrate the strength of the NATO alliance and aim to deter aggression, prevent conflict and protect stability in the region.
"CAF members are deployed to Latvia as part of an Allied defensive and proportionate response to the evolving security environment in the region," commented Soucy.

The battery will be equipped with four M-777 artillery guns.
During their deployment, the troops will also participate in Exercise SWIFT RESPONSE and Exercise SUMMER SHIELD in May.
"Today approximately 80 troops from 5e Régiment d'artillerie légère du Canada are en route to Latvia to increase our #OpREASSURANCE footprint. #BZ for their support of this critical deterrence mission. @2divca_2candiv #WeAreNATO" pic.twitter.com/J0hzoAxlar

— MGen M.-H. St-Louis, Acting CCA / CAC par intérim (@Army_Comd_Armee) March 24, 2022
Length of Stay
The main body of the battery, which is part of the larger 5e Groupe-brigade mécanisé du Canada, 2e Division du Canada, based in Valcartier, QC, will be in Latvia until June. However, after June, the Canadian Armed Forces (CAF) will be looking to deploy troops on a six-month rotation.