Over 230 new officers graduate from RMC in virtual ceremony
This afternoon, May 21, 2020, the Royal Military College of Canada hosted a virtual convocation and commissioning ceremony to celebrate the Class of 2020.
The two-hour ceremony held in historic Currie Hall was organized to respect provincial regulations of physical distancing and was also live-streamed on the RMC Facebook page. Divided it to two parts, the first stream is just under 30 minutes, with the second stream featuring the rest of the ceremony. 
WATCH CEREMONY HERE
"This is normally a time of celebration at RMC when our graduates, after four years of hard work, finally commission and earn the right to march through the Memorial Archway with swords held high. It is normally a time of great pride — and we are just as proud this year. The Class of 2020 is unique and its members have proven their ability to adapt — through years of institutional change that have made RMC stronger, and more recently, by overcoming the unique challenges of COVID-19. They have demonstrated they are ready for the dynamic challenges they will face as leaders in the Canadian Armed Forces. I wish them all the best, knowing the four-pillars of RMC graduation — academics, physical fitness, bilingualism and military leadership — will serve them throughout their careers and leaders in service to Canada," stated Brigadier-General Sébastien Bouchard, Commandant, Royal Military College of Canada in a statement.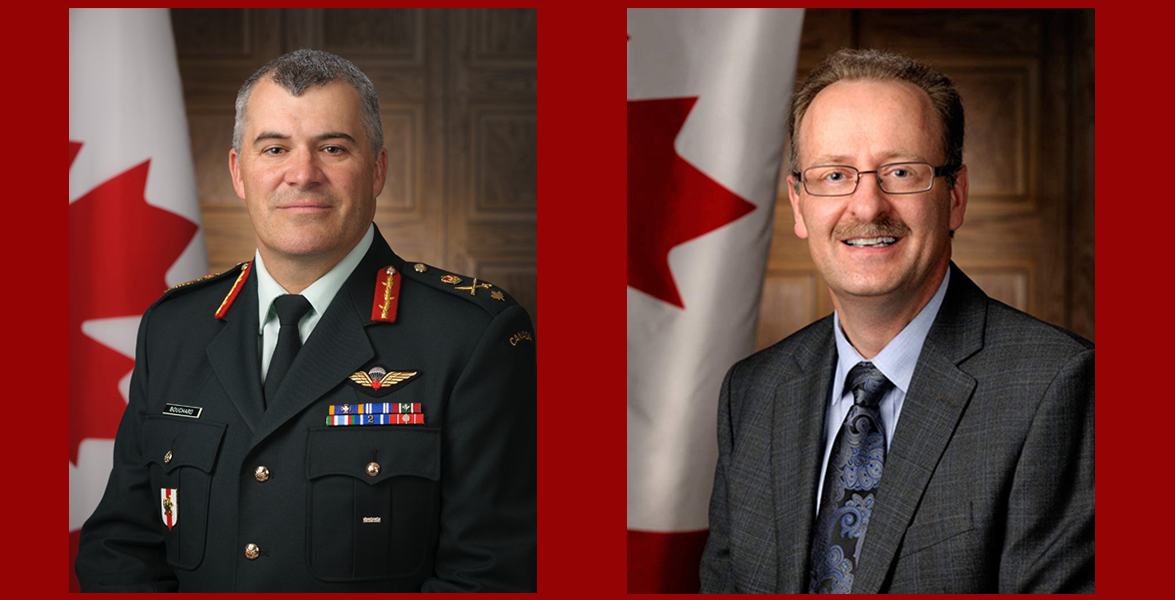 In an effort to reduce the risk posed by the spread of COVID-19, in mid-March 2020, the Chief of the Defence Staff directed RMC to immediately reduce the student population on campus as far as possible, which meant all officer cadets left the campus in late March and completed their academic year online. The direction also meant the university's traditional convocation ceremony and commissioning parade could not be held as planned.
The Class of 2020 convocation and commissioning ceremony was presented virtually as a live-streamed event to allow RMC to acknowledge the academic and military achievements of graduates while respecting the limitations and requirements of the COVID-19 environment. 
"Congratulations to the class of 2020!" JV@RMCCanadaCMR pic.twitter.com/KBegOG8DIm

— Admiral/Amiral Art McDonald (@CDS_Canada_CEMD) May 21, 2020
The ceremony featured the projected images of graduates and award winners as their names were read. 
"Your years at the Royal Military College of Canada and the adaptive skills you've demonstrated in overcoming COVID-19 challenges will serve you well. The Canadian Armed Forces is proud to see you graduate today and welcomes you to a career of service to Canadians. Our operating environment at home and abroad is complex, ambiguous and highly contested, and as RMC graduates, you have proven yourselves to be smart, resilient, fit to fight and fit to lead," said Chief of the Defence Staff General Jonathan Vance.
The ceremony also included a pre-recorded video message by the Minister of National Defence Harjit S. Sajjan, in his position as RMC Chancellor and President.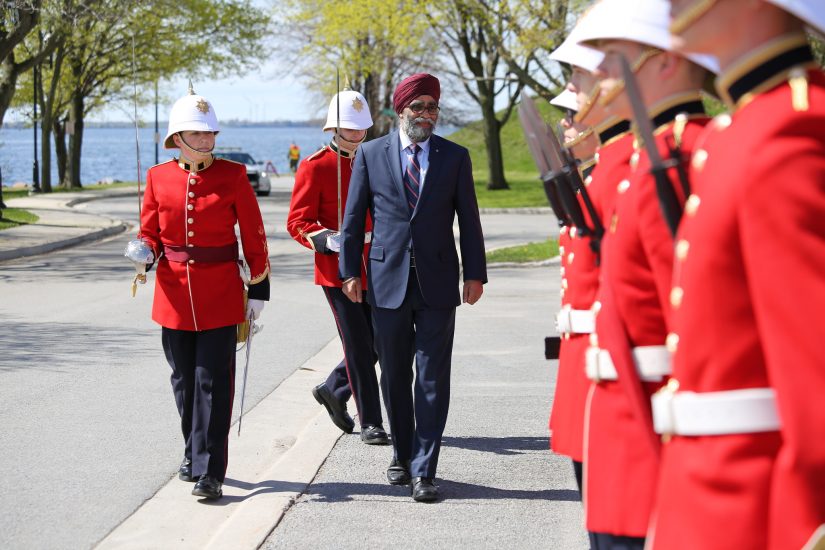 "Today marks the beginning of a new chapter in your lives. Though this celebration is normally marked by you marching through the Memorial Arch with your swords held high, this celebration of your accomplishment is undiminished by the changes we all have had to make to adapt to this global pandemic. As cadets, each of you have put in hundreds of hours of hard work to get to this day. I know that each and everyone one of you will embody, Truth, Duty, and Valour for all of those in your command and all those you serve. On behalf of all Canadians, thank you. You make us proud," Harjit S. Sajjan, minister of national defence. 
The Class of 2020 also received video messages from the Chief of Defence Staff General Jonathan Vance, Retired Lieutenant-General, Senator. The ceremony also celebrated humanitarian Roméo Dallaire, and Canadian astronaut Colonel Chris Hadfield, all former cadets.
In his role as Vice-Chancellor of RMC, the Commandant, Brigadier-General Bouchard conferred (in absentia) more than 300 graduate and undergraduate degrees to the Class of 2020, and officially announced the commissioning of 235 Officer and Naval Cadets of the fourth-year class that successfully completed all requirements to become second-lieutenants and acting sub-lieutenants in the Canadian Armed Forces. 
"Members of the Class of 2020 will be welcome to return to RMC to participate in future convocation ceremonies should they wish to receive their degrees in person." Stated a CAF press release
"I am very proud of all of our graduates. The completion of a university degree is a significant accomplishment under the best of circumstances but it is even more significant under the unexpected challenges presented by the COVID-19 crisis. I equally applaud all of our faculty and staff for stepping up and making a difference in a time when their exceptional teaching mentoring, support and leadership was required more than ever. Our graduates have a proven ability to do extraordinary things and I am confident that they are postured for more success to come," Dr. Harry Kowal, Principal, Royal Military College of Canada. 
A press release from the CAF stated, "Members of the Class of 2020 will be welcome to return to RMC to participate in future convocation ceremonies should they wish to receive their degrees in person."
The college is an accredited university that offers a wide variety of programmes in arts, science, and engineering, at both the undergraduate and graduate levels. With a full and part-time student population of approximately 2,500, RMC's core curriculum is designed to provide a balanced liberal arts, scientific and military education.
"The three colleges of the Canadian Defence Academy generate the Canadian Armed Forces leaders of today and tomorrow. Despite COVID-19 restrictions requiring students to leave campus weeks before exams to resume studies online across Canada, the Faculty and staff of the Royal Military College of Canada have achieved their mission and continue to produce officers with the mental, ethical, physical and linguistic capabilities needed to lead with distinction and confidence," Rear-Admiral Luc Cassivi, Commander, Canadian Defence Academy.
Founded in 1874, the Royal Military College of Canada (RMC) is Canada's military university. RMC's mission is to educate, develop, and inspire bilingual (French and English), fit and ethical leaders who serve the Canadian Armed Forces and Canada.
The ceremony can be viewed at https://www.facebook.com/RMCCanadaCMR.