Second World War Veteran and Veteran Advocate Remembered
From helping liberate the Netherlands in 1945 to fighting for fellow veterans in 2018, Lt. (Ret'd) Wolf William Solkin was recently remembered for his service.
The last Second World War officer from the Algonquin Regiment passed away almost a year ago, Feb.3, 2021, at the age of 97. He was a few days shy of his 98th birthday.
This past October, family, and friends gathered to pay their respects to Wolf's wife Louise Langlois and her daughter Eve.
In 2020 Solkin received the Veteran's Ombudsman Lifetime Contribution Commendation for his work supporting and fighting for Veteran's rights.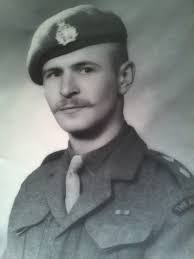 "Everyone that knew Wolf misses him dearly," said friend Kerri Tadeu, "Days before turning 98 years old, he left the world too early as we all feel we still need him here with us."
A Grandfather to All
Brian Weber, a current member of the Canadian Armed Forces (CAF), described Wolf as everyone's grandfather.
"He was the quintessential gentlemen. He was everything you expected from someone of that era. He had an air about him."
Wolf served as the president of the Veterans Committee at Ste. Anne's hospital, where he was also a resident, he advocated for all the Veterans who resided there.
In 2016, the hospital changed from the federal government to the provincial government. According to the class-action lawsuit, the quality of veteran care diminished as Quebec cut staff salaries by 40 percent and made other changes.
Class Action Filed
After he watched the services at the hospital deteriorate, Wolf filed a class-action lawsuit in 2018 on behalf of more than 150 Veterans and their families. A judge approved the settlement on April 29, 2021.

"He was not bitter. He was upset," said Weber. "He saw the care for the elderly veterans slipping through the cracks."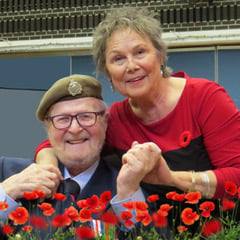 The class action settlement will benefit veterans who have resided at the facility since April 1, 2016, and their families, along with 85 veterans living at Ste. Anne's. In addition to a $19 settlement fund, the terms of the agreement stipulate improvements in veteran care at the facility.
Celebration of Life
Friends and family of Wolf held what could be considered a celebration of life to remember Wolf. Jill Greenwood, a CAF Veteran, sang, as well as, did Gabby Koch, a CAF supporter. People who attended were friends and family of Wolf or were friends of Wolf's friends.
Silvia Pecota, a well-respected artist in Kingston, donated a portrait she made of Wolf with printed copies along with postcards that were gifted to Wolf's family and friends. Tadeu also noted that they made special sweaters for the occasion.
Wolf will have a celebration of life next year in Quebec when the COVID 19 restrictions change.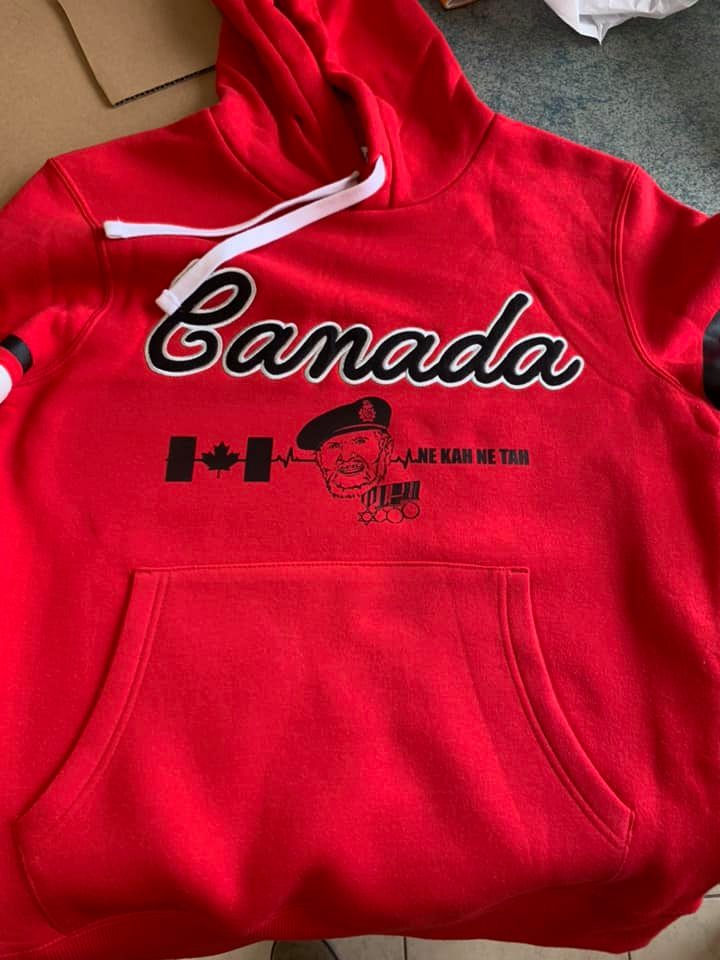 "First-Class Human Being"
According to Tadeu, Wolf's last Facebook post posted after his death confirms what they already knew about Wolf.
She said, "He was a first-class human being and a first soldier and first-class veteran."
VISIT WOLF SOLKIN'S FACEBOOK PAGE HERE
At the celebration, it was also announced Weber adopted a portion of Highway 15 in Kingston in memory of Wolf.
Once the adopt-a-highway sign is installed on Highway 15, Weber plans on gathering volunteers to clean that stretch of highway in memory of Lt. Solkin.