Montreal Alouette Offensive Tackle receives the Jake Gaudaur Veterans' Award
The prestigious Jake Gaudaur Veterans' Award was presented this year to Jeff Perrett, Montreal Alouette Offensive Tackle, who has publicly shared his struggles with alcoholism. The award was presented on Nov. 26 at the 2015 Shaw CFL Awards.
"Veterans Affairs Canada is proud to partner with the Canadian Football League. It is an organization that understands well the virtues that make Canada's Veterans such vital and passionate contributors to this nation. Jeff Perrett shares those qualities, making him a deserving recipient of the Jake Gaudaur Veterans' Award," said Kent Hehr, Minister of Veterans Affairs and Associate Minister of Defence.
Perrett, an offensive lineman for the Alouttes since 2006, decided to publicly acknowledge his long-time struggle with alcoholism this year. He revealed the effect it has had on his family and the steps he's had to take to manage his disease.
Realizing that as a professional athlete he is in the public eye, Perrett decided to reach out and share his story for those who are also suffering from the disease. Perrett became involved with community programs including Together at School, a program that educates children about the importance of staying in school and attaining higher education.
His story has been recognized across North America.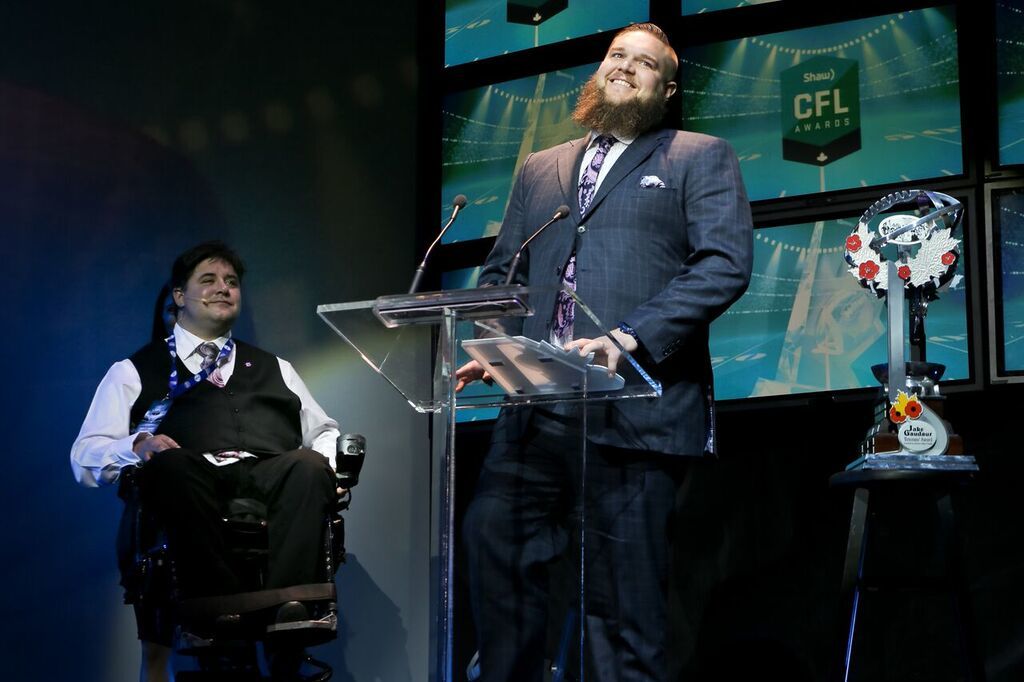 Hehr, along with CAF veterans Murdoch and Linda Jardine, presented the award to Perrett, which recognizes Canadian CFL players who embody the qualities of CAF veterans in times of war and peace.
The award is named after Jake Gaudaur, a Canadian fighter pilot instructor in the Second World War and the longest serving commissioner in CFL history. Gaudaur won the Grey Cup both as a player and executive before serving as commissioner from 1968 to 1984.
The award is presented as part of the annual Veterans Remembrance Tribute, organized by the CFL and Veterans Affairs Canada. A ceremony was held earlier this month, before the CFL semi-final games, as part of the tribute. The Canada Remember logo was also placed around the football field and on each player's helmet. The CFL is receiving up to $50,000 in support through Veterans Affairs Canada's Community Engagement Partnership Fund for both the presentation of the award and for the Veterans Remembrance Tribute.
Also part of the festivities leading up to the Grey Cup and highlighting the partnership between the League and veterans, Hehr visited the Deer Lodge Centre in Winnipeg, accompanied by CFL Commissioner Jeffrey Orridge, for a meet and greet with the residents, many former CAF members. The Grey Cup was also on display at the event.
The 103rd Grey Cup was held Sunday, Nov. 29 between the Edmonton Eskimos and Ottawa Redblacks where Edmonton took the cup winning 20-26.