Canadian Naval Review's (CNR) essay competition underway
Are you someone who is interested in issues affecting the Royal Canadian Navy and maritime security? Then the Canadian Naval Review's (CNR) essay competition might be right for you.
"This competition reflects our commitment to bolstering academic outreach in defence #StrongSecureEngaged," they wrote on Facebook.
The CNR is looking for essay submissions relating to one of nine topics such as, Canadian Maritime security; RCN policies, issues or operations; Historical operations of the RCN; Global Maritime issues (piracy, smuggling, fishing or environment); Canadian oceans policy and issues; or Maritime shipping and transport.
Authors are welcome to include photos and other visual aids with their essays.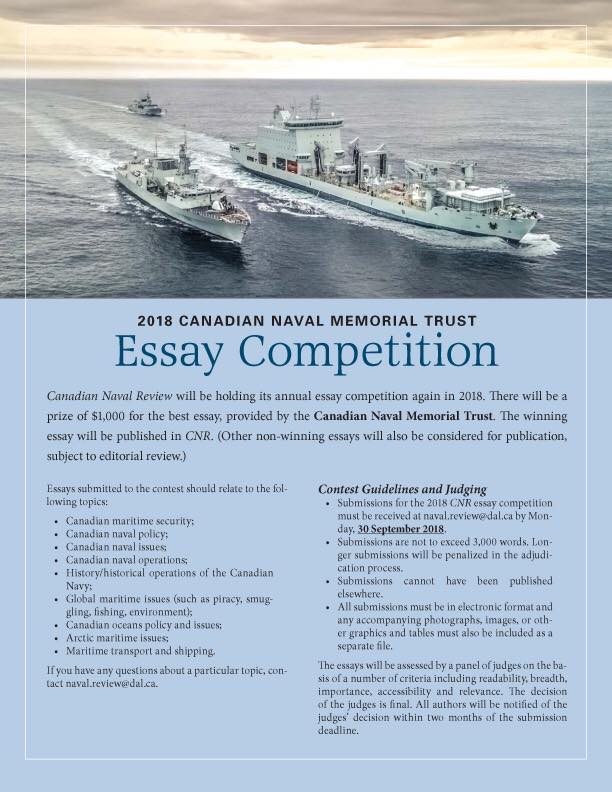 Essays are to be 3,000 words in length and not previously published anywhere else. The essays will be judged based on a criterion of readability, breadth, importance, accessibility and relevance. The winning essay will be chosen by a panel of judges and awarded a $1,000 prize provided by the Canadian Naval Memorial Trust.

In addition to the prize money, the winning essay will be published in the Canadian Naval Review. Some non-winning essays may be considered for publishing as well. Essay winners will be notified two months after the submission deadline.
What are you waiting for? The deadline for all submissions is September 30, 2018.
For any questions relating to the topics or to submit your completed essay, email [email protected].