Minister of Veterans Affairs Commendation awarded to four recipients
On August 9, Lawrence MacAulay, minister of veterans affairs and associate minister of national defence, presented the Minister of Veterans Affairs Commendation to four dedicated Canadians for their volunteer contributions to veterans. "This Commendation is the highest honour I can bestow as Minister, and it's a pleasure to award it to four Canadians who go above and beyond to serve the folks who've worn the uniform," stated Minister MacAulay, "It takes a special kind of person to do this sort of work with no expectation of recognition, so I'm proud that I'm able to show them just how grateful we are for everything they've been doing." Since 2001, the Minister of Veterans Affairs Commendation has been given to deserving Canadians who have made a positive impact on the care and well-being of Veterans or honoured the sacrifices they have made. According to a press release, about 1,200 people across Canada have been awarded the Commendation over the past 20 years.
Recipients
As stated on the Veterans Affairs Canada website, the following Ontario residents were presented with the Minister of Veterans Affairs Commendation: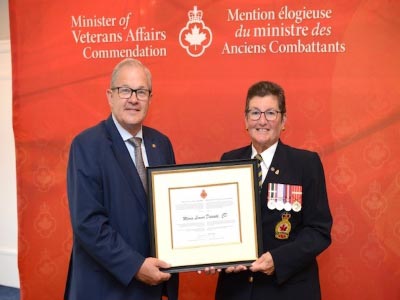 Warrant Officer (Ret'd) Maria Leonor Damude, Petawawa, ON, was nominated for her 18 years of service with The Royal Canadian Legion and her dedication to the wellbeing of her fellow Veterans. During her tenure, she has held numerous executive positions, including the role of President of the Sir Arthur Currie Legion Branch #116. Commonly referred to as "The Legion Lady," she is well known and respected in the community. She volunteers for the Poppy Committee and has served as Poppy Chairwoman for eight years. She often accompanies the Service Officer on visits to Veterans' homes to help identify issues of safety and mobility. This allows her to facilitate access to the Poppy Trust Fund to address the issues. Together with her husband, she initiated the Veterans Transportation Program through the Victoria Order of Nurses (VON). Unique to Ontario, the program uses the Poppy Trust Fund to pay transportation costs using the VON taxi service for Veterans and/or dependents who need to attend medical appointments. Currently, in its sixth year, this program has been well received by those who need it most.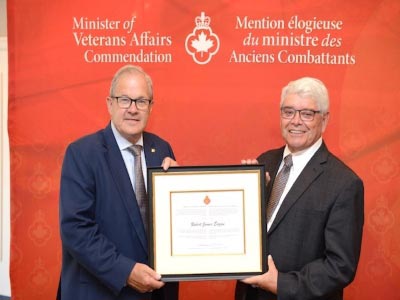 Robert James Eagan, Ottawa , ON, was nominated for his contribution to the care and wellbeing of Veterans. He has been a dedicated advocate for service members, Veterans and their families. During his 27 years of service in the military, his efforts were directed towards providing support and financial benefits to serving military members and their families. Since his release, his focus shifted to the well-being of Veterans. He has served as a Chief Financial Officer for Commissionaires Ottawa, a non-profit organization that provides employment for Veterans. He worked on improving the financial stability of the organization and the pay and benefits of its employees, and he helped build the reputation of the Commissionaires as a safe harbour for thousands of Veterans who require work for income support and social interaction.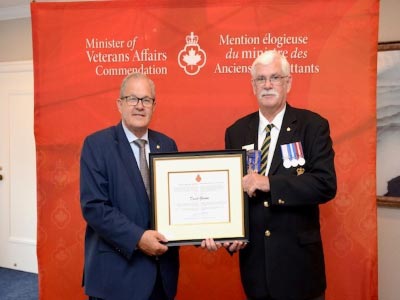 David Laird Gordon, Napanee, ON, has been a Royal Canadian Legion member since 1972. He is nominated for his contribution to the well-being of Veterans. He has held several leadership roles at his local Legion branch. He is currently serving as Chairman of Veterans Services and Seniors Committee at the provincial level and is the Homeless Veterans Advisor to the Dominion Command Veterans Services Committee. He is the driving force behind creating the national "Operation Leave the Streets Behind" program, which provides assistance for more than 900 homeless or near homeless Veterans. His experience and reputation as a true leader is well known, and members across the country reach out to him when expert advice is required to help Veterans and their families. Peter Joseph Morel, Ottawa, ON, was nominated for his dedication to the wellbeing of Veterans.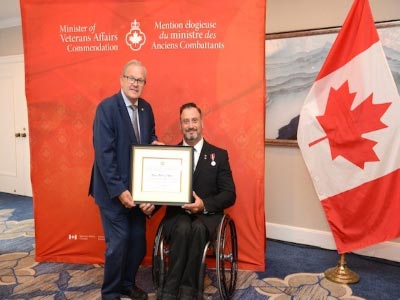 As a professional trainer, he promotes physical fitness as a tool for physical and mental well-being for Veterans. Through his own social media channels, he raises awareness of PTSD and other health issues faced by Veterans who have returned home with mental and physical injuries. He hosts seminars and volunteers to speak with Adaptive Fitness Specialists across the country to help them upgrade their skills, thus improving their abilities to treat Veterans. He can be found making presentations at local Royal Canadian Legion branches giving seminars on PTSD and its impacts on families.
About the Minister of Veterans Affairs Commendation
The Minister of Veterans Affairs Commendation was created by Warrant of the Governor General with the approval of Her Majesty Queen Elizabeth II. It includes a certificate, a lapel pin for civilian wear, and a bar for wear with decorations. The commendation has a gold maple leaf resting on a red poppy, a flower long associated with the sacrifices of war, with the Royal Crown on the top of the pin.