Lord Strathcona's Horse (RC), members honour Second World War Veteran as he celebrates 100th birthday 
Surrounded by 150 of his closest friends and family members, Second World War veteran Doug Keirstead celebrated his 100th birthday this month. 
To celebrate this memorable occasion, a cadre of the Lord Strathcona's Horse made the journey from Edmonton, AB to Saint George, NB to honour their former member. 
"I thought that was quite special for them to make it down for that moment. The great part of service is that you really and truly end up with two families both of them last a lifetime and both of them are quite special," said Maj. Doug Keirstead Senior Public Affairs officer with Canadian Armed Forces (CAF) and grand nephew of the Second World War Veteran.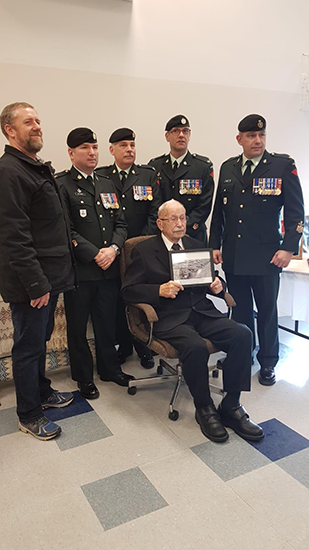 Doug Keirstead was born on Jan. 15, 1919. His family is originally from New Brunswick. 
Before joining the military, Keirstead spent a number of years serving as a militia soldier with the 8th Canadian Hussars. 
Keirstead, then in his early 20s, enlisted to join the war effort in June 1940 and by September he was in Borden, England, leaving behind his wife of nine months. 
Keirstead recalls it was an especially difficult time being separated from his wife Stella for such a long time so quickly after getting married. 
"It was quite hard. For five years there was no chance of coming home. It was quite rough," recalled Keirstead. 
Despite leaving his young wife behind, Keirstead served valiantly during the course of the war. Besides England, he was deployed to a number of countries including Algeria, Italy, across Western Europe and Holland. 
The veteran began his service with the Royal Canadian Corps of Signals. He later transferred to the Lord Strathcona's Horse (RC), and he remained a Stratchona until he was discharged after the war. 

During his time as a Stratchona, Keirstead drove fuel trucks and once drove a tank in action. Keirstead was stationed in a camp that was only seven miles from the camp Queen Elizabeth worked. He recalls he would often see her driving her truck, quite a memorable experience in Keirstead's service. 
Keirstead returned home to Canada after the war, in the spring of 1945 and reunited with his wife. He and Stella would go on to have a daughter and a son, and later, several grandchildren. 
After leaving the military, Keirstead worked for Gulf Canada, formerly known as British-American Oil. He worked for the oil company for 27 years before retiring in 1982. 
To celebrate this life full of accomplishments that have touched the lives of many, Keirstead's friends and family made sure to throw him an especially memorable party. 
"Folks like Doug are inspiring because it's a legacy of service of folks like him and that entire generation. Those of us who wear the uniform today have that legacy to service to guide us today. I think it's inspiring for this generation who are serving to interact with folks like Doug and to hear their stories and what life was like when they wore the uniform," stated Keirstead's grandnephew. 
Not only was Keirstead's 100th birthday recognized by his friends and family, but a number of members of parliament also recognized the occasion by sending him letters. Keirstead also received a letter from the Queen. 
Reflecting on his special day and the love he received, Keirstead is awe-struck and felt like everyone he could think of made it a point to recognize his birthday. 
"It was just unreal. I couldn't realize that so many [people] would come. Oh, it was special," said Keirstead.